LifeProof unveils the tough FRE Power case that'll double your iPhone 6s Plus battery life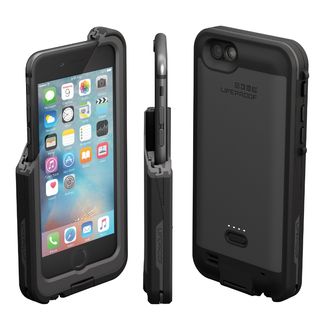 LifeProof has unveiled the FRE Power waterbroof case at CES 2016 for the iPhone 6s Plus, enabling those with super-sized mobile devices to better protect their investments. Not only does the case protect the iPhone contained inside, but there's an additional source of power with the built-in battery pack. And to top it all off, there's no massive hump like there is on Apple's official accessory.
Since this is indeed a waterproof case we're looking at here, there's an IP-68 rating against water and dirt, allowing the case to withstand being submerged by up to 6.6 feet for an hour. Then there's the optional glass cover camera lens, and even a built-in screen protector that should let you use the iPhone display as normal. Did we mention the 3200mAh battery? That's included too.
The FRE Power will be available soon for $149.99 on LifeProof's official website and at select retailers. Are you interested in wrapping this durable case around your iPhone?
Press Release
LAS VEGAS, Jan. 5, 2016 /PRNewswire/ -- LifeProof smartphone cases defy expectations by taking handheld technology on remarkable adventures. Today, LifeProof, the No. 1 selling waterproof case in the U.S., introduces FRĒ Power for iPhone 6s Plus, the first waterproof battery case for a plus-sized iPhone.
This exciting new product is debuting at CES 2016 and is compatible with iPhone 6 Plus.
"LifeProof continues to defy the limits of possibility with smartphones," said LifeProof President and CEO Pete Lindgren. "FRĒ Power for iPhone 6s Plus takes Apple's large form-factor device on bigger, better adventures with double the battery capacity and our award-winning four-proof protection against the elements."
LifeProof FRĒ Power doubles the battery capacity of iPhone 6s Plus with a 3200 mAh lithium ion battery. The iPhone 6s Plus waterproof battery case boasts waterproof, drop proof, dirt proof and snow proof technology, taking on every obstacle in its path. The case provides a variety of advanced features:
IP-68 rated against water and dirt; the case is waterproof up to 6.6 feet for an hour
Drop proof up to 6.6 feet
Optical glass covers camera lens for clear, sharp photos and videos
Rapid recharge quickly charges iPhone 6s Plus and FRĒ Power
Built-in scratch protector helps keep the brilliant 5.5-inch 3D touch display safe from scratches, yet allows for uninhibited use of all iPhone 6s Plus features and functions including Retina Flash and 2nd generation Touch ID
FRĒ Power for iPhone 6s Plus will be on display at CES 2016 and available soon for $149.99 on lifeproof.com and at select retailers. Check out the case in person by visiting LifeProof at CES 2016 North Hall Booth No. 4724, at Pepcom Digital Experience! Jan. 5 or online at lifeproof.com.
Get more iMore in your inbox!
Our news, reviews, opinions, and easy to follow guides can turn any iPhone owner into an Apple aficionado
Too dang long!! Sent from the iMore App

If only they made a version that didn't horrendously distort audio. Sent from the iMore App

I chuckled at the "there's no massive hump like there is on Apple's official accessory." This case is HUGE! Sent from the iMore App

I'll reserve judgement until I see one in person, but that looks like it would make my 6s Plus the size of a walkie talkie or a tricorder! I guess it would be handy if I wanted to take it camping or something similar, but i wouldn't need or want it for day to day use.

Make it a Nüüd model, add a wallet case to the back and retractable power and headphones...wanna get nuts...LETS GET NUTS!!! Sent from the iMore App

it seems so heavy and so long. the waterproof Gundam metal case i bought from ipromarket.com is not as big as this one.