Loom gives you one unified photo library, lets you reclaim space on your iPhone and iPad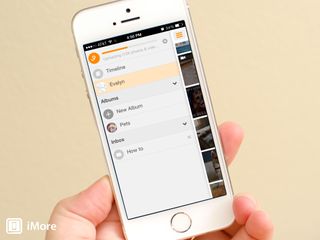 Loom is a new service that lets you store any photos or videos in order to free up precious storage space on your iPhone or iPad. The best part is that you've then got one unified library that's accessible across all your devices. Loom is available for both iOS and OS X.
The Loom app itself is compatible with both iPhone and iPad and can show you either unified libraries or separate ones. It also has support for albums so you can sort photos however you'd like. All your photos are stored in the cloud so everything stays in sync across all your devices. Loom can also sync your content in the background as well. You can then access your media by logging into Loom through a browser or through the Loom for Mac app.
If you've ever used Dropbox before, Loom functions very similarly but just puts an emphasis specifically on photo and video. The plans are also a lot cheaper. Loom gives you 5GB of space for free. If you'd like to store more than that, you can purchase a yearly subscription as an in-app purchase. Pricing is as follows:
50GB - $39.99
250GB - $99.99
I currently subscribe to the 100GB plan with Dropbox and I know I pay around $100 a year for it. With Loom, I'd be getting 250GB for the same price. Unfortunately, I need to store lots of different file types, not just photos and videos. Either way, storage prices for Loom are more than fair and if you take a ton of photo and video and find yourself frequently running out of space, it's a great option.
One of the biggest complaints I get from friends and family members is that their iCloud backups stop working due to running out of storage space. Often times, their bloated Camera Roll is the culprit. Loom can help solve iCloud backup woes in their tracks and for users that are familiar with these frustrations, Loom is a superb option.
iMore senior editor from 2011 to 2015.
Perhaps an even bigger culprit of iCloud backup bloat is what many forget. All the pictures/videos in Messages.app Especially true for my daughters in their iPods. I use flickr. 1TB free and their app just got updated with background upload (though you still need to manually upload videos via the web). Sent from the iMore App

Agreed on the iMessages point for sure

These systems have it backwards. I want the Cloud to be subservient to my local storage. A 4TB is relatively cheap. I want the Cloud to host my most precious pictures but not my whole library. It really comes down to what is the cheapest solution per Gigabyte of storage. Cloud storage is just not going to compete with local HDD.

spot on. I may take 20 images to get a decent ones. i don't want a cloud service storing all that before i've culled the bad ones. i only want it saving what the ones i tell it to. That's why i manually save my photos to skydrive. i got 25gbs free and just upload their when i get time.

Can anyone comment how Loom compares to Everpix? So far I'm impressed with Everpix and am curious to hear from anyone who has/is using both.

I really like Loom so far. By using it along with Google+ to back up my pictures I feel pretty safe about my pictures now. The app looks very nice and works well. I've maxed out my Dropbox space and it's all pictures so when I need to buy more storage I will go with Loom since it's a better value than Dropbox.

BITCASA=FREE UNLIMITED STORAGE
SHUTTERFLY=FREE UNLIMITED STORAGE

Shutterfly unfortunately compresses your images and you can't get the original back without paying.
Thank you for signing up to iMore. You will receive a verification email shortly.
There was a problem. Please refresh the page and try again.