Mac Help: Online backups for huge archives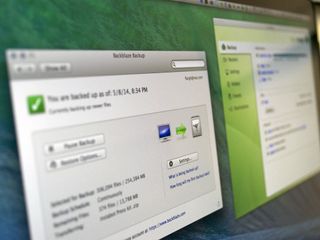 Welcome to Mac Help, our weekly column focused on helping you, our readers, with the trouble you're having with your Mac. In this edition we tackle the subject of massive amounts of personal data and how it can best be backed up.
Chuck Rossell writes:
First of all, let me commend you for adding — or at least thinking about adding — online backup to your archival rotation. I think backing up to an offsite, online service is vital. I consider it a tertiary line of defense, however.
For primary backups, I recommend looking at Apple's Time Machine, which works equally well if you have an external hard drive connected to your Mac, or if you're backing up to an Apple Time Capsule or some other network-attached storage.
For secondary backups, I think it's a good idea to clone your hard drive or drives. That way, in the event of a primary drive failure, you'll be able to resume working with relatively little disruption to your routine until you can get whatever the problem is fixed.
Now we get into the third line of defense: Online backups. Backblaze, Carbonite and CrashPlan are all excellent systems. Online services all suffer from an inherent limitation: Bandwidth availability. With 2.5 terabytes of data to store, you have a lot of data to back up. Backblaze says that it takes their average customer about two weeks to get a complete initial backup. And I suspect that with 2.5 TB of data, you're far from average.
One thing you can do with any of these online services is to tailor what gets backed up online. If you're already keeping your primary drive backed up, maybe you don't need all the data on that backed up to the cloud as well (in Backblaze, that's done using the "Exclusions" tab). Maybe it'd just be a good idea to back up files that you don't have stored anywhere else. Backblaze does a good job of, by default, excluding system files, apps, caches, system images and other stuff that just takes up a lot of space, but that doesn't mean you can't ratchet it down even further.
One option to consider, depending on the service: A seeded backup. Backblaze does not offer this, but CrashPlan does: The ability to send them a drive with your backup data on it, to "jump-start" the backup process. It's a convenient way to get a lot of data added to your account really quickly, though it does require you to have an extra drive on hand that you can send to them for the initial backup. Even then, though, there are limitations: CrashPlan, for example, will only send you a 1 TB drive. Anything in excess of that has to be uploaded. But still, better 1 TB than no terabytes, I suppose.
Anyway, I hope this helps. And if you're reading this and haven't really considered a complete backup strategy, here's a guide to get you going:
Got a question about your Mac, or a problem that's been gnawing at you? Feel free to send it to machelp@imore.com and we might feature it in a future column!
Master your iPhone in minutes
iMore offers spot-on advice and guidance from our team of experts, with decades of Apple device experience to lean on. Learn more with iMore!