Mac users: Photos is here, but don't get rid of iPhoto or Aperture yet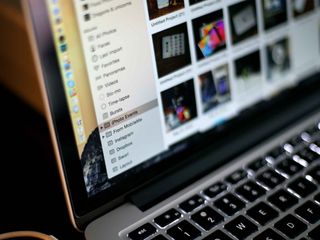 OS X 10.10.3 was released Wednesday, and with it, a brand new Photos app for the Mac, complete with support for iCloud Photo Library. Photos is the future, yes, and with its release, we won't see any more changes to iPhoto or Aperture, but that doesn't mean those apps are going away today.
You may remember that when Apple introduced iOS 8, it abruptly stopped iOS device users from using iPhoto. Opening the iPhoto app on iPhone or iPad resulted in an error message — the company forced iOS 8 adopters to use Photos instead.
Fortunately, that hasn't happened on the Mac. iPhoto and Aperture still work, and will still continue to work on OS X Yosemite. Apple's given us that much reassurance, at least.
Obviously the Mac doesn't exist in a vacuum. Apple's continuing to develop new versions of OS X and new Application Programming Interfaces (APIs) that OS X developers will use to unlock new features in their own apps. There's no promise of backward compatibility with legacy apps like iPhoto and Aperture beyond Yosemite.
I've spoken to many iPhoto and Aperture users who are already looking (or have migrated) to other programs like Adobe's Lightroom, though in fairness, most of the actual photo pros I've spoken with migrated away from Aperture years ago when Apple stopped putting any sort of effort into updating it with new features.
Still, Aperture and iPhoto both work presently; in fact, Photos' share sheet includes an "Add to Aperture" function that makes it really easy to use Aperture along with Photos (I've been using it this way for the past couple of months, to do things like quick color-correction, cropping and resizing for product photos I use at iMore, for example).
The bottom line: If you're trying to "future-proof" your Mac, your best bet is to migrate to Photos and starting using it. But that doesn't mean you need to make that change today. After all, some of us have invested years in iPhoto and Aperture-based workflows. Figuring out how to integrate Photos into those workflows will likely take some time and some effort.
To that end, the iMore team has created a lot of information for you about Photos:
Get the best of iMore in in your inbox, every day!
About a week ago I went all in. The beta seemed solid enough. I started by backing up my iPhoto Library to an external. Then upgraded my iCloud Drive storage. Then launched Photos. Haven't had any issues since. Was a bit slow going, took about 5 days for 16,000 photos/videos, but so far so good. As you say, this is the future. I had decided when they first announced it that was the direction I would likely go. My one issue is finding a way to share an entire library or smart album with my wife, one that updates all the time. Sent from the iMore App

Only issue I had was after updating my rMBP and turning on photos, first time I synced my iPhone and iPad photos app opened and synced my photos from my devices. Which of course duplicated all of them on every other device. Since then no problems. Maybe the iTunes update today fixed that.

Is Moments replacing Events? I I have thousands of photos and they're all divided by Events with titles that are more relevant than a date or location; I would hate to lose that?

I have the same question I am hoping there is some way to get the titles back. The other odd thing is some of my photos lack the time and date stamp on the photo that my camera automatically puts there. Edit: Found Events. Click on Albums then iPhoto events.
Thank you for signing up to iMore. You will receive a verification email shortly.
There was a problem. Please refresh the page and try again.