MacBooks offer incredible value over time even when they become 'obsolete'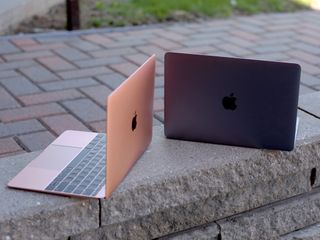 (Image credit: iMore)
All technology ages. Hardware becomes outdated; software becomes too burdensome for older models — its the product life cycle in motion and MacBooks are no different.
Apple recently moved five models to "Vintage" status on its Vintage and Obsolete products list, and it's possible it the model you use is on that list. A few of my coworkers here at iMore still use vintage and obsolete machines every day, meaning its no reason to panic.
What does vintage and obsolete mean?
While the word may make you think of a cool old piece of clothing or a rare collector's item, you rarely think of anything good when you hear the words "vintage" and "MacBook" in the same sentence — nevermind the word "obsolete." The terms come down to the age of the device and Apple's stance on repairing them (opens in new tab).
Vintage products are devices that have not been sold for more than five, but less than seven years ago, and they will continue to receive hardware service from Apple service providers (like the retail stores) as long as they have inventory.
Here's what Apple says about obsolete products:
Basically, if you have a vintage device, you should still be able to get it repaired as long as the parts and services are still available. If you have an obsolete product, you won't be able to get the hardware serviced at all.
Nothing to do with software
There's no correlation between vintage and obsolete products and software updates. Apple prides itself on providing software updates devices for years on all its products, and even if your device is considered vintage or obsolete, it doesn't necessarily mean it won't be supported through software updates.
Apple support for hardware and software is impressive
It's no secret that Apple is fantastic at support older devices with software updates — way better than the fragmented Android market does — but the hardware support is pretty impressive.
If you buy a new MacBook today, you have at least five years before that model becomes "vintage," meaning regardless of which problem you have with that MacBook, for five years, you should be able to get it repaired no problem. Obviously, paying for that repair (depending on what needs fixing) will cost you something depending on what coverage you may have, but you will be able to get it fixed.
In my experience, getting a Windows laptop repaired after a few years can be a nightmare. Depending on what warranty you have and where you bought the device, the repair process can be atrocious.
Break it down, and the finances look awesome
MacBooks are often criticized as being quite expensive for what they are, and while there is some truth to that, I think you need to take the lifespan of the product into account when making any big purchase. At a minimum, it takes seven years for a new MacBook to become "obsolete" if you break down the price of a MacBook over seven years, it starts to look a lot better.
Take the new 13-inch MacBook Pro as an example. The base model costs $1,300, which means the price over seven years would work out to about $185 per year — that's a great value. Plus, that entire time, you're able to get repairs done. Meaning you won't be stuck without a device if your MacBook did decide to give out.
MacBooks work for a long time
The bottom line is that Apple is great at supporting its devices, both through software and hardware, and the "vintage" and "obsolete" designations aren't that important.
Plenty of people I know are still using 2013 MacBook Pros in 2020 wth no issues. Sure they run a little slower than they used to, but the value they've gotten out of that machine for the past seven years is virtually unmatched by other companies.
Luke Filipowicz has been a writer at iMore, covering Apple for nearly a decade now. He writes a lot about Apple Watch and iPad but covers the iPhone and Mac as well. He often describes himself as an "Apple user on a budget" and firmly believes that great technology can be affordable if you know where to look. Luke also heads up the iMore Show — a weekly podcast focusing on Apple news, rumors, and products but likes to have some fun along the way.
Luke knows he spends more time on Twitter than he probably should, so feel free to follow him or give him a shout on social media @LukeFilipowicz.
I have a 2011 27' iMac and a Mid 2013 MacBook Air that both still work great. The iMac is starting to slow down a bit and obviously can't take advantage of the newer MacOS updates. Good thing I convinced my wife to let me get a 16" MacBook Pro, which has been absolutely amazing to use.

I have a 2015 MacBook Pro thing runs like a champ only thing wrong is some of the keys are falling out. I just upgraded to a new MacBook Pro 16 and it's a beast.

I am working on a mid-2014 15" retina MacBook pro running Catalina. I'd love to have a new computer but that is not a financial option. In the Mancave, under lockdown, I use its screen, with a 42" Acer as the main display (via DisplayPort) and an old 21" LG TV to display video (via HDMI) or Whatsapp and Messages. I have 12 displays spread across the three screens for school work (teacher - not student) with Scrivener for the book I am writing and other displays for Twitter, Safari (about thirty tabs) and Music. It also provides content for the AppleTV in the house. The MacBook Pro almost always copes with my needs, which are heavily on the word processing and research side of things. The build quality is superb. I have taken it back and forth to School every day for six years, plugging and unplugging cables, thousands of times in that period. I have extended the 500GB drive by using that wee trick of getting a 256 GB micro SD card for music and video files and housing it in the SD slot with a semi-permanent adapter. I have a motley collection of drives, to which I Time Machine. What more, could a boy want?

Apple marking a Mac as "obsolete" or "vintage" means nothing. You can bypass macOS upgrade restrictions to still install Catalina on old models that "shouldn't" support it, and even if that doesn't work, you can install Windows or Linux. Some older MacBooks can have extra RAM installed and have the hard drives exchanged for SSDs, breathing new life into the machines. There's still plenty of people happily using old "obsolete" MacBooks

Smoking much apple crack. There is no value. My 2007 acer is fully supported by windows 10 and my 2007 Macbook is a paperweight. What a load of **** article.

How is it a paperweight? If all the parts are still functional, then you can try bypassing the OS upgrade restriction to get to Catalina, or if that doesn't work then install your favorite OS Windows on it. It's still a functional computer
Thank you for signing up to iMore. You will receive a verification email shortly.
There was a problem. Please refresh the page and try again.