Media picks of the week: Brooke Fraser, Fugazi, Guardians of the Galaxy, Grumpy Cat and more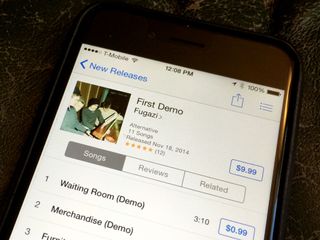 Every week Apple adds tons of new media content on iTunes — music, books, movies and more. It's impossible to keep up with all of it, but it's not impossible to pick out the very best. Here they are! This week we've got an eclectic collection including New Zealand's Brooke Fraser, the first demo tape from legendary D.C. post-hardcore band Fugazi, Guardians of the Galaxy and much more!
Brutal Romantic - Brooke Fraser
Fraser has changed a lot since her third album, Flags was released in 2010. She's gone from folk-pop to full on electronic pop with Brutal Romantic. We first got an inkling of what to expect over the summer with the Soundcloud release of the album's first single, Psychosocial, and much of the ten tracks on this collection continue in that vein: Heavy electronic drum treatments, keyboards, special effects and vocal distortion. There are some moments of intense beauty on here, too, like the string work on the title track. It's a very different sound, but punctuated with the same smart lyrics and gorgeous melodic composition you'd expect of Fraser.
First Demo - Fugazi
Washington D.C.'s legendary post-hardcore band Fugazi is as well known for their DIY ethics as they are for their music. They've been on indefinite hiatus for the last decade, but their legacy lives on. Dischord Records has released their first demo tape, made after the band had performed less than a dozen live shows — one that's been part of the underground Fugazi scene for years, as it was distributed on cassette at their shows after it was recorded. Many of the songs on here would later make their way onto Fugazi's first LP, Repeater, in 1990. Here you can listen to some of Fugazi's best-known songs the way the band originally envisioned them — tracks like the anti-commercial Merchandise and even Furniture are presented warts and all (listening to them have to restart Badmouth is refreshing, given how technically amazing Fugazi would later get). If you're a longtime fan, First Demo is a must have.
Guardians of the Galaxy
Available as an early release on iTunes, the summertime blockbuster is finally available for you to own. Adventurer Peter Quill finds himself in league with an unlikely group of allies — a genetically altered raccoon, a sentient tree, an alien bent on revenge, and another with a much more personal reason for seeking help. All of them band together to keep the evil Ronan from possessing an object of immense cosmic power, one that can alter the fate of the universe. It's a rollicking good romp with a terrific soundtrack of 1970s AM Gold hits. Includes iTunes Extras that guide you through the making of the hit film, a Gag Reel, deleted scenes and an exclusive look at the upcoming Avengers: Age of Ultron movie starring James Spader.
20,000 Days On Earth
Calling this a documentary just isn't right. It's about Nick Cave, the legendary Australian singer/songwriter who first rose to fame as a member of The Birthday Party and then later as the front man for Nick Cave & The Bad Seeds. It's part documentary — you'll watch Cave on stage and in the studio, but it's more than that: A staged day in the life of the artist, complete with daydream-like scenes and more, including stories from friends and collaborators.
$14.99 - Download now (opens in new tab)
Downton Abbey Box Set (Seasons 1-4)
You can own all four seasons of the hit costume drama Downton Abbey (broadcast in the US by PBS and the UK by ITV) before the fifth season gets started (in the US) in a few short weeks. This drama follows the lives of the upstairs and downstairs residents of Downton Abbey, a grand estate that's home to the Earl of Grantham and his family. The drama follows the trials and tribulations of the Earl's family and his loyal servants during the first half of the 20th century, as England changes forever — the Great War, the difficult economic times that followed, and the social upheaval that would change English society and the aristocracy's place within it forever. Includes exclusive looks at the cast of characters, sets and more behind the scenes.
Grumpy Cat's Worst Christmas Ever
It hasn't been broadcast yet, but you can buy a "season pass" to get it early and download a free preview. It's the Christmas special featuring one of the Internet's biggest feline celebrities — the cat known as Grumpy Cat (or Tardar Sauce). With the voice talents of Aubrey Plaza (Parks and Recreation) serving as Grumpy, 12-year-old Chrystal is the only one who can hear her. Will Grumpy learn the true meaning of Christmas, or will it be truly the worst Christmas ever?
Iron Horses: America's Race to Bring the Railroads West - Walter R. Borneman
A fascinating account of the development of the transcontinental railroad system that transformed the American continent in the 19th century. This isn't about the first railroad — it's about the boom in rail construction and development that happened afterwards, as businesses and tycoons sought to expand their fortunes and influence by building better, shorter routes and expanding both east and west.
Your movie, TV and music picks?
There are my media picks for this week. What have you found in iTunes that you love? Let me know in the comments.
Get more iMore in your inbox!
Our news, reviews, opinions, and easy to follow guides can turn any iPhone owner into an Apple aficionado
Guardians Of The Galaxy (Awesome Mix Vol. 1) is currently free on the Google Play Store...
https://www.imore.com/e?link=https2F2Flinks%2F1...

Didn't expect you guys are into Fugazi!