Media picks of the week: Interpol, Edge of Tomorrow, The Bone Clocks and more!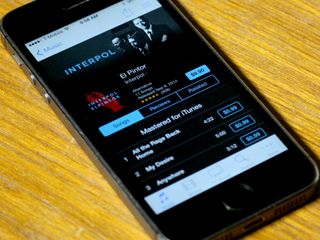 Every week Apple adds tons of new media content on iTunes — music, books, movies and more. It's impossible to keep up with all of it, but it's not impossible to pick out the very best. Here they are! This week we've got new music from Interpol and Death from Above 1979, Tom Cruise's new sci-fi thriller, a new book from the author of Cloud Atlas and more!
El Pintor - Interpol
Interpol led the revival of the new wave sound when their debut album Turn on the Bright Lights dropped in 2002. The three albums since then have been uneven. El Pintor, then, is a return to form: There are strong echoes of Turn on the Bright Lights here. That's interesting, since this fifth album is their first since bassist Carlos Dengler, considered a key part of the band's distinct sound, left. Clocking it at around 40 minutes, the ten tracks on El Pintor won't stay around long enough for you to get sick of them — there's very little indulgence or meandering on this album. They've trimmed just about all of the fat away here. Interpol will never release a feel-good record — they truck in melancholy and malaise, and likely always will — but if you're looking for more of that arty, dark sound that made their debut album and its followup Antics so delicious, you're in for a treat.
The Physical World - Death from Above 1979
DFA hit hard with the 2004 release of You're a Woman, I'm a Machine, putting this dance-punk duo from Toronto squarely center stage. Then the band imploded two years later, with Jesse F. Keeler going off to work on MSTRKRFT and Sebastian Grainger going off to do a bunch of projects, both of them seemingly happy to never talk to each other again. The band reformed in 2011 and started performing live, and The Physical World is the result: Ten years later, and they've picked up right where they left off. Hard driving guitars and pounding drums, paeans to lost innocence and even a ballad, with almost nothing longer than three minutes.
Edge of Tomorrow
Tom Cruise and Emily Blunt team up for this sci-fi thriller in which Major William Cage (Cruise) is a future soldier defending Earth from an alien invasion. He's killed within minutes of engaging the enemy, only to find himself stuck in a time loop — with a clear memory of what happened before. Only Rita Vrataski (Blunt) holds the secret to how Cage can change his destiny and break out of the loop they find themselves in. Available as an early release on iTunes, with iTunes Extra included.
Brooklyn Nine-Nine
Andy Samberg of Saturday Night Live fame stars as Jake Peralta, a man-child detective who's really good at his job, but a complete screw-up — something that he's able to get away with in his loosely-run Brooklyn precinct. When tightly-wound Captain Ray Holt (Andre Braugher) takes over, he's determined to clean up Peralta's and his fellow officers' ways — and that's where the funny starts. Discounted for the full first season (22 episodes).
The Bone Clocks - David Mitchell
The author of Cloud Atlas is back with a new tale — and this one is several different independent novellas weaved together, much like the format of Cloud Atlas. Stretching from the mid-1980s to the mid-2040s, The Bone Clocks jumps from England to America, Iraq to Ireland, with a story arc involving two warring groups of immortals, the Horologists and the Anchorites. It's an intricate, interconnected puzzle, taking you from Thatcher-era England in the mid 1980s to a post-apocalyptic future.
Your movie, TV and music picks?
There are my media picks for this week. What have you found in iTunes that you love? Let me know in the comments.
Master your iPhone in minutes
iMore offers spot-on advice and guidance from our team of experts, with decades of Apple device experience to lean on. Learn more with iMore!