Best TV, movies, and music of the week: Judas Priest, Cinnamon Chasers, Hannibal and more!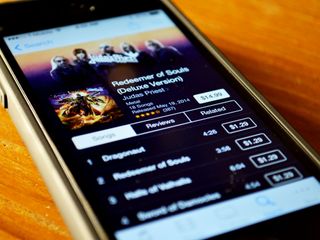 Every week Apple adds tons of new media content on iTunes — music, books, movies and more. It's impossible to keep up with all of it, but it's not impossible to pick out the very best. Here they are! This week we've got amazing music from heavy metal royalty, a collection of infections electronic dance grooves, Martin Scorcese's latest blockbuster and so much more!
Redeemer of Souls (Deluxe Version) - Judas Priest
Judas Priest is, was, and always will be one of the best heavy metal bands ever to exist. And Redeemer of Souls shows that more than 40 years later, the band is still capable of turning out great material. Honestly, it was a question mark about how the band would continue after K.K. Downing retired in 2011, but Richie Faulkner has stepped up to the plate in a huge way, and he and Glenn Tipton play off each other's solos spectacularly. Ian Hill and Scott Travis serve up thunderous bass and drums respectively. Standouts from the album include Sword of Damocles, March of the Damned, and Halls of Valhalla, which I'll put up against any of Priest's earlier works as a guaranteed classic.
The Best of Cinnamon Chasers
Russ Davies comes from rock and roll royalty: His dad is Dave Davies, the lead guitarist and co-founder of The Kinks. He's an electronic musician, producer and songwriter who works under two principle aliases: Abakus and Cinnamon Chasers. Growing up in London, Russ enjoyed the burgeoning underground electronic music scene, and he's been making it himself since the late 90s. As Cinnamon Chasers, Davies says he's trying to evoke the same emotion he felt watching movies like The Neverending Story as a child. It's uplifting, danceable music with a pop music structure and infectious hooks, influenced by electronic music giants like Giorgio Moroder, Jean Michel Jarre and The KLF.
The Wolf of Wall Street
This week's 99 cent rental as iTunes' Movie of the Week, The Wolf of Wall Street teams up Leonard DiCaprio with Martin Scorcese to tell the story of Jordan Belfort, a real-life Manhattan stockbroker who founded Stratton Oakmont — a "boiler room" brokerage firm that focused on duping investors by selling them penny stocks. Scorcese turns his director's eye on an uncompromising view of Wall Street at its absolute worst: drugs, money, sex and unbridled greed.
Hannibal, Season 1
If you missed NBC's Hannibal series when it debuted last year, summer is a great time to catch up. This series is based on Thomas Harris' charismatic and horrifying doctor/serial killer Hannibal Lecter, with Mads Mikkelsen in the title role. FBI criminal profiler Will Graham is on the hunt for a killer of young girls. The case causes enormous strain on Graham, so his boss elicits the help — and supervision — of psychiatrist Hannibal Lecter. Great direction, scriptwriting and acting make this one of the standouts of last season.
Haatchi and Little B
Owen - known to his family as "Little B" - has a rare genetic condition that leaves him largely confined to a wheelchair. Owen found it difficult to make friends, and was very shy and withdrawn. Haatchi was an Anatolian Shepherd puppy, abused and cruelly discarded on railroad tracks, then hit by a train, massively crippling him. When Little B's parents found Haatchi, they introduced him to Little B. A heartwarming, uplifting and absolutely true story about the bond between a boy and his dog.
Your movie, TV and music picks?
There are my media picks for this week. What have you found in iTunes that you love? Let me know in the comments.
Master your iPhone in minutes
iMore offers spot-on advice and guidance from our team of experts, with decades of Apple device experience to lean on. Learn more with iMore!