Media picks of the week: Leonard Cohen, Pixies, The Maze Runner and more!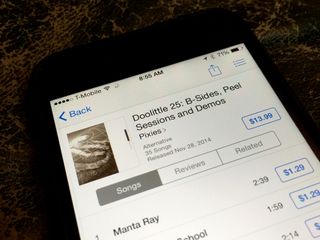 Every week Apple adds tons of new media content on iTunes — music, books, movies and more. It's impossible to keep up with all of it, but it's not impossible to pick out the very best. Here they are! This week we've got a collection of Pixies songs that every completist needs, a live performance by the legendary Leonard Cohen, The Maze Runner, and more!
Doolittle 25: B-Sides, Peel Sessions and Demos - Pixies
Celebrating the 25th anniversary of their seminal album Doolittle, the Pixies have collected various b-sides, tracks recorded live for British DJ John Peel, and demo tracks. Certainly this is a must-have for Pixies completists! Everyone else can probably take a pass, but it's noteworthy because Pixies are inarguably one of the most influential 80s bands ever — and I don't just say that because my wife tells me I look like Frank Black.
Live In Dublin - Leonard Cohen
The legendary singer/songwriter (no relation) recorded this album back in September 2013 on the Dublin, Ireland leg of his sold out 2012-2013 tour. This three-album set includes 30 tracks — two and a half hours of music — with the (at the time) 79-year-old baritone backed by an enormously talented band. The set includes just about every Cohen track you'd ever care to hear (with the possible exception of Sisters of Mercy), presented beautifully. Cohen may be in his twilight years, but he's still an incredibly powerful performer and stage presence.
The Maze Runner
A sci-fi action film based on James Dashner's popular YA novel, The Maze Runner assembles a group of teens inside a deadly, giant maze. They don't know why they're there or how to get out, but they're desperate to survive, because the maze is populated by horrific creatures that will kill them without hesitation. Thomas wakes up to find himself in the maze and must learn why he's there and what he must do to survive — and how to help his friends escape.
Warren Miller's No Turning Back
No one produces ski and snowboarding videos like Warren Miller and his production company, Warren Miller Entertainment. With a 65-year legacy, it's not hard to understand why. No Turning Back is just the thing to get you in the mood for ski season!
Alan Turing: The Enigma - Andrew Hodges
Alan Turing was the British mathematician whose cryptanalysis work was instrumental in helping the Allies decipher encrypted Nazi communications during World War II. A pioneer in the field, his work during and after the war laid the foundation for decades of modern computer science. He was also gay, and his persecution at the hands of the British government for "indecency" ultimately led to his suicide at age 41. Hodges' biography — the inspiration for the new Benedict Cumberbatch film The Imitation Game — examines both Turing's work and his personal life.
Your movie, TV and music picks?
Those are my media picks for this week. What have you found in iTunes that you love? Let me know in the comments.
Get more iMore in your inbox!
Our news, reviews, opinions, and easy to follow guides can turn any iPhone owner into an Apple aficionado
Thanks for the ski movie heads up--will be renting that one over the holidays!