Media picks of the week: Philip Glass, Extraterrestrial, Wonder Woman!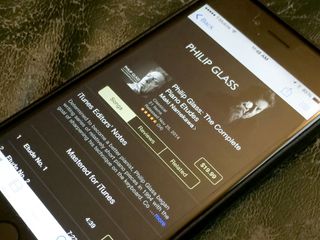 Every week Apple adds tons of new media content on iTunes — music, books, movies and more. It's impossible to keep up with all of it, but it's not impossible to pick out the very best. Here they are! This week we've got piano etudes from Philip Glass, new music from Ani DiFranco, movies and TV shows, and the secret history of Wonder Woman!
Philip Glass: The Complete Piano Etudes
Modern composer Philip Glass shrugs off the "minimalist" moniker, preferring to describe his own work in terms of a classicist who is fond of using repetitive melodic structures. However you describe him, Glass is one of the most influential and well-known composers of the second half of the 20th century. Completed over the course of two decades, Glass's piano etudes give an insight into the composer's evolution. Here they're interpreted by Maki Namekawa. There are some gorgeous, stark, and yes, repetitive moments on here — if you're used to hearing a complete orchestra present Glass's work, this will give you a more intimate portrait of the artist.
Allergic to Water - Ani DiFranco
Starting out with a criticism of data overload, Ani DiFranco shows that she's still a social critic even after 18 albums. But there's a very different, and more personal and inward tone, on most of the rest of this album, with lots of existential angst, songs about relationships and marriage, and other fare (the title track is a satirical take on Americans' increasing focus on food allergies). Harder Than It Needs To Be is a particular favorite of mine, not only for its harder-hitting lyrics (again focusing on relationships) but also for DiFranco's great combination of jazz, blues and country. DiFranco's influenced quite a bit from New Orleans jazz and blues on this outing.
Extraterrestrial
A sci-fi horror movie from The Vicious Brothers (Colin Minihan and Stuart Ortiz, creators of the Grave Encounters franchise). A group of friends on a weekend trip to a cabin in the woods find themselves terrorized by aliens from another world. OK, not the most original plot ever, but it's a solid genre effort with some neat twists in the third act that make this worth getting if you're into alien abduction stories.
Happy Valley
Penn State football was, for generations, the pride of State College and the pride of Pennsylvania. All that came crashing to a halt in 2011 when assistant coach Jerry Sandusky was charged with 40 counts of child sex abuse. What did head coach "Saint Joe" Paterno know, and when did he know it? Did Penn State administration bury the problem to keep their football program at the forefront? This documentary, shot in the year following the scandal, gathers interviews and other footage together to help paint a grim picture of what really happened.
Fargo, Season 1
I admit that I was skeptical when I heard that Joel and Ethan Coen's masterful movie Fargo was being turned into a television show. But it gripped me right from the start. No mere adaptation of the movie, Fargo (the show) shares setting, character types and quirky twists with the movie from which it's inspired, but that's it. Featuring a phenomenal cast including Billy Bob Thornton, Colin Hanks, Bob Odenkirk, Oliver Platt and others, this became an absolute must-see this past year. If you missed it, or if you want to watch it again, here's your chance to see it from the start.
Orphan Black, Seasons 1 and 2 Box Set
Tatiana Maslany plays the lead in this ambitious sci-fi series (airing in the U.S. on BBC America) about women who find out they're clones, caught in a deadly conspiracy. The third season comes back next year, so there's plenty of time to catch up on what's happened to date. This box set includes plenty of behind the scenes shorts.
The Secret History of Wonder Woman - Jill Lepore
One of the most iconic comic book characters ever, Wonder Woman occupies a special place in the folklore of American superheroes. New Yorker staff writer (and Harvard historian) Jill Lepore delves into the background behind the creation of Wonder Woman — specifically, the history of Wonder Woman's creator, William Moulton Marston. Marston was heavily influenced by suffragettes and early feminists, and it shows in his work.
Your movie, TV and music picks?
There are my media picks for this week. What have you found in iTunes that you love? Let me know in the comments.
Master your iPhone in minutes
iMore offers spot-on advice and guidance from our team of experts, with decades of Apple device experience to lean on. Learn more with iMore!