Media picks of the week: Prince, Godzilla, Legends and more!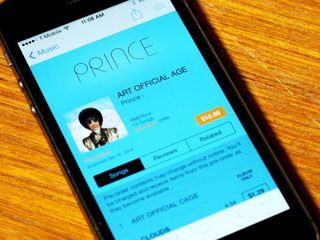 Every week Apple adds tons of new media content on iTunes — music, books, movies and more. It's impossible to keep up with all of it, but it's not impossible to pick out the very best. Here they are! This week we've got new music from Prince, doom soul from Cold Specks, Godzilla and more!
Art Official Age and Plectrumelectrum - Prince
Only Prince can get away with releasing two albums on the same day. Prince is back with Warner Bros, the same label he split from back in the 1990s when he painted the word "Slave" on his face and changed his name to a symbol. They've kissed and made up, and the result is not one but two albums. Art Official Age contains 13 tracks while Plectrumelectrum includes 12, and the tracks available for download now sound like classic Prince, which is what we've been promised since he first hinted at the new music earlier this year. Both albums are available for pre-order with a few tracks ready for download now; the rest drop in late September.
Art Official Age
Plectrumelectrum
Neuroplasticity - Cold Specks
"Doom soul" is an appellation that Al Spx's applied to her own music when her debut album I Predict A Graceful Expulsion appeared in 2012. Her delivery is heavily influenced by the gospel music of the Deep South, but it's got a much heavier, gothic influence and musical arrangement. Her backing band is much more prominent on this record compared to her debut, which adds a bit of tension between singer and band. In most cases that works out well, adding complexity to songs, though it does get a bit muddied in places. A solid sophomore effort.
Godzilla
Director Gareth Edwards' debut movie Monsters was another monster movie, but it cost a shoestring budget of $1 million to make and he did all the monster effects on a laptop. Now he's been given the reins of a reboot of the most iconic kaiju in history: The mighty Godzilla, King of Monsters. Some criticized him for the movie's pacing — you never actually see Godzilla in all his glory until the second act — but what he's done is a solid homage to the original Godzilla, while thoroughly updating the movie with a modern sensibility and a modern message. Also, it's a Godzilla movie! Yay!
Legends, Season 1
Sean Bean (Game of Thrones) is Martin Odum, a deep cover operative for the FBI. A misfit within the ranks, he assumes the identity of his cover like no one else, thoroughly becoming the person he's pretending to be ("legends," in deep cover parlance, are the stories you craft to create a convincing back story). A stranger attacks him and tells him that he's a legend, which throws his world into turmoil.
Lock In - John Scalzi
Science fiction author John Scalzi focuses on the near future with a story about what the world looks like after a new virus ravages the population, creating "Haden's Syndrome:" Its victims are awake and aware, but can't move — they're locked in their own bodies. Integrators are those who can let those who are locked in borrow their bodies for a short time. FBI agents are sent to investigate a murder involving an integrator, and what they learn uncovers and implicates the highest halls of corporate power. Sold without DRM.
Your movie, TV and music picks?
There are my media picks for this week. What have you found in iTunes that you love? Let me know in the comments.
Master your iPhone in minutes
iMore offers spot-on advice and guidance from our team of experts, with decades of Apple device experience to lean on. Learn more with iMore!