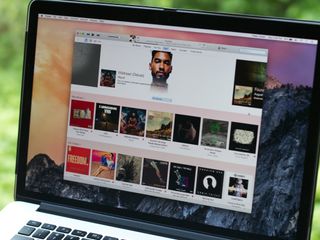 When it comes to playing music, podcasts, video, and other related media, Apple's iTunes application is the place to do it on your Mac. Whether you're an old hand at iTunes or you're just getting started with the Mac, here's what to expect from Apple's desktop music application. 
Meet the interface
The first thing you may notice about iTunes is its icon — a multicolored icon with a white interior.
iTunes's basic interface isn't too complicated: You'll find a top bar with access to your play controls, information, account settings, and a search bar, along with tabs to access various aspects of the app. Those tabs, however, will change depending on whether you've signed up for an Apple Music or iTunes Match subscription.
If you're rocking iTunes without an Apple Music subscription, your list of tabs will include My Music, Playlists, Radio, and iTunes Store. The Radio tab has been slightly tweaked, too, to replace iTunes Radio with Apple Music radio stations and to add the 24/7 Beats 1 station.
Add an iTunes Match subscription, and you'll see a Match tab before iTunes Store.
 Sign up for an Apple Music subscription, however, and you'll get two additional tabs—For You and New, which appear between Playlists and Radio—along with the Connect tab next to the iTunes Store tab. (Note: In iTunes > Preferences > Parental, you can turn off the Connect tab: This makes the tab disappear.)
How to access artist, song, album, and other categories
iTunes uses tabs to differentiate each of the app's features; your music's categories live within the My Music tab. Click on the category button in the upper right corner (it defaults to Artists) and choose song, artist, album, composers, or genres.
To view which songs you've stored locally and which ones are stored in iCloud Music Library, click the category button and select Songs.
 Once you've done that, click the category button once more and select Show Columns, then make sure iCloud Download is checked. Cloud icons will now appear next to songs you have in iCloud Music Library but haven't downloaded locally to your Mac.
How to find playlists
Your music playlists live inside one of the tabs along the top of your iTunes window. When you click on the playlists tab, you'll see a sidebar on the left of the app that displays quick access to your library and iOS devices (in case you want to create new playlists and add songs to or from them), along with groups of playlists organized into Apple Music Playlists or Playlists, respectively.
 If you're subscribed to the service, Apple Music Playlists collects any playlists you've saved from the Apple Music catalog—they're non-interactive and exist as-is; the latter section displays all the playlists, Smart playlists, and Genius playlists you've created yourself.
Choose a playlist and press Play or Shuffle to begin listening immediately. You can also share playlists, as well as add them to your Up Next queue.
How to use the mini player
The iTunes mini player is a persistent set of controls that you can use from any place in the app to pause/play, access Now Playing, and get additional options.
How to view the Up Next queue
Up Next is like a secondary playlist that you can add music to without obliterating what's already playing. Mouse over the iTunes Now Playing bar, then click the three horizontal lines to access your Up Next queue.
How to use AirPlay
iTunes has AirPlay built in: You just need to click the AirPlay button in the iTunes window.
Questions?
Not sure where to find something in iTunes? Let us know below and we'll try to help.
Serenity was formerly the Managing Editor at iMore, and now works for Apple. She's been talking, writing about, and tinkering with Apple products since she was old enough to double-click. In her spare time, she sketches, sings, and in her secret superhero life, plays roller derby. Follow her on Twitter @settern.
Still no luck with iCloud music library working on my MacBook Air. Keeps giving an error code when trying to set it up. Sent from the iMore App

I have iTunes match, but "match" does not show in the tabs.

That was a big change for me as well. The update match menu option was moved to the file menu. I thin it's under File->library. I really don't like how it went from being front and center to being something that you have to hunt for. Match is a great service that they finally got working well. It's silly to trivialize something like that in favor of Apple music service that has had a rocky start.

Still don't see my iTunes Match tab. Confusion with Match is the main reason I haven't signed up for Apple Music and won't until it is VERY clear that I still have iTunes Match and my tracks on my computer.

The Match tab only shows up when you're logged out of Apple Music, but it definitely still exists! you can also access it from the iTunes Store > Music Quick Links if you can't find the Match tab.

Thanks. Kinda makes sense. If you're already using Match then it should be in the tabs because all it does is turn it on.

Hey, I found where I could "Add this computer" for iTunes Match under the iTunes Store > Music Quick Links. I did that, but the tab never showed up, even after restarting iTunes. Now, all of my iTunes Match music is still available on my other devices iPhone, iPads, etc., but it was before this update as well. All of my iTunes Match music is still on my computer also. I just really wish Apple made it more clear for me. I know successive updates are "supposed" to improve the program, but I'm not seeing it. Even so, I use iTunes each and every day.

Apple updates feel like they have to invent new ways to confuse us and piss us off. They have crammed too man features and the whole experience feels clunky and no longer intuitive. I hate the updates and fear them now. My Mac has slowed down, often crashes now. The last photo update ruined my events and changed my photos to a unrecognized mess.
The fact that we need so much extra help just to enjoy our songs is further proof of this.
Hey Apple as your users age making these constant changes makes it harder Not easier to use your products.
Also instead of abandoning programs we use and love why not continue them through a third party developer? Don't just drop them leaving us abandoned.

Okay, I just received an email from iTunes reminding me that my iTunes Match subscription will renew on Sept. 16 for $25. I have Apple Music and plan on keeping it active after the trial period ends Sept. 30. So here's the question. Do I need to keep both? If I don't renew iTunes Match will Apple Music perform the same functions such as uploading songs that are not in iTunes, matching songs that are, etc?
Thank you for signing up to iMore. You will receive a verification email shortly.
There was a problem. Please refresh the page and try again.