Moog brings its legendary $10,000 Model 15 synthesizer to the iPad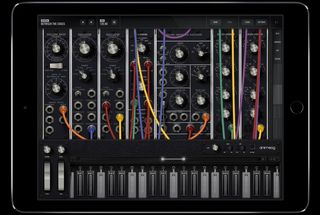 Moog has launched the Model 15 app, which brings a full-fledged Model 15 synthesizer — which used to retail for $10,000 — to your iPad. The [$30 app](is a digital recreation of the legendary synthesizer, featuring rows and rows of knobs, switches, and buttons; along with oscillators, low/high pass filters, looping recorder, ping-pong delay module, MIDI input, and patch cables, all designed to give you the ability to create stellar beats.
There's also a "1150 ribbon controller, 8-step sequencing arpeggiator and the award-winning Animoog keyboard with 22 built-in scales and polyphonic modulation capabilities." Here's what's on offer with the Model 15 app:
Ships with over 160 unique presets
Recreates the sound of a hardware Moog Model 15 modular synthesizer
Intuitive patching and cable coloring
Support for landscape and portrait modes
Voltage-controlled stereo ping-pong delay
Expressive sequencing arpeggiator
Moog 1150 Ribbon controller
Real-time looping recorder with overdub and immediate sharing
The Model 15 app is built using Apple's Metal low-level API, and as such it works on 64-bit iOS devices, including the iPhone 5s or newer, as well as the iPad Air or newer. Given the feature-set on offer though, it makes sense to use the app on an iPad or the iPad Pro.
Get the best of iMore in your inbox, every day!
The clumsiest man in tech.
Weird that this isn't an Arturia app like the Mini Moog and SEM. I guess Moog wants some of that virtual synth money for itself. Sent from the iMore App

That looks awesome! Channel your inner Wakeman. Posted via the iMore App for Android

An interesting achievement. But scrolling considerable distances to connect a virtual cable doesn't appeal to me. Anyway, I won't live long enough to master the virtual synths that I have collected already. (Of these, obsolete Alchemy may appeal to me most.)

I have always wanted a Moog synthesizer! Now is my chance!
Moog recreated their three popular systems from the early '70s for limited release, but then put their know-how into an iOS app that truly reproduces the sound of their classic machines.
This app behaves just like the real Model 15. I simply couldn't resist.
Works very well on my iPad mini 2 and on my iPhone 6, though it is a bit cramped on the phone.
Good documentation includes a quickstart, a tutorial, as well as a guide to writing your own tutorials, and full manuals for the Model 15 and for the Autobridge that allows you to interface MIDI and send recorded performances to GarageBand.
Traditional Moogs were monophonic, playing only one note at a time so no chords. This app achieves polyphony by actually running four cloned copies of the synth to give you true four-note polyphony.
It really pushes iOS 9.3 as far as it can.
I am so happy to have this. I can't imaging I will want any other synth...

I expect to see an Apple Design Award for this one.