The most physical games for Nintendo Switch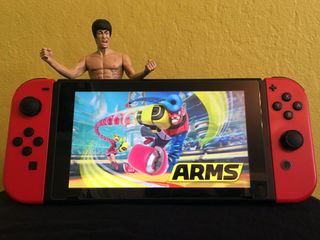 Since its very inception, the utilization of motion controls in games has been divisive for gamers. When the implementation of motion controls feel like an afterthought to a game, it's hard to argue that there is any sort of added value or fun. However, when the use of motion feels like it was woven into the fabric of a game's development from the beginning, it can actually serve to deepen the experience.
I have found that games which include motion controls effectively can be a blast to play at family gatherings and parties. If you're looking for some Nintendo Switch games to get your friends and family moving, then take a look at these titles.
Splatoon 2
Splatoon 2 may not have you jumping around the room and waving your arms around in an odd example of semaphore, but it does actually utilize the technology pretty effectively. Aiming with your Joy-Con can be smooth, fast and satisfying once you get the hang of it. Despite the fact that you probably wont be breaking a sweat while you play, I think the fact that it works so effectively earns it a spot on this list. Pick up your copy for $50.
ARMS
ARMS offers a lot more depth of physical mechanics when it comes to motion controls. With bespoke, real-world movements for a multitude of in-game effects, there is a lot more to chew on here than other games with motion control. Pick up a copy and you will be swinging, twisting, and grabbing your way to victory. Get your copy for $50.
1-2 Switch
Sure, 1-2 Switch feels a bit like a showcase for motion control on the Switch, but that may be exactly why you might want to consider picking it up. If you want to show the fam what your Switch can do while playing through a multitude of party games, then you can't do much better than 1-2 Switch at the moment. There are some truly odd mini-games included which could see you in a shaving contest with your grandmother. I bet you that's something you never thought you would do. It can be yours for $50.
Nintendo hasn't really found its Wii Sports equivalent on the Switch yet, but as the console starts to mature I am sure we will see more titles using motion control. Without a doubt, some of those titles will use the technology poorly, but every now and then there will be a release which will actually be a load of fun. Getting your body moving while you play a game can be more than just novel when it's implemented well.
What sort of game would you like to play with motion controls?
Is there a certain type of game that you think would be perfect for motion control technology? Let us know below
Master your iPhone in minutes
iMore offers spot-on advice and guidance from our team of experts, with decades of Apple device experience to lean on. Learn more with iMore!