Mount all the peripherals on your MacBook Pro for $60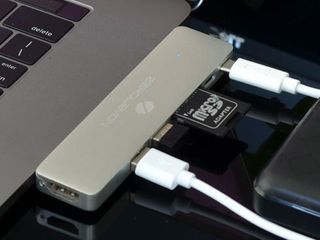 So you bought the latest and greatest MacBook Pro because, hey, it's the latest and greatest. You figured, "nah, I'm good with USB-C; I'll dongle my life away until everyone else gets on board with Apple's vision!" Then you worked with it for a few months, denying that anything was wrong. You thought, "I can make this work. Everything is fine. Everything is A-OK. Everything is fine." But on that last "fine" you involuntarily snapped a pencil in your hand and gritted your teeth, sweat beading down your forehead. "I CAN'T TAKE IT ANYMORE," you exclaim, and before you realize what you're doing, your MacBook is in pieces next to the playhouse you tried to build for the kids last summer.
It doesn't have to be this way.
Get your much needed ports back for $60
Learn more
The iMemPro USB-C Hub from ZeroLemon is your ticket to the good ol' days — a multi-port hub that lets you mount SD cards, microSD cards, USB-A peripherals, 4K HDMI, and two more USB-C devices. "Surely something like this must cost an arm and a leg!" you cry in abject defeat. No. While this hub regularly retails for $99.99, you can snag yours for $59.99 at iMore Digital Offers.
If you're sick of living the dongle life with your new MacBook Pro and need more than two to four USB-C ports can offer you, then definitely check out the ZeroLemon iMemPro USB-C Hub, put down that sledgehammer, and start enjoying your MacBook Pro the way reality intended: with more variety than just USB-C.
Just don't pay $100 when you can grab yours at iMore Digital Offers for only $59.99, a savings of 40%. Act now, and we'll even throw in a sigh of relief and a good night's sleep.
Get your much needed ports back for $60
Learn more
Get the best of iMore in in your inbox, every day!
Your source for all things Apple
Thank you for signing up to iMore. You will receive a verification email shortly.
There was a problem. Please refresh the page and try again.