Monarch: Legacy of Monsters — Everything you need to know about the Godzilla show on Apple TV Plus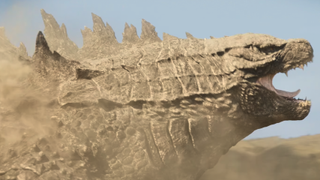 (Image credit: Apple / Toho Co.)
It's been 70 years since Godzilla first emerged from the sea and destroyed Tokyo, but it's taken until now for Monarch: Legacy of Monsters to arrive as the first American live-action TV adaptation. And it's an Apple TV Plus exclusive show. With a budget and scope significantly greater than 1973's Zone Fighter, the last live-action Godzilla show from the kaiju's native Japan, it promises hours of cities crumbling, monsters fighting, and secrets uncovered.
However, the history of Godzilla is pretty murky, with countless reboots, adaptations, and sequels from different countries and continuities. If you're worried you won't get what's going on, or you're simply looking for the release date of the first episode, this is everything you need to know.
Monarch: Legacy of Monsters Release Date
The first two episodes of Monarch: Legacy of Monsters release exclusively on Apple TV Plus on November 17, 2023, with each subsequent episode releasing on a weekly timetable until January 12, 2024, when the final episode of the season will air.
It has been in development since January 2022 and while we don't have any news on a second season just yet, Apple has a track record of quickly greenlighting second seasons.
Monarch: Legacy of Monsters Trailer
Managing to rack up an impressive 15m views in just a single week, the Monarch: Legacy of Monsters trailer focuses more on the humans affected by the presence of towering monsters than Godzilla itself. At just over two and a half minutes long, it shows a grand conspiracy of humans trained to record every conflict that comes from the return of Titans, the monsters terrorizing the earth.
Viewers get a very short glimpse of Godzilla at the very end of the trailer, as it roars at something just off-camera.
What is Monarch: Legacy of Monsters about?
Monarch: Legacy of Monsters follows on from the events of the 2014 Godzilla movie, after the destruction of San Francisco. The story is initially about two siblings who have uncovered the role of Monarch, a secret agency dedicated to studying Titans — the name given to the giant creatures that have begun terrorizing the planet.
The story takes place over three generations, going all the way back to the foundation of Monarch and how decisions made in the 1950s affect the show's two main characters. Like Invasion before it, there are a lot of human stories in this disaster show.
In an interview with Collider, Director Matt Shakman said "It's about many generations grappling with a world with monsters, both the good things and the bad things."
Monarch: Legacy of Monsters cast
Monarch: Legacy of Monsters has lots of recognizable faces. The cast includes:
Kurt Russell (John Ruth in the Hateful Eight and MacReady in The Thing) as Lee Shaw
Christopher Heyerdahl (Captain Caspar Locke in Peacemaker) as General Puckett
Mari Yamamoto (Hana in Pachinko) as Keiko
Qyoko Kudo (Aya in The Wolverine) as Emiko
Dominique Tipper (Naomi Nagata in The Expanse) as Brenda Holland
Wyatt Russell (Zook in 22 Jump Street) as 'young' Lee Shaw — fun fact, he's Kurt Russell's son, playing the younger version of his father's role
In that same interview with Collider, Matt Shakman spoke of casting Kurt Russell and his son, Wyatt Russel. He said "We had this idea that Kurt Russell and Wyatt Russell, who are often, I think, offered things as father and son, but I don't think they'd ever been offered the same part to play in two different time periods. It just felt like, 'What an amazing idea,' and it's so rare."
He continued "two actors who are extraordinary on their own, two actors who bear an uncanny resemblance to each other because they're father and son playing the same part, just felt like an idea that we had to run wholeheartedly at, and they were excited to do it."
Monarch: Legacy of Monsters on Vision Pro
Almost as impressive as the monsters themselves, Monarch: Legacy of Monsters is coming to Apple Vision Pro in 3D, one of the first shows to do so. Given it is a show that has a real focus on spectacle, this could be a glimpse into what TV is going to look like in Apple's 'Spatial computing' headset, and what it will mean for the format in general.
With the headset set to launch early next year, we should know more about the 3D capabilities of the show by then.
Do I need to watch other films before Monarch: Legacy of Monstersrs?
Though you could technically start the show, we'd recommend catching up on the MonsterVerse, of which Monarch: Legacy of Monsters is the sixth instalment. For this reason, we'd recommend watching Godzilla (2014), Kong: Skull Island (2017), Godzilla: King of the Monsters (2019), Godzilla vs. Kong (2021), and Skull Island (2023).
Will there be a Monarch: Legacy of Monsters season 2?
As of right now, we have no confirmation either way. If the show performs well and there's room for another season, it certainly seems possible.
Master your iPhone in minutes
iMore offers spot-on advice and guidance from our team of experts, with decades of Apple device experience to lean on. Learn more with iMore!
James is a staff writer and general Jack of all trades at iMore. With news, features, reviews, and guides under his belt, he has always liked Apple for its unique branding and distinctive style. Originally buying a Macbook for music and video production, he has since gone on to join the Apple ecosystem with as many devices as he can fit on his person.
With a degree in Law and Media and being a little too young to move onto the next step of his law career, James started writing from his bedroom about games, movies, tech, and anything else he could think of. Within months, this turned into a fully-fledged career as a freelance journalist. Before joining iMore, he was a staff writer at Gfinity and saw himself published at sites like TechRadar, NME, and Eurogamer.
As his extensive portfolio implies, James was predominantly a games journalist before joining iMore and brings with him a unique perspective on Apple itself. When not working, he is trying to catch up with the movies and albums of the year, as well as finally finishing the Yakuza series. If you like Midwest emo music or pretentious indie games that will make you cry, he'll talk your ear off.