Despite their relatively small stature, the Ruark Audio MR1 Mk2 offer exemplary sound performance. A great match for a hi-fi, a workstation or even as an accompaniment to a TV, they'll stylishly boost your listening sessions wherever they're placed.
Pros
+

Refined design

+

Compact size, big sound

+

Simple set up
Cons
-

No USB input

-

Remote feels cheap

-

Input levels may need adjusting depending on source
You can always trust iMore. Our team of Apple experts have years of experience testing all kinds of tech and gadgets, so you can be sure our recommendations and criticisms are accurate and helpful. Find out more about how we test.
You're spoilt for choice when it comes to desktop speakers — but not so much if you factor style into the equation. Either utilitarian in design or garishly aimed at gamers, finding a good looking pair of speakers that won't look out of place on a 'grown-up' desk isn't so easy.
Finding a pair that sounds good at the same time? That gets even tougher. But the Ruark Audio MR1 Mk2 speakers take the challenge in their stride.
Small but mighty, these elegant speakers offer a refined wooden enclosure and wonderful sound from a compact package that's as easy to set up as it is to use. They're fantastic.
Ruark Audio MR1 Mk2 speakers: Price and availability
The Ruark Audio MR1 Mk2 speakers are available now, priced at $380 / £349. You'll find them in all good hi-fi retailers, and online direct from Ruark.
That's on the expensive side for desktop speakers, but the gorgeous sound quality they offer from a surprisingly small enclosure means they're able to justify that asking price, even if they're lacking the connected smarts of, say, the recently revealed HomePod 2.
Ruark Audio MR1 Mk2 speakers: Design and connectivity
They may be small, but they be mighty. Considering their relatively diminutive size, the Ruark Audio MR1 Mk2 speakers will make your desktop listening sessions sing in a way few comparably-sized speakers manage.
Available in a walnut or gray finish, each small box (W130mm × H175mm × D140mm, and a little over a kilogram each) features a grey marl fabric covering its cones. It's the right speaker that takes the lead of the two, providing power and connectivity, and easily identifiable by its black control dial on the top side, and black Bluetooth logo in the bottom right corner of its front fabric covering.
The dial turns to control volume (relatively freely — there's a very subtle step-click as it turns to demarcate levels), while clicking it in cycles between the three available sources – Bluetooth (4.0, aptX), Optical-in (24-bit, 192 kHz) and 3.5mm aux-in, each with their own small colored LED light on the dial for easy identification.
Round the back of the main speaker things are kept simple, too. There's power-in, connections for optical and 3.5mm sources, an optional RCA subwoofer out, and a 3.5mm port to connect to the second speaker with the provided braided cable (which nicely matches the marl finish on the front of the speakers). If you don't connect that second speaker, the main speaker will happily work as a single mono speaker — and can even be taken on the go with you if you opt to purchase a bespoke additional battery pack, sold separately. Each speaker can also be wall-mounted.
The Ruark Audio MR1 Mk2 speakers look great — there's little unnecessary fluff added here, just the most commonly used essentials — a USB input for audio from a computer would have been good however, as given their size I can easily see the Ruark pair being hooked up to a desktop computer. You'll be served in that respect by Bluetooth and 3.5mm regardless though. By focussing on the necessities, the impetus is rightly put on the audio quality, and fitting big sound into an aesthetically pleasing enclosure. Job done in that regard.
A 20 minute auto-standby helps the speaker's green credentials, switching to a low power state if no sound is made during that time window, with the speakers auto-waking when a signal is again received. This can be disabled if you'd rather keep a constant connection.
The one weak spot is the Ruark Audio MR1 Mk2 speakers' remote control. It's a tiny, flimsy, six button affair, handling power, volume up and down, and the three input sources. Black, plasticky and easy to lose, it doesn't have the premium feel that the rest of the package does.
One small troubleshooting point to note, too — be prepared to tweak the input level for the wired 3.5mm and optical sources when first hooking them up to your external devices. It's easily fixed by holding the corresponding source button down on the remote until the LEDs flash, and then tweaking the level with the dial. Without making the tweak, the 3.5mm connection to our computer came in way too loud and distorted, so watch out for that.
Ruark Audio MR1 Mk2 speakers: Sound quality
The Ruark Audio MR1 Mk2 speakers make use of a 20W Class AB amplifier in a tuned bass reflex cabinet. A pair of custom 20mm silk dome tweeters sit alongside 75mm polypropylene cone neodymium woofers. They're a great pairing — there's top and mid end detail in spades from the tweeters, while the woofers push a lot of air given the enclosure size, making them very capable at tight and punchy low-end frequencies, too. I was particularly surprised at the performance over Bluetooth too with aptX sources, which retained great detail despite the format's unavoidable compression.
Everything I threw at them sounded great. Kicking off with the soulful You're Not Good Enough by Blood Orange, the well-layered track sparkled satisfyingly across the Ruark, with the Chic-like guitar scratches separating well over the top of the warm walking bassline, which remained defined even as it transitioned from holds to slap-bass pops. It's a complex arrangement, but all the instruments and reverb-laden vocals find their space here.
For a bass workout, there's the always-challenging Angel by Massive Attack. Its brooding and pulsating bassline is handled with aplomb by the Ruark MR1 Mk2, remaining musical and defined even when reaching to the depths of its frequency range. The metronome-like click over the top punctuates the action, without either disrupting the underlying groove, and staying disciplined even as the bassline warps at the track's conclusion.
Onto something a bit crunchier, and it's the Manic Street Preachers' roaring Faster we turn to. Machine gun drums duel against James Dean Bradfield's spiky guitars, and there's detail to spare — I'm able to pick up the double-layered chorus vocal easily, something that can be lost under lesser speakers.
And inspired by its star turn in the recent The Last of Us TV adaptation, Linda Ronstadt's beautiful Long Long Time is a great vocal performance to examine. The Ruark MR1 Mk2 puts her vocal firmly center stage, both soaring and tender at the same time. It's a really wonderfully mixed song actually, with layers of strings and finger-picked guitars, and the Ruark speakers do great justice to give each element its due — the string section in particular, with subtle lines rising and falling, easily isolated.
Ruark Audio MR1 Mk2 speakers: Competition
I'm going to highlight just the one alternative to the Ruark Audio MR1 Mk2 speakers for this review, as I think they're genuinely the only speaker pair that matches the same intent in terms of aesthetics and audio quality. And that's the Q Acoustics M20 HD.
With great wireless and wired connectivity (including a USB input option), the Q Acoustics M20 HD are a gorgeous sounding — and looking — set of desktop / bookshelf oriented speakers. They're more expensive than the Ruark models, and about twice the size, so you'll need to take their footprint into account. But that extra size affords them a more expansive, roomy soundstage, giving an even-more-natural sound than these exemplary Ruark speakers. But there's no optional portable mode with them, like the sold-separately Ruark battery pack offers. You won't go far wrong with either.
Ruark Audio MR1 Mk2 speakers: Should you buy them?
Buy the Ruark Audio MR1 Mk2 speakers if…
You want a great sounding music system.
Whatever your taste, the Ruark Audio MR1 Mk2 speakers will make your favorite songs sound fantastic, as well as doing a great job with spoken word entertainment content like films, shows and podcasts.
You've only got room for small-ish speakers.
Despite the quality and volume of sound they pump out, the Ruark speakers are able to do so from a surprisingly small package, making it easier to find a home for them.
You want speakers that won't look out of place in a smart office.
With their wooden enclosures and soft fabric fronting, the Ruark Audio MR1 Mk2 speakers look refined and classy.
Don't buy the Ruark Audio MR1 Mk2 speakers if…
You don't like the retro-oriented aesthetic.
If you're a sucker for RGB lighting or futuristic industrial design, look away now — these are modest and classic in their stylings.
You need smart speakers.
If you want a speaker you can talk to, or control over Wi-Fi, look elsewhere — though you'll be hard pressed to find smart speakers that sound this good, especially at an affordable price for a stereo pair.
HDMI-ARC functionality would be useful.
Though the optical and 3.5mm connections make it possible (and pleasurable) to match the Ruark speakers with a TV, a HDMI-ARC connection would make the whole process easier, and within the budget range of the speakers, too.
Ruark Audio MR1 Mk2 speakers: Verdict
I totally love the Ruark Audio MR1 Mk2 speakers. They're a great size for a modestly-sized desk, are understated in their design, and sound astonishingly good, given how small they are especially. They should absolutely be considered alongside the best speakers for your Mac.
While the remote control feels a bit of a cut corner, the rest of the package is great — a no-nonsense stereo pair that focuses on what really matters most: making your music library sound as best as it possibly can. They lean towards the pricey side of desktop and bookshelf speakers, but are worth every penny. Your ears will thank you.
---
Bottom line: Small but powerful, the Ruark Audio MR1 Mk2 speakers are a great musical accompaniment to a smart-looking workspace.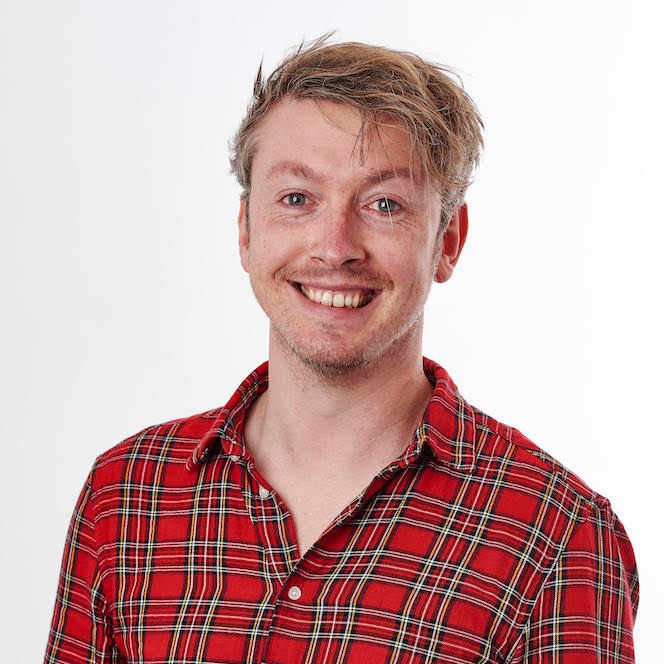 Gerald Lynch is the Editor-in-Chief of iMore, keeping careful watch over the site's editorial output and commercial campaigns, ensuring iMore delivers the in-depth, accurate and timely Apple content its readership deservedly expects. You'll never see him without his iPad Pro, and he loves gaming sessions with his buddies via Apple Arcade on his iPhone 14 Pro, but don't expect him to play with you at home unless your Apple TV is hooked up to a 4K HDR screen and a 7.1 surround system.
Living in London in the UK, Gerald was previously Editor of Gizmodo UK, and Executive Editor of TechRadar, and has covered international trade shows including Apple's WWDC, MWC, CES and IFA. If it has an acronym and an app, he's probably been there, on the front lines reporting on the latest tech innovations. Gerald is also a contributing tech pundit for BBC Radio and has written for various other publications, including T3 magazine, GamesRadar, Space.com, Real Homes, MacFormat, music bible DIY, Tech Digest, TopTenReviews, Mirror.co.uk, Brandish, Kotaku, Shiny Shiny and Lifehacker. Gerald is also the author of 'Get Technology: Upgrade Your Future', published by Aurum Press, and also holds a Guinness world record on Tetris. For real.