Apple TV keeps users from cutting the cable TV cord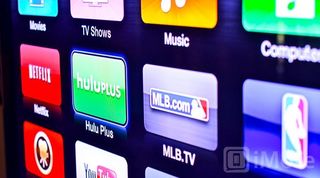 Services like iTunes and products like Apple TV have made it easier than ever for people to "cut the cord" from cable TV - enabling them to pay either a la carte for programming they want or to use subscription-based services they think are worth the money, like Netflix or Hulu Plus. Apple's latest changes to Apple TV sadly don't do anything to help that move - in fact, they work against it.
On Wednesday Apple pushed live an update to Apple TV that provides the second and third-generation black boxes with access to five new services: HBO Go, WatchESPN, Qello, Crunchyroll, and Sky News.
Qello focuses on live concert and music documentaries, while Crunchyroll focuses on Japanese anime and Japanese and Korean live-action TV shows. Both services are subscription-based, like Netflix, Hulu Plus and other services Apple TV also supports. Sky News is free to watch and unencumbered by any sort of subscription system.
Apple is, by all accounts, trying to make peace with cable companies, and this is one of the first tangible examples of that effort.
But it sets Apple down a path that some Apple TV users are bound to be unhappy with, because HBO Go and WatchESPN both depend on an authentication system that requires you to have an active cable television account.
Trying to set up either service prompts you to visit web sites and enter a unique identifier after selecting your cable service provider and signing in using your cable TV account to verify. In principle, this isn't fundamentally different from needing to subscribe to Crunchyroll to access their services. And it isn't new - the same restriction exists for the HBO Go and WatchESPN apps on iPhone and iPad.
But it is an unwelcome encumbrance for the Apple TV, at least for users who were hoping to shirk the expense and trouble of a premium cable TV subscription. It's also a slap in the face to customers of services that don't support the authentication system, like DirecTV users.
Unsurprisingly, HBO content on iTunes is old - last season's Game of Thrones is on there, for example, but season three, which just wrapped up, is nowhere to be found. If it were there, there would be less reason for people to subscribe to HBO through their cable provider to begin with. And that would hit HBO where it hurt - in the pocketbook.
So what are users of unsupported services, or people only interested in a la carte programming, expected to do in the interim? They have to wait. Surely some will. Some will get impatient and use BitTorrent or another file-sharing service to grab pirated copies of the latest shows they want to watch.
Cable content providers aren't going to give up easily, and the cable companies are going to act as their gatekeepers any way they can. It's a multibillion industry controlled by some of the most powerful media companies in the world.
We've heard a lot over the years about the supposed Apple television set, and how once Apple's in the TV market - really in the TV market - things are going to change. Radically. But it turns out to be Age of Aquarius magical thinking. It's a nut that, despite Walter Isaacson's tease in the Steve Jobs biography, Jobs himself was never able to crack.
Almost two years after Jobs' passing, Apple's work securing fresh programming for Apple TV users is finally yielding fruit. Unfortunately, Apple has had to make compromises - compromises that complicate things for some of their customers.
Master your iPhone in minutes
iMore offers spot-on advice and guidance from our team of experts, with decades of Apple device experience to lean on. Learn more with iMore!