The new iPod touch: Big improvements, but not everything is there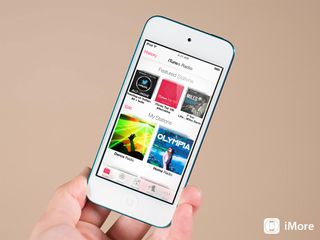 On Wednesday Apple refreshed the iPod touch: The new model touts the same A8 processor and motion coprocessor found in the iPhone 6, along with an improved 8-megapixel camera, 128GB storage option, and new colors.
The iPod touch also retains its familiar four-inch screen design and size, allowing it to fit the same menagerie of cases and accessories designed for the previous model—though the protruding iPhone 6-style camera lens may cause problems for some really snug-fitting cases.
Where the iPod touch is lacking
There's still no Touch ID—perhaps a bit ironic, given the name "iPod touch"—though it's not the only currently-sold iOS device to lack this feature: Apple still sells older iPhones and iPads that don't have Touch ID. For all the company's emphasis on security, Touch ID is still a premium convenience feature used to drive customers to higher-end phones and tablets.
In addition, I've longed for a larger-format iPod touch ever since the iPhone 6 Plus came on the scene—Apple's answer to something like the Nintendo 3DS XL, as it were. Apple customers looking for a larger-format iOS product, however, are limited to the iPhone 6 Plus or an iPad mini.
Bye bye lanyard
It's also interesting to note that Apple has excised the lanyard from this generation of iPod touch. It seemed to be a handy feature to me, as I often sold iPod touches to families looking to outfit younger members with iOS devices without giving them a cell phone; lanyards were a way, at least for salespeople like me, to say "Here's how to secure it to your child's wrist so that they don't drop it and break the screen."
Then again, I see customers come in every day with broken iOS device screens, so that lanyard really didn't help that much—perhaps that's why Apple decided to do away with it. I suspect that many iPod touch customers never got it out of the box. And in fairness, a very small subset of customers are still interested in the iPod touch at all; most are much more interested in the iPhone.
Cost vs true cost
The total cost of the phone remains buried in agreements with their carriers, so they often don't think of the iPhone as a $650 device; they only compare the up-front price of $200. Penny-wise, pound-foolish, as the old saying goes. In fairness, the upgrade plans offered by many carriers gives them an excuse not to care about such trivialities.
To be frank, I'd wondered about the future of the iPod touch. The guts of the previous model were getting woefully out of date for some of Apple's current and future ambitions. The A5 processor in the older touch is the same generation found in the iPad 2, and three years is an epoch in computer time, especially given Apple's constant churn of new products.
The A5 may work okay for the fairly limited performance needed for the current Apple TV model, at least until Apple can move whatever mountains in its way to to get a new one out the door. But for an all-in-one game system, media player, and app handheld, it's getting long in the tooth.
Now the iPod touch is properly outfitted to take advantage of Metal, the graphics performance optimization Apple introduced with iOS 8, which should mean better gaming and more responsive apps, and is poised to take advantage of further enhancements coming to iOS 9 later this year.
Storage woes
Just as with the iPhone, 16 GB is a paltry amount of storage capacity. But unlike the iPhone 6, Apple's first storage bump for the iPod touch is 32 GB for an additional $50 (rather than 64 GB for an additional $100). $399 nets you the 128 GB model—which, even for an iPad, remains a very niche option.
I used to long for such a big iPod touch—something to replace the capacious storage of the venerable iPod classic, which was discontinued in 2014. But after using iTunes Match over the past couple of years and now Apple Music, I'm less concerned about having a portable device big enough to hold my entire library: Everything's in the cloud these days.
Additionally, iTunes Match's biggest liability for me—its 25,000 song limit—seems poised to quadruple this fall, if Apple's own chief music honcho is to be believed. Admittedly, the iPod touch is still hampered by its dependence on Wi-Fi—I'll lose my connection to the cloud if I leave my house or Starbucks, at least until I get one of those fancy new cars with built-in 4G LTE.
The iPod world in brief
So, to summarize: What we got: A faster iPod touch with a much better camera, a 128 GB capacity option, and different color options, poised to take better advantage of Apple's current and future iOS development plans. What we didn't get: Touch ID and a larger screen.
As an iPhone 6 user, none of today's announcements make me want to rush out and buy an iPod touch, especially since Apple has once again spurned my wish for a purple model. But the refreshed iPod touch is certainly a better value than it was yesterday, and is certain to suit a subset of Apple customers who want the benefits of iOS without the larger size of an iPad or the carrier hassles of the iPhone.
Are you ready to buy one? If so, what model and color? Let me know in the comments. If not, I want to hear from you too: Tell me why.
Master your iPhone in minutes
iMore offers spot-on advice and guidance from our team of experts, with decades of Apple device experience to lean on. Learn more with iMore!