New Mac mini (2018) Preview: What will it be and why?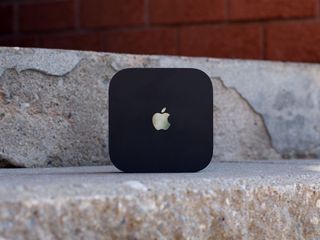 (Image credit: Rene Ritchie / iMore)
Apple is holding its Mac and iPad Event on October 30, 2018. I've already posted a full preview on that. There may or may not be a new iPad Pro at the event. I've already posted a few preview of that as well. There may or many not be a new MacBook Air at the event. I've, you guessed it, posted a full preview on that as well.
And, a few spec-bumps aside, that just leaves us with one more big update to cover: A new Mac mini.
The original switcher
The Mac mini was the original switcher machine. It was announced back in 2005 as a small, inexpensive way for you to swap out a Windows PC for a Mac. Bring your own mouse, keyboard, and display, and you were all good to go.
Back then, it had a PowerPC G4 processor and megabytes — yes, megabytes — of RAM.
Over the years, the Mac mini got its fair share of design and spec updates, culminating in 2012 with a quad-core Intel Ivy Bridge chipset, and up to 8 gigabytes of memory and 2 terabytes of storage.
That's because, over time, the Mac mini customer had changed. Switchers became switched, and Mac minis became the darling of developers, server rooms and centers, media centers and producers, and more.
Then, 2014 came around and, when Apple revved the Mac mini, it axed the quad-core version and 2TB option.
Then, in 2016… nothing. And, in 2017… still nothing.
In the last four years, Apple has released the new 12-inch MacBook, the new Touch Bar MacBook Pro, the new Retina 5K iMac, the new iMac Pro, and has even announced a new, non-thermally cornered new Mac Pro for 2019 along with a new Pro Display.
But the Mac mini… nothing and more nothing.
Until, maybe, now.
The new mini
Rumor has it we'll see a new one this year, this very fall, and if accurate, it will not only mark the return of the Mac mini, but of the Pro mini as well.
In April of 2017, Apple invited a very small group of media to Cupertino to talk about that new Mac Pro. While they wouldn't say anything specific about the mini, senior Vice President of worldwide marketing, Phil Schiller, said the following, via Daring Fireball
Pike's Universum, the very next day:
That was alongside a rumor about a Xeon iMac ahead of the iMac Pro announcement, so take it for what it's worth. More on the top model in a moment, too.
WWDC 2017 came and went with new MacBooks, MacBooks Pro, and iMacs, but not some much as a word about Mac mini.
Not until October of 2017 when Apple's CEO, Tim Cook, responded to an email saying, via MacRumors:
Kuo Ming-Chi, back in July, also via MacRumors:
That processor should be Intel's 8th generation Coffee Lake. Intel did just announce 9th generation Coffee Lake Refresh chips — yet another optimization cycle place-holder as it still struggles to get its 10 nanometer Cannon Lake architecture to market… something that's taking what feels like as long as the Mac mini update to ship.
Intel announcing chips and Intel shipping the exact versions Apple needs for exact Macs are often two very, very different things. But given the 4-year gap between updates, any Coffee Lake is far, far, better than the Haswell architecture the minis been stuck with to date.
Mark Gurman, writing for Bloomberg back in August:
Though Schiller had said consumers with some pro users, a focus on pros makes sense for several reasons.
Again, the original Mac mini customer doesn't really exist any more. New mainstream customers don't want old desktop boxes. They want notebooks. You know, with built in displays and trackpads. That's why MacBooks outsell Mac desktops to the extreme. And why iMacs outsell all other Mac desktops to the extreme.
But that does open the way for new customers. Including the aforementioned pros, who value small, headless Macs for all sorts of tasks at home and in the office.
It also fits in with Apple's new focus. As iOS and iPad continues to eat the mass market, Apple has been amping up the Mac for pros. That includes the new MacBooks Pro, iMac Pro, upcoming Mac Pro, and the new Pro team that brings audio, video, photography, and other hard-core, heavy duty, real-world producers and creators into the design process.
Mark Gurman writing for Bloomberg again, this time in September:
So. Many. Questions.
Aside from that it is coming, and that it will be focused more on pros — or pros will at least be a focus — not much else has been rumored about the new Mac mini.
Will it be a redesign or the same casing with new internals? If not, will the new design be more pro-friendly — for example, more easily rack mounted?
Will it have a T2-chip like the iMac Pro and latest MacBooks Pro, so it gets secure boot, hardware accelerated encryption, and all the latest controller architecture?
Will it have only USB-C / Thunderbolt 3 ports, like the MacBook Pro, legacy USB-A and Ethernet as well, like the iMac Pro, or will it keep more media-centric ports, like HDMI, like the Mac mini's we all know and love?
Will there finally be a new Apple Keyboard, for all desktop Macs, that includes Touch ID if not a full-on Touch Bar?
Will Intel's continued delays get Apple to switch at least this Mac to ARM? Wait, no, wrong column…
Will it come in Space Gray?
Will it get anywhere near the 32 GB and 4 TB options the new MacBooks Pro enjoy?
Will Apple still have a new Mac mini for those new to the Mac, or will that spot solely belong to the new MacBook Air?
So. Many. Questions.
And we'll have to wait for Apple's October Event to find out.
Get the best of iMore in in your inbox, every day!
Rene Ritchie is one of the most respected Apple analysts in the business, reaching a combined audience of over 40 million readers a month. His YouTube channel, Vector, has over 90 thousand subscribers and 14 million views and his podcasts, including Debug, have been downloaded over 20 million times. He also regularly co-hosts MacBreak Weekly for the TWiT network and co-hosted CES Live! and Talk Mobile. Based in Montreal, Rene is a former director of product marketing, web developer, and graphic designer. He's authored several books and appeared on numerous television and radio segments to discuss Apple and the technology industry. When not working, he likes to cook, grapple, and spend time with his friends and family.
As long as it can come with an i7, 16GB RAM, 1TB storage option, I will be happy. Looking for something to be my new video editing machine and I'll switch my 2015 MBP to something much more portable.

What are the rumors for the new display?

Why Mac Mini and no iPad Pro Mini - come on Tim, despite jumbo-sizing the iPhone, even the Xs Max is no match for the current (2015) iPad Mini, much less an 8.5" display supporting the Apple Pencil in that tiny iPad Mini body...

If it does get refreshed or redesigned, there will still be a bunch of angry internet warriors complaining for any number of things.
Example:
- No SD card slot? Apple has totally lost it.
- Only Thunderbolt 3 ports? What about all my legacy thumb drives?
- Can't upgrade my own memory? That's it! I've had with Apple. I'm buying a Surface.
Etc.

No matter what product Apple release, people always find a negative with it. You know what they say about history repeating itself

Exactly! Unlike Windows products (and pretty much every product ever released) where people never have anything critical to say right? Oh wait a minute - the world doesn't work that way :-)

Apple products get a lot more negativity just because of how big they are, how much they're in the media with iPhones and the like, and how much Apple praises itself for high-quality products. Most of the negative comments are just opinions on not liking the way an Apple product works, rather than anything actually being wrong with it.

And I happen to be in the market for a new computer.

Apple's official statements on old machines is that those that are 6 years old and older are considered "vintage" and no longer supported. The Mini that Apple sells today, and the one that I own, is less than a year away from that date of designation, so they are either going to have to rev the product at long last or just let it die. Selling a machine today at full price that is almost 6 years old is ridiculous on several different levels, so I really hope that Apple does something at their upcoming event. If they don't I will begin looking at Windows alternatives, there will be little reason to keep using it. It has been a good machine but is beginning to have video problems, so it's time for something new, both for Apple and for me.

I look forward to hopefully replacing my current Mac Mini with a new one. :)

"... and why iMacs outsell all other Mac desktops to the extreme." Or maybe that's because you guys choose to update the iMac line and MacBook lines regularly, while leaving the mini and Mac Pro back in 2013 specs yet charge top dollar for them...? Such ignorance there. If they made a Mac mini with updated intel processors with those new AMD Vega M GPUs and updated internals and started it $899/$999. That thing will sell like hot cakes, I would buy one in a heartbeat.

Agree. Also I don't think the mac mini need be so small.

Apple would never do it, but I'd love for them to just make the Mac Mini into an aluminium desktop or rackmount chassis capable of housing the transplanted internals of any current MacBook or MacBook Pro. With prices directly reflecting the source laptop minus its display/trackpad/keyboard. No separate Mac Mini development roadmap, just launched lots of config options and minimal support costs.

I hope they "go for it" and don't hold back! With the Dark Side (Lenovo, formally IBM), offering a new 17" laptop workstation: with Xeons, 128 gig of ram (!) and 6tb SSD drives (!), it'd be great to have something truly-portable from Apple to compete. It is a shame the 17" laps were discontinued, and pro needs/specs often get sacrificed to the alter of thin looks. A Mac Mini thankfully doesn't worry about thin or battery life, and is super portable. Could be a perfect solution since more and more pros are on the "go" these days. Ram can be just as big as Lenovo's without battery-charge issues. Most pro's are cool with having an outlet-plug around :) Many would appreciate going back to being able to swap ram and drives as needed too. Please Apple, "go for it" and don't hold back! This could easily meet many pro's wish for a portable pro workstation from Apple.

I never considered the mac mini as a switcher mac, nor has anyone else I know.
The mac mini is the only affordable headless mac that Apple produces and this is the reason people bought it. The fact that the trillion dollar Apple ignore this and sell the 4year old tech as new is unfathomable. So I am waiting for a new affordable headless mac.
I would also like an affordable 17in laptop with matte screen.
Thank you for signing up to iMore. You will receive a verification email shortly.
There was a problem. Please refresh the page and try again.