Apple October 2018 Event Preview: What's next for iPad Pro and Mac!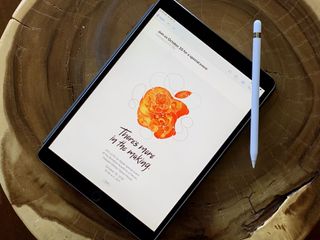 The invitations have gone out — 370 odd unique invitations, actually, as it seems like Apple has sent custom art out to everyone invited. In a myriad of styles, from abstract to pop — and the event date is set: October 30, 2018, at the Brooklyn Academy of Music, Howard Gilman Opera House.
I'll be the live, so make sure you're following @reneritchie on Twitter and Instagram for all the play-by-play, analysis, and behind the scenes fun.
So, what does art and music have to do with iPads and Macs? We'll get to that in a hot minute. But first, let's break down the latest news and rumors.
October 30, 2018: Last minute rumor round-up and analysis
We've gotten a slew of rumors about the next-generation iPads Pro over the last year or so. I've rounded them all up already below, but a few last-minute ones have raced in, and here they are.
Kuo Ming Chi last week, via MacRumors
Mark Gurman also touched on a new Pencil for Bloomberg:
An updated Apple Pencil, succeeding the original version launched in 2015.
Though both reports are light on details, Guilherme Rambo has teased more on Twitter:
And Steve Troughton-Smith:
Rumors of the iPad mini's death may have been slightly exaggerated. At least according to Kuo Ming Chi.
From the same research note from earlier this week, again via MacRumors:
A new 7.9 inch iPad mini in a 6.5-inch iPhone XS Max world is interesting. But what's even more interesting is is trying to figure out what form a new iPad mini will take.
A few years ago, Apple dropped an updated processor into the long-languishing iPod Touch and shipped it as new. Apple understood a small segment of its customer base loved the touch, and that gave them a touch that could run modern version of iOS… at least for a few years more.
With iPhone SE, Apple did something similar with iPhone 5s. Again, giving customers who loved the device a more modern version to keep on loving.
But neither of those have seen any further updates and iPhone SE has now been dropped from the Apple product portfolio completely.
9.7-inch iPad, though, which was a weird combination of iPad Air display, iPad Air 2 cameras, updated processors, and now Apple Pencil support, has been updated. At least once. And on a yearly bases. At least once.
The updated processor but lower cost— maybe non-laminated? — panel likely means no edge-to-edge design, probably no USB-C, and almost certainly no mini Smart Keyboard. In other words not a mini-Pro. Still, that could make for an even less-expensive option — starting at under $300? — for education, enterprise, and people who just want a smaller, cheaper iPad hopefully with Pencil.
But whether it's a one-time like iPod Touch and iPhone SE, or a new ongoing like 9.7-inch iPad seems to be, we'll have to wait and see.
Also from Kuo, in the non-undead department, more on Apple's still not released inductive multi-charger, AirPower, via MacRumors:
Expect them when you have them.
The 2016 MacBook Pro had a T1 Security Chip. The 2017 iMac Pro and 2018 MacBook Pro have an A10-based T2 Security Chips. Could the next generation of Macs have an A12 based T3?
Back in March, Apple took everyone on a field trip to Lane Tech College Prep High School in Chicago. There, they introduced a new 9.7-inch iPad with Pencil — and Crayon — support, but they also sent us to classes where real-world educators taught us Pages and Swift Playgrounds, and labs showed us AR exploration and showcased a dozen or more apps.
In some ways it reminded me of what Apple had done with the iMac Pro in late 2017. They brought a bunch of us to New York and showed us how Cinema 4D, VR musicians and developers, architectural modelers, photographers, developers, and more were using it to accelerate what they were doing, and doing things they never could do on an iMac before.
Apple did something similar again this past July with the coffee lake MacBooks Pro. Student VR developers, medical molecular modelers, gigapixel photographers, musicians and music producers, videographers, performance artists, and more were again able to things more quickly, or do more things than they ever could on a MacBook Pro before.
It was a powerful way to see new products in context, being used by actual professionals, for real-world work. And, I don't know about everyone, but it really helped inform my coverage. It got me to think beyond my own preconceptions and use-cases, and, frankly, see, hear from, and talk to people beyond Apple executives and marketers. Including what they loved about the new products, what solved problems they had, and what still didn't work for them and the problems that remained.
For a company as big, old, and successful as Apple, changing things up so radically — including inviting YouTubers from around the world out to go hands-on with new products beyond the traditional news and blog review cycles — is super interesting to me. Especially since, even post Steve Jobs, they had the whole keynote-followed-by-press-briefing thing down to an artful science.
But I really dig it. Even if it does piss off some old school journos.
So, that's why Brooklyn. So we can see iPad Pro and maybe iPad mini, and Mac mini and maybe even what's replacing the MacBook Air, being used by the wide and diverse types of people who use them, doing the wide and diverse creative and professional things they use them for. So we can see them in context, beyond our own preconceptions and use-cases.
And see what real-world value they deliver to the real world.
October 18, 2018: Apple Event set for October 30 at the Brooklyn Academy of Music
Invitation compilation via @heatherkelly
What can we expect to see on October 30?
Rather watch than read? Check out the video above and subscribe for more!
The lights will come up, and Tim Cook will cross the giant Apple logo lighting up the giant HDR screen above the stage, waving and ready to go.
Will we get anything about privacy or the environment, social initiatives or an update on existing businesses? Maybe, especially if Apple has something interesting to report. Otherwise, it'll be straight to the products.
Cook will handle the preliminary introductions. He's been doing that for years now and he's gotten good at saying what he wants to talk about, showing a quick teaser video, announcing the name, and then handing off to a product lead.
For iPad, lately, that's been Greg Joswiak — Joz — vice president of product marketing.
iPad Pro
Back in March, Joz introduced the new 9.7-inch iPad with Apple Pencil and Logitech Crayon support starting at $329.. I called it half-the-pro for half-the-price. And it was and is hugely appealing.
So, how does Apple make the next iPad Pro even more appealing, especially at twice the price?
The obvious answer is with an iPhone X-style redesign.
Whittling down the bezels and deleting the Home button will get you most of the way there, especially if the displays stay at or around 12.9 and 10.5.
It removes casing while preserving content. Leaves them just as powerful but ever so slightly more portable.
Will that cost us the 3.5mm headphone jack because it won't fit under the edge-to-almost-edge display? Will it give us USB-C instead of Lightning, to increase general compatibility at the expense of Apple-specific compatibility? We'll have to wait and see.
Without a Home button, there's no Touch ID, but Face ID should take its place. That means a TrueDepth camera on front, and that means either last year's A11 Bionic or this year's A12 Bionic inside. I'm hoping for the latter. Apple doesn't update the iPads Pro yearly so, when they do, they should get the best silicon available.
I'd love a new Smart Keyboard with some kind of capacitive keyboard that mimics the on-screen trackpad mode, and a next-generation quote-un-quote No. 2 Pencil that does smart pairing with iPad Pro the way Crayon does with the 9.7-inch iPad.
Oh, and charges via that new, extra Smart Connector on the back.
If Apple can do all of that — make an iPad Pro X that's every bit as appealing as iPhone XS and Apple Watch Series 4 — then it'll be a home run.
MacBook Air
I've done a whole preview video about Apple's next-generation entry-level MacBook already. TL; DW, the current MacBook Air is still outdated and the current 12-inch MacBook is still too expensive, and that means Apple needs something new to rejuvenate the lineup.
Stick Retina and Touch ID into a package that sells for less that $1000 and you know what you get? A lot of damage to the premium PC market as everyone rushes to update.
Mac mini
As I've said before, somehow, some way, over the last few years Apple lost its way with the Mac. You can blame Intel's broken roadmap for a small part of that, but only a small part.
I won't rehash it all here, but two of the biggest examples are the Mac Pro, which Apple admitted made the wrong bets and got backed into a thermal corner, and the Mac mini, that began to feel like abandonware.
Apple has already announced an all-new, all-modular Mac Pro with Pro Display for 2019, but what about a new Mac mini?
Rumor has it, now, at long last, finally, it's on its way.
Not in a traditional entry-level, bring-your-own-monitor-keyboard-and-mouse, switch to Mac way for those just getting into Apple, but also for those who are already into Apple and just want a small, quiet, powerful Mac for development, server rooms, media, and more.
We could even see a return of the higher-end, pro-focused Mac mini with more storage, more memory, and more powerful internals.
Probably not running ARM, at least not yet, but something that leverages all the work of the Pro Team Apple assembled for iMac Pro, the new Mac Pro, the new MacBooks Pro, and more.
The one that makes it feel like Apple has its Mac legs back under it and is ready to run again.
iMacs, MacBooks, and more
Back in July, Apple updated its Touch Bar MacBooks Pro to Intel's Coffee Lake architecture and even pushed out the SKU of many pro dreams — up to 4TB of storage and 32GB of RAM.
But that still leaves several other machines waiting to get their Coffee Lake on, including the 12-inch MacBook, if Apple keeps it around, the non-Touch Bar MacBook Pro, if Apple keeps it around, or if not, whatever Apple chooses to replace those machines with.
And, of course, iMacs need their spec bumps too. (I'd argue they need their iPhone X-style makeover with edge-to-edge displays and Face ID authentication, but it feels like this is iPads year and Mac will have to wait for next.)
Sounds like we won't see AirPods until the Spring and AirPower… until we see it… in some form… at some point.
iPhone XR is coming, though, which may complicate the timelines, but iOS 12.1 should come with it for both iPhone and the new iPad Pro features. Likewise an update for Mojave.
Software and services
Will Apple's Texture-based magazine subscription service be ready to announce? With iWork apps updated in March, could we see Pro Apps like the perpetually wish-listed Final Cut or Xcode for iPad Pro? The latter seems far more like a WWDC announcement, so Pro third-party apps may be far more likely.
And we all know it'll be animoji and memoji for iPad, along with FaceTime Groups, that'll be the big demo. Right? Right?
Get the best of iMore in in your inbox, every day!
Rene Ritchie is one of the most respected Apple analysts in the business, reaching a combined audience of over 40 million readers a month. His YouTube channel, Vector, has over 90 thousand subscribers and 14 million views and his podcasts, including Debug, have been downloaded over 20 million times. He also regularly co-hosts MacBreak Weekly for the TWiT network and co-hosted CES Live! and Talk Mobile. Based in Montreal, Rene is a former director of product marketing, web developer, and graphic designer. He's authored several books and appeared on numerous television and radio segments to discuss Apple and the technology industry. When not working, he likes to cook, grapple, and spend time with his friends and family.
Would love to see what the new Mac Pro is going to have, but having thrown in my hat with the 15" MacBook Pro with the i9 processor, I'm not in the market by any means. Just curious what I might get at work for the last few years before retirement.

Apple has already gone on record the Mac Pro is a 2019 product. I highly doubt you'll see it October 30th. I wouldn't be surprised if you don't see it released until Fall 2019

I just bought an XS Max to replace a 3.5 YO phone—hadn't planned to do it until later, but I do have money in hand to replace my early 1st gen (only 128 GB) Ipad Pro 12.9. Its becoming a need more than a want or go back to lugging Macbook 15". I certainly hope this event will happen-with most of the upgrades you mentioned. Maybe a little early to expect invites to go out—but I look for them every day 🤪

Indications are Apple stores are running low on LG Ultrafine displays, are they refreshing it or replacing it with an in house 5k display. How hard is it to just remove the computer internals on an iMac 5k 27" and voila new Cinema Display.

Agreed Raptor. Time for apple to get a new Cinema Display. It was the best non touch display I ever owned.

I think if there is an event it will be after the iPhone Xr launch date on October 26, so around October 30th. I am curious about what were the iPhones launch dates on the years you referred to. October 23, 2012: iPad mini, iPad 4, thinner iMac, 13-inch Retina MacBook Pro
October 13, 2013: Retina iPad mini 2, iPad Air, and updated MacBooks Pro
October 16, 2014: iPad mini 3, iPad Air 2, 5K Retina iMac
October 27, 2016, New MacBook Pro.

Face ID on an iPhone works well; Face ID on an iPad will be horrible for me. My iPad is not usually directly in front of my face while I'm using it.

What is your use case, is it having it flat on a desk? I would imagine on a normal stand Face ID would still work, but yes flat on the desk would require the same thing as the iPhone, where you have to lift it up

No spec bump for the iMac on its 20th birthday? It's the machine that saved Apple Computer, for chrissake.

I have so many accidental touch issues on my iPhone X. I'm watching a video and Hulu starts scrubbing, I'm playing Field Runners and the app switcher kicks in, I'm reading Kindle and the page flips, etc. I LIKE a little bezel. I find the side bezels on my iPad almost too small. I also like bezels on the iMac. It gives me the black border I need around a video, and then I have a light strip behind the monitor. With edge to edge, It would be like watching a video on a white iPad, which I don't enjoy! I am probably a minority here.

I don't think you're a minority with the touch issues, I had similar issues on my XS Max when watching videos in landscape, although I've fixed it by putting a case on my phone. The iPhone bezels had a purpose as much as people didn't like them.

If Apple ups the Mini game to an A10 and adds Pencil support, they are going to have a huge surge of sales - business professionals are dying for an 8" note taking companion device. Even a tablet is overkill unless it is your laptop replacement. I am a Windows laptop user, and despite the strides in 2-in-1's made over the last five years, kickstands, flip-overs, remove and reverse, nor origami covers are convenient for note taking. A moleskin replacement would be a godsend, not to mention that my iPad Mini 2 is the perfect Kindle replacement. All that we need is Pencil support like the iPad 2018 to make the iPad Mini 5 a big hit. even the Xs Max, if it had Pencil support, is not the answer. Just go to display wars and compare the huge increase in screen real estate between a 7.9" iPad Mini and the 6.5" Xs max and you will be shocked at the productivity gain of the iPad Mini. Either Apple "forgot" to add Pencil support to the Xs max, OR they planned for the iPad Mini 5 to be the bottom size for the Pencil.

Agreed. I think there are a lot of people that have bought iPad Minis over the years simply because it was the cheapest possible iPad, but I suspect there are also a lot (like myself) would would love a "Pro" Mini (120Hz display, pencil support, etc). I don't need/want a 10.5" Pro because it is just a bit too large to carry everywhere and I have a laptop that works just fine for that kind of work. And I agree about the Xs Max not really being a replacement for the iPad Mini in terms of screen area. I would be in line on day 1 with cash in hand if Apple made an 8.1" iPad Pro. It would further distinguish the iPad line from the iPhone and would create a nice step-down in screen sizes within the iPad lineup (12.9" - 10.5" - 8.1"). My iPad 2 Retina has had a good, long life...but I'm ready for it to be over. :)

I'm greedy and would love 8.5", but realistically the best we will get is the same screen as the 2018 9.7" iPad and the same pencil support, because that is the new dividing line between Pro and non-pro iPads...I just hope it gets announced tomorrow and isn't waiting for march 2019.

I don't understand. They're going to update iPad Pro form factor and leave the rest of the lineup alone?

I would be surprised if they only updated the Pro, I imagine they'll do more than just that
Thank you for signing up to iMore. You will receive a verification email shortly.
There was a problem. Please refresh the page and try again.