New Mac mini: Everything you need to know!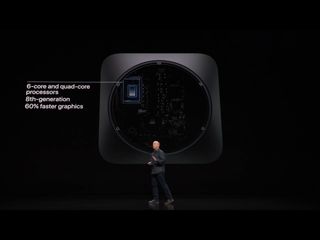 No, you're not imagining it, Apple has actually announced a brand new version of its Mac mini desktop. Like previous versions of the desktop, this is a Mac that lacks an integrated display, and you can even get one without an included Magic Keyboard, Magic Mouse, or Magic Trackpad.
In fact, there are some exciting updates to both the external shell of the Mac mini, as well as the internals. Here's what you need to know.
So Apple really made a new Mac mini?
Apple has packed power into its little headless computer. It's got an all-new cooling system, comes in Space Gray, and features all SSD-storage.
How 'mini' is it?
It's still a svelt beast, with a 7.7in x 7.7in x 1.4in footprint.
What kind of storage options are there?
The Mac mini now utilizes only flash storage, with 128GB, 256GB, 512GB, 1TB, and 2TB options available.
What about memory?
You have the option of 8GB, 16GB, 32GB, and 64GB of memory.
What does it cost?
Mac mini starts at $799 for 8GB of memory, 3.6GHz quad-core process, and a 128GB SSD.
When can I get it?
Pre-orders start today, and it will be available in stores on November 7.
What kind of processors does it use?
Every Mac mini utilize 8th-generation Intel CPUs with either four or six cores. It also goes up to 64GB of memory.
What sort of ports are on the Mac mini?
It features four Thunderbolt 3 ports, two USB-A ports, an HDMI port, and options for either gigabit or 10 gigabit Ethernet.
Are there any color options?
It comes in a nice, dark Space Gray.
Get the best of iMore in in your inbox, every day!
Joseph Keller is the former Editor in Chief of iMore. An Apple user for almost 20 years, he spends his time learning the ins and outs of iOS and macOS, always finding ways of getting the most out of his iPhone, iPad, Apple Watch, and Mac.
I want one of these. It only need be able to play Cities:Skylines and I'm pleased.

You should be able to play that fine 🏙

This will be a perfect compliment to my windows and Chromebook setup. Will go for 32GB RAM and 1TB of storage. Should be good for about four years.

You certainly like your variety of operating systems!

$600 for the 1TB SSD ? C'mon Apple.
A Samsung EVO 870 PCIe is $277. Do they really need to make so much profit on the storage?
I am replacing my aging 2012 quad-core i7 Mac mini and was going to put a 1TB Samsung EVO 860 SSD in it which right now is about $167 but that is not the PCIe version.
At least they made the memory replaceable.
Anyone know if the SSD is replaceable ? I guess we will have to wait on the iFixit teardown.

Wow. You can now spec a Mac Mini up to AUD$6,659. That's more than the base config Mac Pro. Would love the 3.2GHz/16GB/512GB/10GbE to replace my mid-2010 that is struggling to perform media centre duties. 10GBaseT between the Mini and my NAS would be great. Going to be really interested in ifixits assessment of SSD upgradeability.

I'm thinking of getting a mac Mini with 128GB, 6 cores, and 8-16GB of ram(Not sure yet) for programming in Unity. It be cheaper than what I paid for my Surface Pro 4 which has issues now with overheating. It only has 4GB of ram and 2 cores so this would be a very nice upgrade. 128GB is what my surface has and I never needed any more. MacOS would be a very nice bonus.

Everything we need to know?
How about some guidance on all the CPU options (i.e.: i3 vs i5 vs i7, and speeds).
Also, I suppose you don't have one to try yet, but we'd love to know how quiet the fan is when it's running hard, if it throttles down, etc.
Thank you for signing up to iMore. You will receive a verification email shortly.
There was a problem. Please refresh the page and try again.