New Philips Hue bulbs will utilize all shades of white to help you sleep better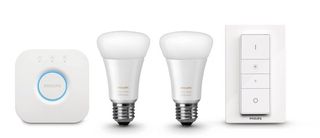 Philips has revealed a new Hue bulb called the white ambiance. This latest addition to the company's smart lighting family of products enables owners to tap into every shade of white, which is even touted to help you sleep better at night. Just how effective these solutions are at bringing absolute bliss to your sleep pattern is still up for debate.
According to the company, this new bulb can achieve white light from color temperatures of 6,500 to 2,200k. What this means for the average Joe is not only can it produce warm, soothing light, but also bright and clear luminance. By connecting said bulb to the official app, it will be possible to use the "routines" feature to alter the color of the bulb depending on the time of day.
The new Philips Hue white ambiance bulbs will be available in the U.S. in Spring 2016. While individual bulbs will be made available, the company will also offer a starter kit containing two bulbs, dimmer switch and a bridge.
Now if they could just make so the bridge doesn't stop working with HomeKit if you try to add a second iOS device it would be perfect. There has been a bug since release that prevents more than the first iOS device from connecting to it via HomeKit. If you try to connect a second then it stops working telling you that there is already a HomeKit device using this bridge and to ask them to share it with you, the only way to fix it is to to a full reset of the bridge and wiping all settings and scenes and then only connect 1 iOS device and stop there.

I had that same problem at first, but the phone that was connected was my old phone (same iCloud account). It happened to me twice, but the second time I found a site on Hue Labs that let me reset just the HomeKit portion of my Hue Bridge without having to re-setup everything. I'm not sure if this link will show, but it's labs dot meethue dot come slash support slash siri-homekit http://labs.meethue.com/support/siri-homekit

thank you! i had not seen that before you posted it here, i have reset my homekit. have you tried to share it with other devices yet or is that still broke? i didn't have time to test that out last night as it was pretty late when i got home.

I share my homekit home with my wife, but she doesn't really have too much interest in interfacing with our Philips Hue bridge directly through the Philips Hue app so we haven't tried it. I have IFTTT timers for lights-on and dimming, and we also have a Hue Tap (4 button switch) so I'm generally the only one setting scenes using Siri ("Hey Siri set the good night scene" etc..). At least with the hue labs reset function you can mess up sharing as many times as you want and at least not mess up your Hue settings. There are definitely quite a few shortcomings with HomeKit and a few known bugs. For some reason Apple doesn't seem to be giving it the attention it deserves and requires.

Geofencing stopped working for me after the latest bridge firmware update. Before the update it was only working half the time. Tried adjusting zone size and zigbee channels, but no luck. One of the 2 bulbs from the starter pack also died after 6 weeks, after sending it back for repair they sent me a check for $16 and said they have no replacement bulbs (800 lumen white). Very disappointed with Philips Hue so far, the only thing working reliable has been using alarms to automate turning the one working bulb off and on. By comparison, I also have the iHome SmartPlug which has been working flawlessly at-home and over cellular via the AppleTV bridge.

Do the color hue bulbs have the same ranges or do they only have the ability to change color and not temperature? Sun rises start out red and I want that for my bedroom but my issue with Hue is that they don't offer them in a 40w equivalent, I don't need the 60w and am not willing to pay for it at the current prices. Or that they don't have candle style/size bulbs.

If I remember correctly you can change color and saturation. Hue bulbs can't reproduce every color imaginable, because there are only so many different colored LEDs inside each bulb. To be honest, for most uses, these temperature adjustable/dimming white bulbs ("White Ambiance") would suit my needs just fine if they work as described. I mainly use the color-changing feature of my Hue color bulbs to get different shades of yellowish/orangeish light to fit the time of day and activity.
Thank you for signing up to iMore. You will receive a verification email shortly.
There was a problem. Please refresh the page and try again.