Nintendo recap: Big Direct announcements and leaked Batman games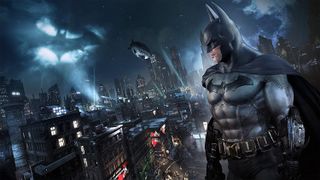 (Image credit: Rocksteady Studios)
Hello everyone and welcome to this week's Nintendo recap. We had an exciting Nintendo Direct this last Wednesday where several upcoming Switch games and DLC were announced. Additionally, a listing for some Batman games leaked indicating they could come to Nintendo Switch in the near future. In other news, some reviewers have already gotten their hands on the Valve Steam Deck and have shown that the Switch is better in at least one way. There's plenty to discuss so let's dive on in!
Nintendo Direct announcements
There was a lot of big news during the Nintendo Direct and I could talk about all of them at length. To prevent this recap from being massive, I'll only focus on the biggest announcements.
Kirby swallows a car in the Forgotten Lands
The internet erupted into a slew of Kirby memes when the Nintendo Direct showed new footage of Kirby's ill-named Mouthful Mode for Kirby and the Forgotten Land. (Be careful when looking them up, some are NSFW.) Our little pink friend was shown wrapping his mouth around new items like a blue car, vending machines, traffic cones, and more. Apparently, Mouthful Mode gives Kirby different moves from his Copy Abilities and he can even upgrade his Copy Ability attacks.
We also learned more about the goals for the game. It seems Kirby is out to save Waddle Dees during this adventure and the Waddle Dee town will evolve and become more useful as time goes on. Kirby's upcoming adventure comes to Nintendo Switch on March 25, 2022.
Mario Kart 8 Deluxe DLC coming to Nintendo Switch Online + Expansion Pack
One of the biggest announcements from the Direct was that Mario Kart 8 Deluxe is getting several waves of DLC. Known collectively as the Booster Course Pass, there will be six waves of DLC with each one containing eight remastered courses from previous Mario Kart games and will total in 48 courses coming to the game by sometime in 2023. Just like the original Deluxe content, they can all be played both locally and online.
Players can purchase the Booster Course Pass separately for $24.99 or they can get access to it if they have a Nintendo Switch Online + Expansion Pack subscription. As Nintendo adds more DLC to this service, it's really starting to look more appealing.
Many had believed that the reported Mario Kart 9 being developed with a new "twist" would get announced during this Direct. However, it makes more sense that Nintendo went for 8 Deluxe DLC instead. Despite being a ported Wii U game, Mario Kart 8 Deluxe continues to be a best-seller and its overall Switch sales race ahead of any other Switch games. That being the case, Nintendo wouldn't want to release another Mario Kart that would canibalize its cash cow's sales. Rather it will likely release Mario Kart 9 as a launch title for the next-gen Nintendo console.
Chrono Cross: The Radical Dreamers Edition
Back in 1999, Squaresoft released hit RPG Chrono Cross on the original PlayStation, and now a remaster is coming to Nintendo Switch. For the uninitiated, players control Serge who finds himself in an alternate world where things are very similar to his own, but he doesn't exist. Now he has to travel around and unravel the mystery of this familiar place by jumping between the two worlds. Throughout the game, players can unlock as many as 40 companions, and the decisions you make determine what happens in the story.
The remastered version also includes Radical Dreamers, a text-based visual novel that originally only released for the Satellaview, an accessory for the Super Famicom that interacted with a satellite to relay data transfers to the device. This text-based game tells the origin story of Chrono Cross.
Chrono Cross: The Radical Dreamers Edition will release for Nintendo Switch on April 7, 2022.
Fire Emblem Warriors: Three Hopes revisits Three Houses characters
While not the Fire Emblem game many were hoping for, Fire Emblem Warriors: Three Hopes does include characters and settings from the popular Fire Emblem: Three Houses that many will find entertaining. Warriors games are not nearly as strategic or story-focused as mainline Fire Emblem stories, but rather focus on being able to control a number of different characters while going up against hordes of enemies.
From what was shown in the trailer, it appears as though the story for Three Hopes takes place while the students are still young and it's unclear if it will step into their adult lives as well. This game is set to release June 24, 2022, and could tide Fire Emblem fans over until the next mainline entry is announced.
EarthBound comes to Nintendo Switch Online
Some of the most exciting news from the Direct revolves around classic favorites joining the best SNES and NES games on the Nintendo Switch Online service. EarthBound and EarthBound Beginnings (Mother 1 and Mother 2, respectively) are now currently playable. I've been spending lots of time getting acquainted with Ness and his friends while battling enemies in this retro classic and recommend it to anyone who enjoys classic RPGs. Of course, there's still no news of the classic Mother 3 getting localized for Switch, but the fact that some EarthBound games have come to the console makes us a little more hopeful that this dream could come true.
Xenoblade Chronicles 3 coming in September
As the "but wait, there's more" part of the evening, Nintendo closed by revealing Xenoblade Chronicles 3. In a press release, Executive Director Tetsuya Takahashi explained that elements from this game had been conceived "sometime between the end of development of Xenoblade Chronicles and the beginning of development of Xenoblade Chronicles 2," which means that this story is bound to intertwine the first and second game closer together. We do not know the exact release date yet, but it will release sometime in September 2022.
There's heavy use of flutes throughout the trailer, which Takahashi says is a key theme that brings a "new challenge." He goes on to say that "a variety of other elements and themes are hidden in the trailer and we'll be revealing the details a bit at a time going forward." You might just want to watch the trailer a few times to see if anything stands out.
Steam Deck battery life has nothing on Nintendo Switch
Select reviewers have already been able to get their hands on the Valve Steam Deck, a handheld system similar in design to the Switch that runs Steam games, and have begun performing various tests on it to see how well it performs. Gamers Nexus, in particular, has done a number of these tests and discovered some disappointing results for handheld's battery life. The Nintendo Switch's battery life isn't the best, with the newest models only being able to reach up to 4.5-9 hours. However, it appears that Valve's Steam Deck is even worse, unsurprisingly.
The Steam Deck contains a 40Whr battery that Valve says can run 2-8 hours before needing a recharge. As with the Nintendo Switch, your settings and the amount of input the Steam Deck receives influences how long that battery actually lasts. According to Gamers Nexus' findings, when playing Dead Cells with FPS settings all the way up, brightness at 50%, and the system receiving active input, the battery only lasted about 87 minutes, which is lower than what Valve states the shortest battery life is. Throughout their various tests, Gamers Nexus was only able to get the Steam Deck to run for about six hours at its longest stretch, which is interesting considering Valve stated it could last up to eight hours.
Players will undoubtedly turn to third-party battery packs to extend the system's battery life. But considering this is already quite a chunky boi, this might just make you feel like you're holding a brick during your gaming sessions.
Pokémon Legends: Arceus continues to sell very well
In a tweet, Nintendo of America revealed that Pokémon Legends: Arceus has already sold more than 6.5 million copies worldwide, making it the 18th best-selling Switch game of all time. Considering we're still so close to the launch date, that number will continue to grow and will place this latest adventure higher up on the list. It's sold faster than any other Pokémon game during launch week, aside from Sun and Moon.
While Arceus doesn't have the best visuals and is limiting in many ways, the brand new catching and battling mechanics are a welcome change that will hopefully become the norm going forward. The Gen IX core Pokémon game is more than likely in the works as of this moment, but we're expecting it to house the more traditional mechanics we've seen over the last 25 years. Hopefully, the Legends series becomes its own thing with regular launches and improved gameplay going forward.
Batman Arkham Collection listing leaks for Nintendo Switch
A couple of years ago, French retailer WTT listed The Witcher 3: Wild Hunt port for Nintendo Switch before the game was officially announced. CD Projekt Red's action RPG had originally released on PS4 and Xbox One with a large open world and good graphics, so it was thought this couldn't be real. But it proved to be true.
This week, it seems that WTT has done it again by listing the Batman Arkham Collection for Switch ahead of any official announcements, as reported by VGC. According to the listing, the Batman Arkham Collection will sell for €59.99 (around $70) and has a release date for Aug. 31, 2022. The listing has since been removed, but screenshots of it exist online.
The Arkham Collection previously released on console and PC in 2018, and includes Arkham Asylum, Arkham City, and Arkham Knight. The question then becomes if these ports will come on a cartridge or if they'll only be be accessible via Nintendo Switch cloud streaming. Considering the first two games are both over a decade old and released on older consoles, it makes sense that the Switch would be able to run those games with some alterations. However, Arkham Knight released in 2015 on PS4 and Xbox One and has far more advanced graphics and a large open world. It's very possible that time and effort has gone in to make it compatible with Switch, but it's equally possible that, at the very least, Arkham Knight will be streaming only.
That's all this week
There are so many exciting things for Switch owners to look forward to in 2022 and I can't wait for all of the upcoming games to release. This weekend I'll continue to dive into EarthBound, as it's already captured my interest.
Enjoy your weekend, everyone! I hope you can play your longtime favorite games or find a new favorite.
Until next time.
- Rebecca Spear
Get the best of iMore in in your inbox, every day!
Gaming aficionado Rebecca Spear is iMore's dedicated gaming editor with a focus on Nintendo Switch and iOS gaming. You'll never catch her without her Switch or her iPad Air handy. If you've got a question about Pokémon, The Legend of Zelda, or just about any other Nintendo series check out her guides to help you out. Rebecca has written thousands of articles in the last six years including hundreds of extensive gaming guides, previews, and reviews for both Switch and Apple Arcade. She also loves checking out new gaming accessories like iPhone controllers and has her ear to the ground when it comes to covering the next big trend.
Thank you for signing up to iMore. You will receive a verification email shortly.
There was a problem. Please refresh the page and try again.