Nintendo SNES Classic Edition: Everything you need to know!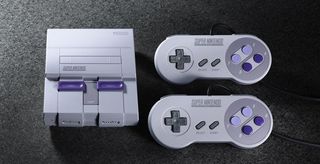 The Super Nintendo Entertainment System, or SNES, and to some, Super NES, came out in the early 1990s as a major system upgrade from the company's previous console. It was the only device for playing such titles as Donkey Kong Country, Super Mario Kart (the original), and Super Mario World. Nintendo decided to bring back our joy of retro 16-bit gaming with the release of the SNES Classic Edition, which packs 21 of the top games from the heyday of SNES into one tiny console. We've got everything you need to know about SNES Classic Edition right here.
What's new with SNES: Classic Edition?
SNES: Classic Edition is officially on sale. Here are all the places you can grab one. Hurry though, they're going fast!
Where to buy the SNES: Classic Edition
Nintendo officially announced on its Facebook page that the SNES: Classic Edition will be available to preorder from participating retailers later this month. We don't have an official date or which retailers will be participating, but we have been assured that we will be able to preorder the console. Additionally, Nintendo noted that a significant amount of systems will be shipped to retailers at launch. Hopefully, there wont be a shortage of the tiny boxes of joy like the NES: Classic Edition.
Well, as of this moment, everything! The SNES: Classic Edition was just announced by Nintendo. It's coming out September 29 and will retail for $79.99. This mini version of the original comes with 21 games pre-installed so you don't have to collect a bunch of dusty old cartridges. It also comes with two wired controllers and the exclusive, never before launched game, Star Fox 2.
So what is this mini classic console again?
Similar to Nintendo's previous Classic Edition release, the SNES Classic Edition is a miniature version of the original. I say miniature because it is small enough to fit in one hand. It doesn't have a cartridge slot, but it does have two proprietary ports for your wired controllers. It looks nearly identical to the original console launched in the early 1990s. It's adorable.
Instead of playing cartridges (Remember blowing into the processor chip area when your game wouldn't load properly?), the Classic Edition has all the games pre-installed. You simply select the game you want to play from the Home screen menu.
SNES Classic Edition comes with 21 games. Unfortunately, you can't add any more games without hacking it. Nintendos has not revealed plans to update the Classic Edition's operating systems with an online shop. So 21 games is all you get.
The good news is that, at retail, SNES only costs $79.99. One of the great things Nintendo has done is to keep the price of these Classic Edition consoles at rock-bottom prices.
What games does it come with?
I know, this is what you've been wanting to know since you first found out that SNES Classic Edition existed. What are these 21 classic titles?
Contra III: The Alien Wars
Donkey Kong Country
EarthBound
Final Fantasy III
F-ZERO
Kirby Super Star
Kirby's Dream Course
The Legend of Zelda: A Link to the Past
Mega Man X
Secret of Mana
Star Fox
Star Fox 2
Street Fighter II Turbo: Hyper Fighting
Super Castlevania IV
Super Ghouls 'n Ghosts
Super Mario Kart
Super Mario RPG: Legend of the Seven Stars
Super Mario World
Super Metroid
Super Punch-Out!!
Yoshi's Island
Take note that Star Fox 2 has never been released. This is an exclusive launch, only available on SNES Classic Edition. Pretty sweet incentive.
What hardware does it come with?
If you're worried that a 25-year-old game console won't work with your 5K TV, you can put those worries to rest. SNES Classic Edition comes with an HDMI cable for connecting to a screen, an AC adapter with a USB charging cable, and two wired controllers.
Nintendo has not clarified whether SNES Classic Edition supports Bluetooth, but if it's anything like the NES Classic Edition, you'll be able to switch out your wired controllers with a wireless-compatible version.
When can I get one?
SNES Classic Edition goes on sale September 29. We don't have any confirmation as to what time of day you will be able to get your hands on one, but we do know that you'll be able to preorder one sometime in August.
Where can I get one?
You'll be able to pick up a SNES Classic Edition at the usual haunts, like Amazon, Target, Best Buy, GameStop, Walmart, and Toys R Us. Some, if not all, of these retailers will also offer preorders sometime in August.
Where to get the Super NES: Classic Edition in the U.S.
What about accessories?
We don't have any official information about accessories at this time, but if its anything like the NES Classic Edition (opens in new tab), we'll be seeing them pop up in no time.
Any questions?
Do you have any other questions about the SNES Classic Edition? Put them in the comments and we'll help you out.
Lory is a renaissance woman, writing news, reviews, and how-to guides for iMore. She also fancies herself a bit of a rock star in her town and spends too much time reading comic books. If she's not typing away at her keyboard, you can probably find her at Disneyland or watching Star Wars (or both).
This makes me so happy. I was wanting this last year when the NES was announced. I wish it had Mario All-Stars, but oh well. Can't wait!

If only! I'd love to have Mario All-Stars on this!

The game selection is very first-party specific (mostly Nintendo's own games), with a few exceptions. I can't complain about what's included, but I do have to wonder if there's a Japan version that includes games unreleased internationally, like the Dragon Quest series. That was actually as much, if not more, popular than the Final Fantasy line.

I haven't heard anything about any Japanese versions of SNES Classic Edition, but there is a separate European version (exact same games, but looks different). Nintendo did launch a Japanese version of the NES Classic Edition with eight titles that are exclusive to the region. So you're probably on the right track. There will probably be a Super Famicom version, but I don't know what games it'll include.

No Chrono Trigger? Seriously, WTF!!
Can't be a Square Enix thing, because Secret of Mana is on that list.

I hope I'll be able to buy one because I'm very excited for this!

Probably never be able to get one just like the NES classic. Nintendo probably won't produce enough and then all the greedy people will buy them up and resell for twice the value.

this scarcity based sales model Nintendo is using is dumb

NES was good, but SNES was a huge improvement. This one I want.