How to choose your first amiibo for Nintendo Switch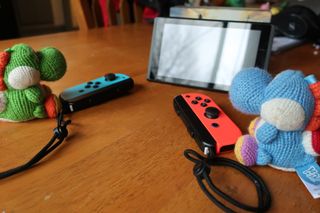 If the Nintendo Switch is your first foray into the magical world of amiibo, then the Nintendo-produced amiibo compatibility chart is probably a daunting reference, not to mention an incomplete one as it's missing several games. It includes Wii U and 3DS compatible games, and holy gosh there are a lot of amiibo to scroll through! But if you want to know which amiibo are best to start with for a Nintendo Switch owner only, you've come to the right place.
Quite a few Nintendo Switch games are compatible with amiibo. In fact, some will even work with any amiibo you give them! Major games that are compatible in some way with any existing amiibo are:
The Elder Scrolls V: Skyrim
Super Mario Odyssey
Fire Emblem Warriors
The Legend of Zelda: Breath of the Wild
Pokken Tournament DX
Kirby Star Allies
In addition, the following games are compatible with specific amiibo:
Splatoon 2
Mario Kart 8 Deluxe
Mario + Rabbids Kingdom Battle
Shovel Knight: Treasure Trove
Keep in mind that this is not a comprehensive list. Many other, smaller titles also support amiibo, and you can check the official Nintendo site for each respective game to learn about its amiibo functionality.
Okay, so which ones do I get?
For a new amiibo collector with a decent Nintendo Switch library, I would prioritize amiibo that are compatible with most major titles, such as Mario Kart 8 or Splatoon 2. For example, the Shadow Mewtwo amiibo card has a special effect in Pokken Tournament DX, but since it's useless in so many other games, I wouldn't recommend going out of your way to purchase it. Keep in mind, too, that there are often multiple unique amiibos of the same character, such as a Super Smash Bros. series Mario and a Super Mario Bros. series Mario. In these cases, it doesn't matter which you pick, whether you opt for the cheapest or just the one that looks the nicest.
I recommend the following almost universally good amiibo to start with:
Essential: Mario, Luigi, and Peach
The Mario series amiibo are incredibly versatile, compatible across the widest amount of games on the most systems. Even on the Nintendo Switch, they shine, and as Nintendo's standard bearers, why wouldn't they? All three of these amiibo produce special outfits for Mario in Super Mario Odyssey, racer outfits for Miis in Mario Kart 8 Deluxe, and weapons in Mario + Rabbids: Kingdom Battle.
While Mario may seem like the quintessential one of the three if you could only pick one amiibo, don't discount our fair Princess Peach. Peach has the added bonus of bringing her fashion sense to Bayonetta if tapped in Bayonetta 2.
Essential choice: Yoshi or Bowser?
To complete the Mario + Rabbids set, you'll also need to add Yoshi, but be aware that he doesn't give you a special costume in Super Mario Odyssey (though he has the same effect as other amiibo). That said, I can recommend him if you're willing to pick up an extra amiibo because we will likely see further compatibility with him when the new Yoshi game shows up later this year.
Bowser has a similar problem to Yoshi: he does give a special outfit in Super Mario Odyssey and a racer outfit in Mario Kart 8 Deluxe, but nothing in Mario + Rabbids Kingdom Battle. You should pick up Bowser if you're not a Rabbids fan, and Yoshi if you are.
Essential: Link
The Legend of Zelda series amiibo are compatible with most games, and have the added effect in Skyrim of giving you special equipment. While any Legend of Zelda series amiibo would work in most games, Link himself has the added bonus of giving you a special outfit in Mario Kart 8 Deluxe, as well as one in Bayonetta 2.
Optional: Kirby
Kirby isn't a necessity, but rather a nice-to-have if you're a big fan of Kirby Star Allies. Kirby gives a costume in Mario Kart 8 Deluxe and extra puzzle pieces in Kirby Star Allies. While not essential, Kirby's an amiibo you might pick up on your second trip to the amiibo aisle...or if you just need another cute figure on your shelf.
Optional: Shovel Knight
Shovel Knight is excellent in that he is compatible with Azure Striker Gunvolt and Shovel Knight: Treasure Trove, as well as most other major games. He is not compatible with Mario Kart 8, which is probably his biggest drawback. If you intend to pick up Shovel Knight: Treasure Trove (and you should!), a Shovel Knight amiibo will give you special armor sets and a magical fairy to help you out in your quest.
I include him here because for a character that isn't a Nintendo staple, Shovel Knight has great compatibility with a number of games. Those less interested in Shovel Knight might better spend their money on the tried-and-true Nintendo roster, but he's a must-buy for any fan of Shovel Knight: Treasure Trove.
What about the Inklings?
Inkling Boy, Girl, or Squid may be tempting to some given that they are the only amiibo compatible in Splatoon 2, and that they also offer a costume for Mario Kart 8 Deluxe. It's true that they'll appear in Inkopolis if you tap them with Splatoon 2, but they don't do much beyond take photos with your character and save your gear load-outs. If that sounds appealing to you, I recommend only picking up one of the three as opposed to all of them.
That said, this may change once Super Smash Bros. for Nintendo Switch drops, based on the Inklings' appearance in the opening trailer. Keep these in mind as we learn more about amiibo functionality for that upcoming game!
Which amiibo do you love?
Do you already have the beginnings of an amiibo collection and want to gush about your favorites? Let me know in the comments which amiibo you think are the best for the Nintendo Switch!
Master your iPhone in minutes
iMore offers spot-on advice and guidance from our team of experts, with decades of Apple device experience to lean on. Learn more with iMore!