Nintendo Switch Emulators aren't real, and will mess up your computer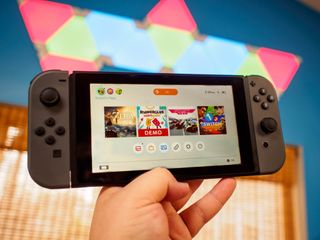 (Image credit: iMore)
In much the same way some people will opt to play Nintendo Switch games on a computer instead of the console if it saves a little cash, there exists some people willing to disguise malware as Switch emulation software if it makes them a little cash. That's right, if you see something claiming to be a Nintendo Switch emulator you should really think twice before installing it. Switch emulators aren't a real thing, and installing that software is a really great way to turn your computer into a malware farm.
Scammers are taking advantage of a video floating around showing off Legend of Zelda: Breath of the Wild in 4K as evidence of Switch emulation, but that's not the case. What you see in that video is an unfinished version of the Wii U port for Breath of the Wild running on a PC. It is currently possible to do this yourself, but the game isn't 100% polished and may break in some areas. More importantly, it's not the Switch version of the game which means other Switch games will not be ready to play anytime soon.
Nintendo's latest console isn't just a portable gaming machine, it's a very powerful computer in an impressively small case. The NVidia Tegra X1 processor in this tablet was built to run in laptops and cars, and its Maxwell GPU is not something easily emulated by just anything. It may not be particularly impressive when compared to traditional desktop processors and GPUs, but emulating hardware is not a 1:1 resource expense.
The recommended system specs for the Wii U version of Breath of the Wild include 16GB of RAM, at least 3.5GHz quad core CPU, and at least a GTX 970 processor. Basically, emulating a Wii U game requires a computer that meets almost all of the same spec needed to run an Oculus Rift or HTC Vive. While the Wii U and Switch are comparably equipped, the latter is using an ARM processor which is going to be somewhat more complicated to emulate.
It's not impossible for someone to eventually figure out how to emulate the Switch in a way that doesn't require a super powerful machine, but it's not coming anytime soon. If you're really eager to see what the Switch gaming experience is all about, your best bet really is going to be picking one up for yourself and trying it out.
Get more iMore in your inbox!
Our news, reviews, opinions, and easy to follow guides can turn any iPhone owner into an Apple aficionado
Russell is a Contributing Editor at iMore. He's a passionate futurist whose trusty iPad mini is never far from reach. You can usually find him chasing the next tech trend, much to the pain of his wallet. Reach out on Twitter!
It'sa me, iMario! iMore should probably change its official mission and branding to be not just Apple but also Nintendo and streaming video recommendations, etc.. Not that I dislike the Nintendo coverage per se - but the Switch is not really part of the Apple ecosystem. And to be clear I understand that this article is nominally a PC/Mac article, but it is capitalizing on the popularity of the Switch and there has been straight up Switch coverage as well. Alternately you could consider something like iPlay for gaming coverage, or maybe iMore+ branding for "other stuff we like that isn't really related to Apple stuff."

Here's that official branding and mission change you missed. http://www.imore.com/next-evolution-imore

Ha, I have been reading iMore for years, but that somehow slipped under my radar! It looks like that was just two weeks ago, and they haven't yet updated the "about" section of the site, as of today at least! So it isn't just me then noticing the great Pokémon migration of iMore!

Whenever someone replies to me personally on the internet I always wish they would phrase things in a slightly nicer way - even if I wouldn't do so myself, ha! But at least you didn't say "completely" like that guy below did. 🙂 In my alternate perfect reality though you would have said "actually we announced pretty much exactly that two weeks ago! Here is the link..." Hmm and also I had to cut and paste the link for some reason.

You seem to have missed the name completely, it's i"More", as in, more than just Apple

Not really - I have been reading the site for years, but the Nintendo focus has just been since last year and the shift was apparently officially announced two weeks ago.

I checked the "About" text before posting and this is what it still said: "Live a better life with Apple! The authoritative iMore team shows you how to get the most out of life by using Apple's products and the apps, services, and devices they connect with to their fullest. With in-depth buyers guides, detailed help guides, expert product recommendations, and timely tips, iMore makes sure you have everything you need!" That is the sort of thing that I was saying could be updated.

Thinking about it a bit, Nintendo is a bit like Apple in terms of often amazing innovation, high quality, careful design, attention to detail, unpredictability, occasionally bizarre decisions, and online missteps; also the obsessive fans and media coverage as well as the strong love-hate relationships that each company seems to engender.