Nintendo Switch FAQ: Everything you need to know!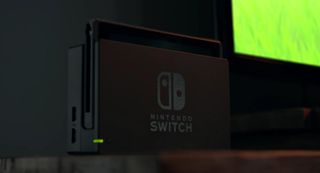 (Image credit: Nintendo)
Updated April 2017: Mario Kart 8 Deluxe launches this Friday and we have included links to the Joy-Con steering wheels and Mario Kart 8 Deluxe bundles!
While there's certainly no shortage of people sitting on the edge of their couch or at their desk to play games, there's an increasing number of people out there more interested in playing whatever game they can bring with them. The rise of mobile gaming has everything to do with the increasing popularity of phones and tablets that have incredible gaming capabilities of their own, but that is far from a complete gaming experience. Mobile gaming doesn't usually focus on active multiplayer or expect every user to have a nice gamepad, so the games are slimmed down to make sure everyone can play.
Nintendo has been paying close attention to this trend, and their solution comes in two parts. The first step is introducing their content to phones in unique new ways, as we've seen recently with Super Mario Run. The second step is a game console that can travel with you just like a tablet, but offers the full gaming experience no matter where you are. It's called Nintendo Switch, and this is what we know so far!
Why is it called Switch?
Nintendo is basically releasing a console that can be used in three very different ways. You can put switch in a dock connected to your television, and with a controller play just like you would any other Nintendo console. You can also remove the touch capacitive tablet from its dock and switch to a mobile gamepad, with a controller called Joy-Con that splits in half and connects to either side like a giant portable GameBoy from the future. If you find yourself wanting to share Switch with someone for co-op gameplay or play against up to 8 other Switch players locally, you can flip out the kickstand on the back and switch the console into a tablet that can accept multiple controllers as individual players or play. The experience is completely up to you, and Nintendo seems to have made it very easy to switch based on your needs at the time.
So it's a tablet?
Well, sort of. The pull-out portion of Switch is basically a 6.2-inch, 32 GB tablet in looks. It's slightly smaller in size and slightly thicker than an iPad mini. The screen is multitouch capacitive, so you'll be able to tap and swipe with compatible games and interfaces. But, it does not act like a tablet in function. There is no internet access or app store.
The screen has a power button, volume controls, two speakers on the landscape bottom, brightness controls, an SD card slot that supports up to 256 GB SD cards, an audio jack, and a slot for inserting your cartridge games. The screen has ambient light sensors that will adjust the brightness of the screen similar to the way a traditional tablet does.
So it's a console?
Ha ha! We gotcha, didn't we. Yes, it is also a console. The tablet part of the Switch snaps into a docking station, which comes with three USB ports. Two are USB 2.0, which are used to charge the Joy-Con controllers. The third is a USB 3.0 port on the backside, which can be used for connecting other accessories.
What about my Wii U?
As you've probably guessed from the pictures, Switch is very different from Nintendo's previous gaming console. The Wii U was built to be a unique living room experience where you have two screens working all the time to offer up lots of information for the game you were currently playing. Switch is technically also two screens, but you're only able to use one at a time. As a result, Wii U games aren't going to be compatible with this new Nintendo Switch. In fact, this new console doesn't even have a disc slot anywhere for you to put Wii U games in.
It's possible Nintendo will offer up some Wii U games at a later date through the Virtual Console, but there are currently no public plans to make this happen.
Read more: Here's what Nintendo Switch means for Wii U owners
Will this tablet be able to deliver good graphics?
Nintendo is promising a high quality gaming experience no matter where you are, but there's a bit of an asterisk above that sentence. Nintendo Switch in the dock will output to your television at 1080p at 60fps with no problem, and like the Wii U before it that consistent framerate on your television is something the company is very proud of.
When you go to play on just the tablet without the dock, you may notice a difference in visual quality. The touch capacitive tablet part of Nintendo Switch is a 6.2-inch LCD with 720p resolution, which means it's not Full HD. While all of Nintendo's demonstrations show the screen looking great, you probably aren't going to want to split that screen to share with your friend.
Nintendo Switch is powered by NVidia's Tegra X1 processor, which has been used to deliver high quality modern graphics on the Shield Android TV as well as several other tablets. It's a capable processor on its own, but optimized by Nintendo for this platform will demonstrate just how capable it is. Nintendo promises 2.5-6 hours of gameplay when removed from the dock, depending on the game.
How do the controllers work?
Nintendo's Joy-Con is designed to work with Switch in several unique ways. By default, Joy-Con looks like a slightly awkward gamepad. When you want to take the tablet out of the dock, the two halves of Joy-Con are separated from the gamepad holder and can be attached to the tablet. This makes the tablet itself one huge controller, vaguely reminiscent of a Sega Game Gear (yeah, I'm that old).
The Switch has two controller layouts. First is the main controller, which is when Joy-Con L and Joy-Con R are snapped into the Joy-Con Grip. This makes a traditional game controller (although it looks a lot different than the average console controller). The second is when the Joy-Cons are separated from the Grip and act as individual controllers, not entirely unlike the original Wii controllers. When separated, you can connect the Joy-Con straps and slip them onto your wrist so you don't accidentally throw the controllers across the room. The Joy-Cons run on rechargeable Lithium Ion batteries.
The Right side Joy-Con controller has infrared motion sensors that can identify when your hand is making different motions. For example, when you play Rock, Paper, Scissors, it can identify whether your hand is in the rock, paper, or scissors position. It can also read when you move closer and farther away from the sensor. It also has an NFC scanner that allows you to sync Amiibo characters with.
Each controller half also has "HD rumble" and multiple motion sensors for super immersive handling. Nintendo spent time showing off what the Joy-Cons can do with a video explaining that you can feel a piece of ice going into a glass, then two pieces. You can shake the controller and it will feel like ice in a glass. You will even be able to feel if water is being poured into the glass.
Read more: Nintendo, Apple and forcing the future of tactile feedback
When the Joy-Con halves are separated from the tablet and the Gamepad holster, they gain several other abilities. Simple plugs can be connected to allow each half to act as a separate controller for local multiplayer gameplay, and each controller half features "HD rumble" and motion sensors for almost Wii-like actions.
Nintendo has in mind a game called 1 2 Switch that uses the Joy-Con halves in a way that relies entirely on vibration and motion without looking at the display at all! Another live boxing game called ARMS will be available to help showcase how you can actively move and punch to translate that motion into Switch just by holding your Joy-Con halves.
The controllers each have the standard ABXY buttons, plus a stick with a button and player LED identifiers. There are shoulder ZL and ZR buttons, too. All of this is standard controller stuff. The Joy-Cons also have a couple of additional features that aren't part of the standard configuration, like a capture button, which lets you grab screenshots (and eventually record video) of your game, which you can share with friends through your Nintendo Online account. It has an "SL and SR" button, which are positioned on the inner sides (so, they are only accessible when removed from the Joy-Con Grip).
The Joy-Con controllers are 102mm in length and 35.9mm in width. They are 28.4mm thick and weigh about 50g each (the left Joy-con is slightly lighter than the right). Joy-Con included with Switch come in standard gray or neon. The neon pack includes one red and one blue Joy-Con controller.
Read more: Joy-Con vs Pro Controller — which should you game with?
What about battery life?
Because Switch is part home console and part mobile device, the touch capacitive pull out tablet needs to run on battery power. Nintendo says the Switch will run on rechargeable batteries that last anywhere from 2.5 to six hours, depending on the game you're playing. We've heard that Legend of Zelda; Breath of the Wild, for example, will run for three hours before you'll have to recharge your Switch.
Tell me more about the games!
You got it! Nintendo is working on releasing over 80 games for Nintendo Switch right now, but not all of them are going to be available at launch. Like any good Nintendo console, there's some new titles in the Mario and Legend of Zelda universes, but you'll also find some unique new games to take advantage of all the things you can do with the new Joy-Con gamepads.
Nintendo is also working with lots of third-party game publishers for Switch games, including Skylanders from Activision, FIFA from EA, and The Elder Scrolls V: Skyrim from Bethesda. While there's been no official announcement yet, you can also bet Nintendo's Virtual Console and indie game publishing stores will find their way to Switch soon.
Read more: Here are just some of the 80 titles coming to the Nintendo Switch
What about online gameplay?
Nintendo is positioning Switch to be the console you can bring with you to enjoy local gameplay with other Switch owners, by allowing local mesh networking for up to 8 Switch players at once. If you'd rather not leave the house, Nintendo is promising online gameplay features at launch with Switch that is improved over what is currently available for the Wii U.
Unlike existing online features, Nintendo is making these online features free only until Fall 2017. After that, there will be a monthly fee associated with Switch online services. Nintendo hasn't gone into much detail yet, but expect more soon!
Is the online content safe for my kids?
Online content on every Nintendo console has always been very child-conscious. It's the reason so few Nintendo games allowed voice chat in previous console versions. We know online content will be an increasing focus for Switch, and to help with that Nintendo has implemented a new series of parental controls for parents to take advantage of.
Switch starts off with everything previously available to parents, which includes content rating limitations at the system level and restrictions to any Internet-based activities without a pin number. Parental controls here expands to include time limitations to ensure your children aren't playing all day long, as well as control over specific share functions for social networks.
Perhaps the coolest feature for parental controls is the new app, which will be available at launch for parents to adjust settings and peek in on activity remotely. Since Switch is a highly portable console, it makes sense that Nintendo would make the parental controls just as portable. Expect more details on how this app works as we get closer to launch!
Will it be region free?
Yes! Nintendo originally planned to region-lock the console, but decided that it would benefit everyone if it were not. This means everyone will be able to take advantage of global releases of games, even ones you've imported from another country.
Will there be accessories like a steering wheel for MarioKart?
Yes! There is a mini steering wheel so you can play MarioKart 8 Deluxe on Switch! The wheel has a spot in the center where you snap the Joy-Con into place, which turns the wheel into a working controller. A set of two wheels only costs $14.99.
There are also additional Joy-Con controllers and Grips, a Pro Controller that looks more like the traditional Wii U style controller and a few more fun accessories to make Switch perfect for you.
Read more: These are the best accessories for Nintendo Switch (so far)
How do I get one?
Nintendo Switch launched on March 3, 2017 for $299 in the US. This bundle includes the console tablet, Switch Dock, and Joy-Con gamepad. Accessories like the Pro Controller are also available now, but are not be included in the standard console bundle.
Will there be a Nintendo Switch Mario Kat 8 Deluxe bundle?
It appears that any official Nintendo pre-packaged bundle may be limited to Russia only, but some stores like GameStop are making its own bundles to celebrate the release](http://. Give your local store a call and see if they will be offering any deals or bundles that include Mario Kart 8 Deluxe.
We'll be updating this as more information comes in, so keep refreshing!
Master your iPhone in minutes
iMore offers spot-on advice and guidance from our team of experts, with decades of Apple device experience to lean on. Learn more with iMore!
Lory is a renaissance woman, writing news, reviews, and how-to guides for iMore. She also fancies herself a bit of a rock star in her town and spends too much time reading comic books. If she's not typing away at her keyboard, you can probably find her at Disneyland or watching Star Wars (or both).