Now on Kickstarter: The Bluetti EP500 mobile solar battery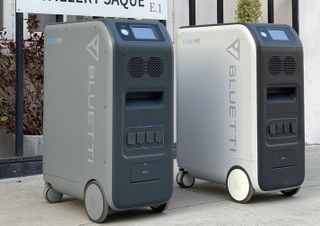 (Image credit: Bluetti )
On the one hand, the huge shift towards distributed work has been pretty great. Many of us have been able to work entirely from the comfort of our own home. No more stuffy offices, no more lengthy commutes.
Of course, remote work isn't without its drawbacks. Issues with work/life balance, a lack of in-person contact with coworkers, and a huge spike in utilities. We can't really help with the first two, but we do have something for the last one.
It's really no surprise that telecommuting created a surge in power usage. The time we all spend at home has increased exponentially. And we all know what an energy hog even a single computer can be, let alone several.
Wouldn't it be nice if there were some way to cut that cost entirely out of your power bill?
Bluetti can provide you with exactly that. Built on more than a decade of experience in the clean energy sector, the company has for years been providing innovative, reliable off-grid power stations. And they've just announced what may be one of their best solutions yet, the Bluetti EP500 solar battery.
Here are just a few reasons why you should be stoked.
It's powerful. The Bluetti EP500 is equipped with the highest-capacity battery pack ever released by Bluetti. It also features solar charging capability through a built-in MPPT input which allows for up to 1200 watts — with prime sunlight, it takes just five hours to charge. You can even charge it through both its input ports simultaneously, ramping the charging up to 1800 watts.
It's intuitive. While other power stations require an extensive installation process, the EP500 is good to go straight out of the box. Better yet, through Bluetti's B-Lynk connection technology, you can monitor and control the EP500 entirely from your smartphone, no matter where you are, and can easily charge it through a built-in 600 watt AC adapter if no sunlight is available.
It's expandible. The Bluetti EP500 is rated for up to 2000 watts. Powerful, but some people might have slightly more significant power needs. That's why Bluetti is also releasing a Fusion Panel Terminal Board" which will allow users to connect two EP500s in a series, doubling the power output and enabling 220/240 volt output. It's portable. With its minimalist design, the EP500 can fit just about anywhere you need it to. Plus, its portability means that it can function as more than just an emergency power source. Once it's safe to travel again, you can easily bring it on the road with you.
It's reliable. The Bluetti EP500 is equipped with exclusive, customized LiFePO4 battery cells. This gives the unit an insane lifespan of up to 6000 charge cycles. Given that the average household consumes about 3 kWh a day, this means you can enjoy up to 40 years of service without requiring grid power.
**It's backed by Bluetti. **When you purchase the EP500, it comes with a five year warranty. Bluetti also offers lifetime after-sales technical support.
None of us really expected to be working from home as long as we have. None of us really expected the pandemic to last as long as it has. Yet here we are, and the best thing any of us can do is adapt.
Going off the grid is a great way to do that. Not only can you cut your power bill down to size, you can also take pride in the fact that you're living more sustainably, too. You're not just saving money, you're helping to save the planet, as well.
If you're looking to take the plunge into renewable energy, the Bluetti EP500 is the way to go. Preorders open at 6 AM on March 23 via Kickstarter, and start at $2,799. You can also subscribe to Bluetti's mailing list for more information.
Get more iMore in your inbox!
Our news, reviews, opinions, and easy to follow guides can turn any iPhone owner into an Apple aficionado
Your source for all things Apple