NSFW: Apple, U2 and looking a gift horse in the mouth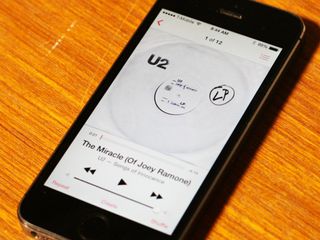 NSFW is a weekly op-ed column in which I talk about whatever's on my mind. Sometimes it'll have something to do with the technology we cover here on iMore; sometimes it'll be whatever pops into my head. Your questions, comments and observations are welcome.
At the end of Apple's recent iPhone 6 and Apple Watch event, Tim Cook had one more surprise up his sleeve: U2's new album, Songs of Innocence, would be available to every iTunes Store customer in more than 100 countries, completely free. Many people are happy for the new album, but it's created an equal amount of controversy. It's just a free album, folks. Settle down.
Let me say at the outset that I'm pretty ambivalent about U2 myself. They've never been one of those bands that I've absolutely had to have the latest album from. In fact, Songs of Innocence is the only U2 record I have in my iTunes library.
But the inordinate amount of actual anger directed at Apple and U2 over this is so disproportional to the actual event, I've started to wonder about the mental state of some of those complaining. It's really been off the charts.
If you fall into that camp, let me speak very plainly: I have no sympathy for you. I have trouble thinking of a more self-indulgent, "first world problem" than saying "I hate this free new album I've been given."
For the past few days I've seen screeds posted on blogs and remarks on social media attacking Apple and U2 for invading privacy, for their NSA-like invasion of the sanctity of people's music collections, claims of fascism, and a host of other utterly imagined insults. The resulting outrage has been disproportionate and more than a little sad.
I readily accept that Apple's timing for this was poor. Just the week before, the company was implicated following the release of nude pictures of female celebrities. Turns out that at least some of the pictures were taken from some of the celebrities' iCloud accounts, through what Apple called "a very targeted attack on user names, passwords and security questions."
Apple tightened iCloud security in the wake of this event, but the damage to its public image was done. Many people heard about celebrity nudes and iCloud. Fewer people bothered to learn the details. Even fewer heard the followup.
Also, many people didn't watch the Apple event and didn't pay particularly close attention to an email Apple sent later, the one pictured here, noting the free album. And some don't check the iTunes Store with enough regularity to see the banner that says "U2's new album exclusively on iTunes. And it's a gift to you."
All they knew was that this new album — one they didn't order — is suddenly in their music collection. And for them, that can be a bit scary. I call them "muggles," like non-magic users in the Harry Potter books. They're people who don't live in the same tech ecosystem that people like you and me do. They have these devices and know enough to do what they need to, but they don't live and breathe tech like many of us.
But by and large, those aren't the people complaining online via social media and blogs. Because those aren't the people who use social media and blogs, except maybe for the occasional Facebook post. The people who know exactly what happened on Tuesday are the ones with the biggest axes to grind.
I've seen a lot of garbage written about this. I've read elsewhere that you're "stuck" with the U2 album forever — you're not. It's trivially easy to "hide" the album from your list of purchased albums in iTunes: Open the iTunes Store, click on the Purchased link, find the U2 album, then click on the X button in the upper left hand corner of the album thumbnail to hide it.
I've read screeds likening Apple's promotion of U2's album to Amazon's decision to pull an an unlicensed ebook version of George Orwell's 1984 from its Kindle readers. People making that point are confused about the difference between addition and subtraction.
I'm not sure exactly why Apple simply pushed the new U2 album out to everyone instead of offering a redemption code so people who wanted it could actually opt in. I assume accounting may have had something to do with it, or maybe Apple didn't want to overly burden its store with hundreds of millions of redemption code verification attempts. Maybe that would have been a better way to handle it.
These days the Internet Rage Machine swings into overdrive at the drop of a hat. Everyone uses almost every excuse to get angry about whatever they can. Because rage drives traffic, and traffic can drive revenue when you run a web site that's dependent on page impressions and unique visits to generate traffic for advertisers. For some people, it's all about going viral and getting eyes on your pages.
And for others, it's just about venting your spleen because it's the Internet, and that's what people do because they're angry all the damn time or they just want to be heard and acknowledged.
Whatever the case, I suspect many of the people complaining about this are looking at this gift horse from Apple and U2 just a little too close in the mouth, and I wish they would give it a rest.
Thank you. Some of the whining and bitching over the last few days has disgusted me. Someone actually said that they felt RAPED. I don't think I need to tell you how insulting that is to actual rape victims. I'd like to smash them all with a giant STFU stick. Swearsies.

People throw around the term "rape" very loosely nowadays. To equate having someone add an album to your music library to being forced to being sexually accosted is the epitome of insanity and overall lack of empathy for your fellow human beings. Pass me that STFU stick. I'll use it with my "Fuck You Forever" brass knuckles.

And when people say that people are trying to make rape culture cool this is what they mean. Well, this and most porn nowadays. "I'm so angry about this slight breach in my personal choice that I was raped" even though rape is so much more that this slight breach. Maybe victims of rape should tell their story. In the most blunt way possible. I do it when people say racism is dead. I'm not using it as an excuse to be a hoodrat. But I lived with it, and damn I'm only 17. Posted via iMore App

You have a deal. I particularly hate it when people apply it to their cell phone bill. "I'm getting raped by Verizon"...oh honey, just NO. Unless Verizon is holding a knife to your throat and forcibly violating your body in the most private and personal way ? You aren't being raped by anyone. Just stop. And may the sand fleas of a thousand desert camels infest your nether parts for even saying it. GAH.

There's a thing called "literal" and another thing called "figurative". I suggest you take off your do-gooder cape and reflect on the difference. Saying "my phone company is raping me" when looking at the bill is perfectly ok to say. Just like I'm sure some ppl are saying or thinking that they would "kill" to have one of the new phones or watch. Those ppl aren't denigrating or disrespecting those that have been murdered. It's just a turn of phrase. Go volunteer w a rape crisis group if you really want to make a difference. Complaining about people's figurative use of the word rape is about the least productive thing you can do on the subject.

This is the same argument as people use when saying that two straight guys calling each other "faggot" isn't offensive. And guess what - it's offensive.

It's offensive. Evidence: People are offended. No, it's not perfectly okay. Evidence: People are saying it's not okay. Feel free to continue to come across as ignorant and tone deaf, however.

In the case of phone companies a more suitable term would be racket. Rape is far too strong and inapropriate.

Thank you for saying this! I feel the same way when people use the word "Nazi". Hyperbole is one thing but using the harshest, most gross words to describe something like a free iTunes album is ridiculous.

Excellent article Peter - pretty much exactly how I've been feeling about this. If you don't want it, hide it. Free is free. Who cares?! (People with nothing better to do with their lives).

How do we go about making the phrase "Tech Muggle" and actual thing? Seriously though, great article and spot on. People need to calm the F down. It's a free album, not whooping cough.

This is what im waiting for Apple to give some give aways or gift to their client and fellow followers, on that time i really surprised when i recieved an email from Apple which was written a gift for you an album of U2 which for me is awesome, for me its not bad, really a great surprise, iam not feeling iritate for nothing because it's free and i love this U2 album.Thanks to Apple with this great gift and i hope you send more free albums if my preffered iPhone Plus is in in my hand...from Italy Sent from the iMore App

You certainly will not be getting any free albums from Google. You would be extremely lucky to even get a software update (or $20 trade in your on your same price as iPhone Roid du Jour POS.)

But it's cool to hate Apple now so I have to jump on the train right? It's always nice to see that some people can be slightly rational. Of course to do that I actually have to leave my house and get off the Internet. Because the album is free I'll finally listen to U2 for the first time in my life. And I'm assuming because I'll be on iTunes to do it if I like it I might buy some more.... Form iTunes. But maybe they could have gone the route of the free albums Google does. Just make it free until said date. Either way, free music I don't care. #ObviousMarkingIsObvious Posted via iMore App

Is there a way to get the U2 album off of iTunes and on to other devices that don't have iTunes? If not then it is not "free" and should never have been called such. ಠ益ಠ

Many years ago Apple made iTunes music DRM-free so you could do just that.

But can you with this? I believe not. You can hide it from your library. Store it on your iDevice. But you cannot download this particular album on to your computer and access the files. ಠ益ಠ

Of course you can. I'm staring right at the files in my Finder right now.

+1 I was misinformed. ಠ益ಠ

Here's an idea... avoid posting about things you totally don't understand, even though they are so easy a 3rd grader can do it.

Yes you can, just click the cloud download icon. You can even convert it to a plain old mp3 file if you like, right through iTunes.

If you get to know a bit more how iTunes works, you'll see the files are there. Just click the little cloud thing with the arrow pointing down next to the song or album. Look in your music folder. Voila! Magically, it's there. Boom!

Yeah. iTunes is not my friend. ಠ益ಠ

You don't get iTunes with Roid. Just one giant reason it's a total rip-off.

And that's Apple's fault? Sorry. But One could get an iTunes account, download it and then put it on their Roid if they wanted it.

Can you really? I don't see how you could. Apple runs closed source software which makes ITunes usable on only an Apple product.
If it turns out that you can put iTunes on a Roid then Brian Brew needs to stop posting comments about things he totally doesn't understand.

Yeah, iTunes is a huge ripoff... Posted via the Android iMore App!

Muggle? Sent from the iMore App

Ignorance is the main problem here. Erratic criticism comes from ignorance and lack of judgement.

There actually is. But stop your crying anyway.

No need to be rude. I was misinformed. Thanks for understanding.... ಠ益ಠ

Just curious: how can you be misinformed by information, that if you would have looked and tried it, would've been all of the information you need to be no longer misinformed? That just went "whoosh" right over your head, didn't it?

Well, I recently found out the touch cover for the Surface RT works on the SP3 despite everywhere I looked online saying it wouldn't. There is wrong information on the Internet. I was under the impression one can only download their own stuff from iCloud. Posted via iMore App

Absolutely true, unless you have that person's password (as you are so obviously referring to the Android PR stunt where they paid some hackers to hijack some celebrity iCloud accounts as if there is any problem with iCloud. There is not, but they did add those annoying Facebook/Linked in type notifications. Yawn. Try not setting your password to your dogs name (the one you obsessively blog about).

I don't use iTunes. It is the devil incarnate. I was misinformed. My coworker was struggling through it at work trying to get the files. Turns out he was on an old version of iTunes causing the issue. My bad. Continue to criticize me if you must. ಠ益ಠ

We've already seen that you have absolutely no idea about any of the most BASIC functions of iTunes, so it makes SO MUCH sense for you to hate on it. Please grow a brain, and quit pretending you aren't trolling.

I know iTunes inside and out. I do not like it. That is my opinion of it. As I said we were on an old version. I am sorry I jumped the gun.

I don't understand why people think iTunes is suckish! You it's be talking about desktop because it works just fine on my iphone ! Sent from the iMore App

It sucks I hate it. I have used it for years. On the phone, on windows on mac. I do not like it. It is a poorly implemented system for music (Google does it better) but as for backing up your devices it is OK.

It is FREE! Just be used you can't do that doesn't make it free Sent from the iMore App

Don't waste your time with all these haters. Sound like they are either 1) Apple advocates that troll for remotely negative comments so they can do some damage control; 2) Fiendish Apple fans which makes them weird because they are spending so much of their time vehemently defending them without being paid for it; or 3) Youngins who think it's funny to berate people about how "computer stupid they are" because everybody knows that stuff now don't they? What are you old AND stupid...tee he he. Yeah, well guess what fools the day you come across something you don't understand you may get teemed with hateful immature people and when that day comes remember this thread, yeah remember this thread cause that day is coming.

Another homo promoting gay shit on people's private devices

This is not free... It's forcing Gay and Homo offensive song into your private property. This is worst then Rape

The first I new about the free U2 Album when I went on the Apple website on Wednesday to find out when iOS 8 is getting Launched. I'm not a huge U2 fan, but a free Album was a nice surprise & I even downloaded it on my iPhone, iPod Touch & the iTunes version on my Laptop. Roland

" Rage Machine swings into overdrive at the drop of a hat. Everyone uses almost every excuse to get angry about whatever they can. Because rage drives traffic, and traffic can drive revenue " Well Mobile Nations is a part of the Rage. Go to AC and read some of the articles there since the the i6 has made the news. Your own writers are sending readers into a lather with there well timed articles and inflammatory Headlines.. Click Click Click.$$$$$ Posted via the Android iMore App!

Click revenue is rather small, and so is the add revenue. They go over that. Which click bait headlines are you referring to? Posted via iMore App

I'm no Expert on this, but revenue for these sites are generated by the amount of traffic that they get. Correct? Every time someone logs in or post comment revenue is generated. Right? Posted via the Android iMore App!

It's not all that simple, but follows that path yes. Maybe one if the writers here will comment. But they make much more, and the majority of their money from donations and sales. Posted via iMore App

The problem is that it only takes a very small number of people to make a huge noise and be heard. Those that liked getting the Album or those that don't really give a damn either way are silent or can barely be heard. The fact that so many bloggers or news outlets report this small number of 'irate' people is the only reason it is a noise. In fact I would say that the majority of those reporting that everyone is irate is because that reporter is upset over it and is using their blog to megaphone it. There are a few of them that I know doing this that only use Android devices and are doing it because to get it they will have to pay for it themselves. I'm not a U2 fan and fall completely in the "Who cares" category. I might listen to it once and then make a decision to remove it off the devices it downloaded to if it doesn't fit my musical taste, I think this may be the case, but I think that that adding it to the purchased for all users was simply because not everyone sits and watches product launches and wouldn't know that they could go and get it. I've seen so many mountains made out of insignificant mole hills and this is another example of mountains being made but this time it is being done over something so insignificant it's unbelievable.

Very well written, totally agree. I myself am a big and longtime fan of U2, started to buy them regularly since Pop, which is 17 years ago. Wow, time flies! I remember at that time I was still going to school, and had to save for a while to buy a CD. Compared to today, music CDs were quite expensive, and there was no such thing like free stuff. No way anyone would complain back then. Times have changed indeed.

To the real world this was a non-event. Good article though. BTW: I don't even see the album in my library. So much for "forced"...

Depends on your configuration. The morons who are complaining are all using auto synced libraries, apparently. Or are so unbelievably stupid that, 10 years after iTunes become the best thing to happen to music, they still can't grok how to burn a playlist. If you are manually managing your music, you need to look in your purchased items list. There it is.

I actually like the album. Not a long time fan of U2, but I like some of their stuff. People are just angry for the sake of getting attention, you nailed it on the head. Sent from the iMore App

Reminds me of the "12 Days of Gifts" app where people were bitching about the free gifts not being good enough.

I though of the same thing! Also when the Back to School promo switched from the free iPod to the $100 iTunes/App Store gift card. People were so angry that they were not getting the free thing that was no longer being offered as a free thing. I even remember some, when there was still the free ipod promo, being upset they had to send in a form to get a rebate check for the iPod to make it "free". My grandmother always said "no good deed goes unpunished".

Actually I'm wondering if we've all become spoiled little shits who are so far removed from any real pain and suffering that we have nothing better to do than go on major rants about color, size, and whatever else we think we need to emote about, that, in the broader scheme of things hardly even qualifies as an inconvenience. This isn't just an Apple thing - for those of us who've been with Apple since the beginning, we're long-use to Apple being the company that people love to hate. From time-to-time I go see what's going on in the other camps, the ones where Apple's not the point, and the exact same things go on there - users ascribing "rape", and "assault", and myriad other screeding screed that would make one think they were describing soldiers of a foreign power breaking into their homes and doing truly horrible things to one's own family. All of this tetchy stuff can be just cool, and can be fun to explore and talk about, and maybe gives us a certain appropriate sense of empowerment, but somewhere along the way we've all lost it and it's quickly becoming less fun.

"Actually I'm wondering if we've all become spoiled little shits..." Well wonder no more. I am still amazed and excited I have the entire world at my disposal in my pocket all for a few hundred bucks. It's amazing and am thankful that people way smarter than I and way more creative than I decided to make this a reality. I know it's all for profit but everything great needs an incentive. The very concept of complaining about getting something for free is so mind boggling to me.

Your comment made me think of this. One of the funniest rants about technology and users I've heard: http://youtu.be/qxXD9WQWZck Sent from the iMore App

Yes! Also Louis CK's Everything's Amazing and Nobody's Happy.

Lol YES! Sent from the iMore App

I agree! I feel the same way about people who feel sooo strongly about Apple vs android vs whatever else. All of this technology is amazing and I like it because it makes me happy and amazed, if the manufacturer of someone else's amazing tiny computer makes you even slightly irritated let alone full of rage and venom, then maybe it's time to get a new hobby. Posted via the Android iMore App!

Yes! This! I don't understand how people can get so angry about these things. It just isn't worth it.

The people saying this is no problem have iTunes on Mac/PC. Those of us who only have iTunes on iPhone/iPad couldn't delete it from iTunes/purchased until Apple finally released a removal tool. Basically it was like undeletable spam - Bono compared it to "junk mail". To make things worse there were huge numbers of people publishing incorrect advice about removal - including other comments in this thread - causing people affected to waste time.

Look at the album picture and see two men grabbing each other is not offensive? You are homo?

Not exactly. It's mostly just Fandroid posers, pretending to be Apple users. Just like with Antennae-gate, etc... Manufactured issues from non-customers is a MAJOR part of this.

The reason they didn't give a code was because they wanted to make this a record-breaking album release. If they didn't enable it by default then they couldn't count it as a released album. It's a publicity thing (or more of a demo of the power that Apple/iTunes can have for artists and consumers), it's no more onerous than the stock apps on your phone. Just ignore them. Or listen to it, it's not all that bad of an album.

I just tell 'em "I could have been worse. It could have been the new Maroon 5" album.

Best article ever. I don't know if this U2 album auto downloaded for some folks or not, but even if it did, it isn't as if Apple did anything wrong here other than give people something for free. Even if was a crappy U2 album.

People should learn to relax and be more open minded. I think U2 is just an awful bunch of old hacks, (although U2's first album in 1980 was pretty great), and I really despise Bono based on what I've heard about him but I still downloaded the FREE album, and I will listen to it before I (likely) trash it. So even if you hate U2, there really isn't any reason to be so rude as to complain about them giving you an album. The polite thing to do is at least *try* to listen to it, or to (silently) decline to.

Not sure what you've heard, but I know a number of people who've had personal interactions with Bono, and every one of them have nothing but great things to say about the man. He's almost the opposite off-stage as what his personality comes across as on.

Have been waiting a while for the new U2 album, so happy it's been given away. Donated the money i would have spent on it to charity.

Great gesture. Very nice Sent from the iMore App

Quite frankly some people aren't happy unless they're bitching about something. That's why I advocate violence. Smacking them across their face will justify their bitching!!! Sent from the iMore App

You been sucking dicks and that is why you not offended when people force gay items into your private devices?

Adding my agreement, it is a total first world problem. It seems a lot of people are completely removed from the reality of the struggle life is for a large proportion of the world. Sent from the iMore App

I know right? Sent from the iMore App

People complaining about the free U2 album is more of a time waster than this comment! Seriously? Some of us had difficulty finding the album that we wanted. It takes no space in your music unless you download it. I'm a long time U2 fan and think this was a great PR move for Apple!

You are a U2 fan cause you are a homo with no life... but don't hate people who gets offended when they been forced with Gay material into their devices...

I mostly agree with the article. I just wonder why Apple chose to make this free music download different from ones in the past. Apple is about keeping things simple so why change now? Is this the way free music will be offered from now on for iTunes? Sent from the iMore App

Meanwhile, U2 has more than a dozen albums on the iTunes Store charts.
https://twitter.com/noahWG/status/510625060919721985

Good post.
The live performance at the Keynote was dreadful and instantly forgettable. Sent from the iMore App

U2 is not my scene but I didn't mind at all the "invasion of my privacy". What I did not like was all the pathetic circus of Bono asking Tim if he REALLY could distribute the album to half a billion people in 5 seconds, when everybody knows that the money (millions surely) was already in U2's stuffy bank account. For cry out loud Bono & Tim. Just like Peter Cohen says, "settle down" men...

If somebody bought you the analogue album as a gift, some places would exchange it, may be for a Rage Against The Machine album, who knows. The point is that if someone gets you a gift that does not take into account your personal tastes, then it is not that great. If someone got me a U2 album I would probably bin it, dont know anyone who is in to them either. I hope your relatives read this forum, and know that they no longer have to worry about what gifts to get for you. Will they like this? Hmm, who cares we got a good deal buying bulk.

Are you kidding me? Whelp, now I've read it all. Sent from the iMore App

You've never heard that you shouldn't look a gift horse in the mouth?

If your worst problem is that you have an extra icon to scroll by in your music app than you have a pretty good life IMO. Sent from the iMore App

Oh, and if you have the spare time to complain about it. Sent from the iMore App

Apple can put whatever they want in my phone. The problem is U2. U2 is only slightly behind Nickelback in mediocre suckery. I'm sure there are soccer moms in PT Cruisers that are thankful for the gift, but I would be more happy if Apple sent me a box full of nothing. I can do just as much entertaining of friends with nothing as I can a U2 album and nothing would be less painful .

I understand your article and I'm not one of those idiots that would use the word "rape" in this context. I'm not bashing apple, nor do I care if they put an album in my library. It was an attempt at a joke about U2. Your stern reply is not necessary : )

OMG OMG OMG! He's so cool because he has short-cropped stubble. OMG. I've read some stupid shit over the past few days and within this comment roll, but you win the prize. Get over yourself.

Sounds good fuck stick. I take it you're the U2 fan club president then? Thank you for the prize too! I grew 'short cropped stubble' with the hopes that one day I would impress some random virgin who polices the internet with an iron fist too. So I'm just winning all over I guess!!

I read back through your old comments and I seriously think you should step back and put the portrait of Bono down. You must've been up for days in the same PJs in front of the computer defending U2's honor. Go out and get some fresh air player, the streets have no name.

Sorry but you are biased and that's expected from a fan site...I am disgusted with Apples this move and I absolutely think they should have sent emails with link to my gift...and Apple should come to their senses and apologise for this blunder... Sent from the iMore App

Why did I know you'd show up after your dramatic flounce thread about the album. I hope no apology is given because 1) there's no need for one and 2) it will really annoy you. Sent from the iMore App

Why do you have to reply my post ?? Its a matter of principle and ethics...and Apple have violated it...go check Twitter and other social media..apparently How to delete U2 album is fourth most read article on BBC and sixth most searched after thing on Google in last 24 hours... Sent from the iMore App

Dude...just STOP. It is a free album. I want your life where this is the most egregious that's ever happened to you. And Google search counts? Really? Is it between 'The fappening' and 'monkey porn'? Get over it already. Your outrage is silly. Sent from the iMore App

Reeneebob ... "why you hate people who get offended because they where forced with homosexual material on their phones and computers?" This is what gay people do... they go around hate straight people....

Nah - you are missing the point completely. It is precisely the same as "opt out" versus "opt in" services, with the added wrinkle that they came into each customer's digital property uninvited. Think of this analogy - Apple has a key to your house, and uses it to come inside and give you a gift. It may be a nice gift, or it may not be, but that is not the point. That they came in uninvited is. Yes, obviously, they have had that ability all along, but one of the primary reasons people cite favoring Apple over Google is that they do not intrude. But here, with this rather ham-fisted gift, Apple has publicly demonstrated that they will do just that when it suits their purposes. That, not the album, and not that their purposes here seem to have been just a clumsy effort to be nice, makes people uneasy.

This !!! Sent from the iMore App

That's a poor analogy. Unless you're running iTunes on a machine not connected to the Internet, Apple is in your "house" every day. Are you using Genius, iCloud, Siri or the AppStore? If so then Apple already knows what you have and what you're doing. Just by using iTunes or an iDevice Apple and you are communicating an uncountable number of times a day. To get upset because one of those times Apple gave you something that you are free to use or ignore as you choose is laughable. Go find something real to be upset about.

You are missing the point. Yes, Apple already knows what I am doing. But I, as a customer, trust them not to dip into my things *except as necessary to run my account*. Here, they did.

Devil's advocate: Different from adding new built-in apps to iOS, like Podcasts, Tips, and iBooks in iOS 8, or adding an Apple Events channel to Apple TV? Adding Winnie the Poo as a free book in the original iBooks? New wallpapers in Settings? A painting app adding new sample images in an update?

I appreciate the response. In no particular order: 1) Built in apps are just that, apps, and understood to be part of the software, not part of the user's content. 2) Painting app adding new sample images, same thing, in that the images are sioled inside the app. 3) Apple Events channel provides another option that the user can choose to use or not. Events and Apps are not content, but are *conduits* Apple provides that the user can choose to use to acquire content, or not. 4) Winnie the Poo the closest, but you forget the crucial difference. The A.A Milne classic was a free download that you could *choose* to get when you chose to get iBooks. The user was in charge of their library. U2 was something pushed to you whether you wanted to or not, that you can belatedly choose to hide, but not remove. Apple is flexing their control over the user's library, something which they obviously always have had, but they need to remain above using. Again, think of this gift like an opt-in as opposed to opt-out service -- a distinction which I have seen imore articles and commentors rail against in other contexts and against other companies, so it is curious to see it so staunchly defended here. I say this, not just as an Apple fan, but as an old fart who has seen U2 in concert 4 times since the 1980s. It is not like I mind the actual album, though I think it is far from their best work. But an Apple that wants to contrast itself with Google by saying that they keep their fingers out of user data needs to be scrupulous about keeping even well-intentioned fingers out.

Great answer! I've tried to explain this to a few people and failed miserably. Folks have made it clear that it is not okay to criticise the delivery method separately from the actual gift. I haven't deleted the album, as I hadn't gotten around to checking it out, but just because I replied to a thread that turning off iCloud to just disable the U2 download seemed dumb, I was called an "extremely ungrateful oik". I am presuming that person must be grateful for all the free stuff that makes it past their spam filter on their email. (Does even having a spam filter count as being ungrateful?) If you look at the bigger picture, the subtle-but-important part is that Apple has changed policy on the gifts they give. Functionally, this is no different than spam--it's just that it is spam offering a product that a lot of people happen to cherish. I'm not crying bloody murder for having to delete an album, but this event has sent me the signal that Apple now considers my library their library as well. Does this mean I will have to just keep iCloud auto downloads turned off, and then delete things from my own library on a regular basis? From a usability standpoint, choosing between clicking an opt-in purchase, and doing this (http://support.apple.com/kb/HT6439?viewlocale=en_US&locale=en_US) seems like the opposite of what Apple strives to do. So the only conclusion I can come to is that Apple had a motivation to deliver the U2 album in this manner that surpassed usability. I have yet to see anyone who belittles people who don't want the album explain why Apple decided to deliver this particular album in this slightly different way. The author of this blog post nonchalantly mentions that he didn't know why it was delivered this way, without acknowledging that had it been delivered in the same way as all other previous gifts from the iTunes, none of this backlash would have happened. I am thoroughly amused by this tweet from someone who made the analogy of what this would have looked like if it had happened in the physical world: @robinince: I have no iPhone, so I've just found Bono climbing through my window to sneak a vinyl copy of their LP onto my shelf.I hit him with a broom

Ding, ding!
Best answer so far.