NSFW: Apple, U2 and looking a gift horse in the mouth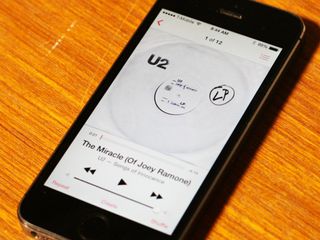 NSFW is a weekly op-ed column in which I talk about whatever's on my mind. Sometimes it'll have something to do with the technology we cover here on iMore; sometimes it'll be whatever pops into my head. Your questions, comments and observations are welcome.
At the end of Apple's recent iPhone 6 and Apple Watch event, Tim Cook had one more surprise up his sleeve: U2's new album, Songs of Innocence, would be available to every iTunes Store customer in more than 100 countries, completely free. Many people are happy for the new album, but it's created an equal amount of controversy. It's just a free album, folks. Settle down.
Let me say at the outset that I'm pretty ambivalent about U2 myself. They've never been one of those bands that I've absolutely had to have the latest album from. In fact, Songs of Innocence is the only U2 record I have in my iTunes library.
But the inordinate amount of actual anger directed at Apple and U2 over this is so disproportional to the actual event, I've started to wonder about the mental state of some of those complaining. It's really been off the charts.
If you fall into that camp, let me speak very plainly: I have no sympathy for you. I have trouble thinking of a more self-indulgent, "first world problem" than saying "I hate this free new album I've been given."
For the past few days I've seen screeds posted on blogs and remarks on social media attacking Apple and U2 for invading privacy, for their NSA-like invasion of the sanctity of people's music collections, claims of fascism, and a host of other utterly imagined insults. The resulting outrage has been disproportionate and more than a little sad.
I readily accept that Apple's timing for this was poor. Just the week before, the company was implicated following the release of nude pictures of female celebrities. Turns out that at least some of the pictures were taken from some of the celebrities' iCloud accounts, through what Apple called "a very targeted attack on user names, passwords and security questions."
Apple tightened iCloud security in the wake of this event, but the damage to its public image was done. Many people heard about celebrity nudes and iCloud. Fewer people bothered to learn the details. Even fewer heard the followup.
Also, many people didn't watch the Apple event and didn't pay particularly close attention to an email Apple sent later, the one pictured here, noting the free album. And some don't check the iTunes Store with enough regularity to see the banner that says "U2's new album exclusively on iTunes. And it's a gift to you."
All they knew was that this new album — one they didn't order — is suddenly in their music collection. And for them, that can be a bit scary. I call them "muggles," like non-magic users in the Harry Potter books. They're people who don't live in the same tech ecosystem that people like you and me do. They have these devices and know enough to do what they need to, but they don't live and breathe tech like many of us.
But by and large, those aren't the people complaining online via social media and blogs. Because those aren't the people who use social media and blogs, except maybe for the occasional Facebook post. The people who know exactly what happened on Tuesday are the ones with the biggest axes to grind.
I've seen a lot of garbage written about this. I've read elsewhere that you're "stuck" with the U2 album forever — you're not. It's trivially easy to "hide" the album from your list of purchased albums in iTunes: Open the iTunes Store, click on the Purchased link, find the U2 album, then click on the X button in the upper left hand corner of the album thumbnail to hide it.
I've read screeds likening Apple's promotion of U2's album to Amazon's decision to pull an an unlicensed ebook version of George Orwell's 1984 from its Kindle readers. People making that point are confused about the difference between addition and subtraction.
I'm not sure exactly why Apple simply pushed the new U2 album out to everyone instead of offering a redemption code so people who wanted it could actually opt in. I assume accounting may have had something to do with it, or maybe Apple didn't want to overly burden its store with hundreds of millions of redemption code verification attempts. Maybe that would have been a better way to handle it.
These days the Internet Rage Machine swings into overdrive at the drop of a hat. Everyone uses almost every excuse to get angry about whatever they can. Because rage drives traffic, and traffic can drive revenue when you run a web site that's dependent on page impressions and unique visits to generate traffic for advertisers. For some people, it's all about going viral and getting eyes on your pages.
And for others, it's just about venting your spleen because it's the Internet, and that's what people do because they're angry all the damn time or they just want to be heard and acknowledged.
Whatever the case, I suspect many of the people complaining about this are looking at this gift horse from Apple and U2 just a little too close in the mouth, and I wish they would give it a rest.
Master your iPhone in minutes
iMore offers spot-on advice and guidance from our team of experts, with decades of Apple device experience to lean on. Learn more with iMore!