NSFW: Apple, U2 and looking a gift horse in the mouth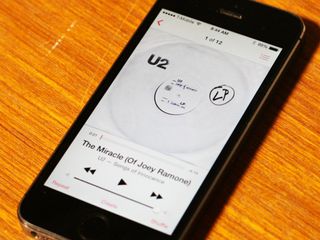 NSFW is a weekly op-ed column in which I talk about whatever's on my mind. Sometimes it'll have something to do with the technology we cover here on iMore; sometimes it'll be whatever pops into my head. Your questions, comments and observations are welcome.
At the end of Apple's recent iPhone 6 and Apple Watch event, Tim Cook had one more surprise up his sleeve: U2's new album, Songs of Innocence, would be available to every iTunes Store customer in more than 100 countries, completely free. Many people are happy for the new album, but it's created an equal amount of controversy. It's just a free album, folks. Settle down.
Let me say at the outset that I'm pretty ambivalent about U2 myself. They've never been one of those bands that I've absolutely had to have the latest album from. In fact, Songs of Innocence is the only U2 record I have in my iTunes library.
But the inordinate amount of actual anger directed at Apple and U2 over this is so disproportional to the actual event, I've started to wonder about the mental state of some of those complaining. It's really been off the charts.
If you fall into that camp, let me speak very plainly: I have no sympathy for you. I have trouble thinking of a more self-indulgent, "first world problem" than saying "I hate this free new album I've been given."
For the past few days I've seen screeds posted on blogs and remarks on social media attacking Apple and U2 for invading privacy, for their NSA-like invasion of the sanctity of people's music collections, claims of fascism, and a host of other utterly imagined insults. The resulting outrage has been disproportionate and more than a little sad.
I readily accept that Apple's timing for this was poor. Just the week before, the company was implicated following the release of nude pictures of female celebrities. Turns out that at least some of the pictures were taken from some of the celebrities' iCloud accounts, through what Apple called "a very targeted attack on user names, passwords and security questions."
Apple tightened iCloud security in the wake of this event, but the damage to its public image was done. Many people heard about celebrity nudes and iCloud. Fewer people bothered to learn the details. Even fewer heard the followup.
Also, many people didn't watch the Apple event and didn't pay particularly close attention to an email Apple sent later, the one pictured here, noting the free album. And some don't check the iTunes Store with enough regularity to see the banner that says "U2's new album exclusively on iTunes. And it's a gift to you."
All they knew was that this new album — one they didn't order — is suddenly in their music collection. And for them, that can be a bit scary. I call them "muggles," like non-magic users in the Harry Potter books. They're people who don't live in the same tech ecosystem that people like you and me do. They have these devices and know enough to do what they need to, but they don't live and breathe tech like many of us.
But by and large, those aren't the people complaining online via social media and blogs. Because those aren't the people who use social media and blogs, except maybe for the occasional Facebook post. The people who know exactly what happened on Tuesday are the ones with the biggest axes to grind.
I've seen a lot of garbage written about this. I've read elsewhere that you're "stuck" with the U2 album forever — you're not. It's trivially easy to "hide" the album from your list of purchased albums in iTunes: Open the iTunes Store, click on the Purchased link, find the U2 album, then click on the X button in the upper left hand corner of the album thumbnail to hide it.
I've read screeds likening Apple's promotion of U2's album to Amazon's decision to pull an an unlicensed ebook version of George Orwell's 1984 from its Kindle readers. People making that point are confused about the difference between addition and subtraction.
I'm not sure exactly why Apple simply pushed the new U2 album out to everyone instead of offering a redemption code so people who wanted it could actually opt in. I assume accounting may have had something to do with it, or maybe Apple didn't want to overly burden its store with hundreds of millions of redemption code verification attempts. Maybe that would have been a better way to handle it.
These days the Internet Rage Machine swings into overdrive at the drop of a hat. Everyone uses almost every excuse to get angry about whatever they can. Because rage drives traffic, and traffic can drive revenue when you run a web site that's dependent on page impressions and unique visits to generate traffic for advertisers. For some people, it's all about going viral and getting eyes on your pages.
And for others, it's just about venting your spleen because it's the Internet, and that's what people do because they're angry all the damn time or they just want to be heard and acknowledged.
Whatever the case, I suspect many of the people complaining about this are looking at this gift horse from Apple and U2 just a little too close in the mouth, and I wish they would give it a rest.
Get the best of iMore in your inbox, every day!
Thank you. Some of the whining and bitching over the last few days has disgusted me. Someone actually said that they felt RAPED. I don't think I need to tell you how insulting that is to actual rape victims. I'd like to smash them all with a giant STFU stick. Swearsies.

People throw around the term "rape" very loosely nowadays. To equate having someone add an album to your music library to being forced to being sexually accosted is the epitome of insanity and overall lack of empathy for your fellow human beings. Pass me that STFU stick. I'll use it with my "Fuck You Forever" brass knuckles.

And when people say that people are trying to make rape culture cool this is what they mean. Well, this and most porn nowadays. "I'm so angry about this slight breach in my personal choice that I was raped" even though rape is so much more that this slight breach. Maybe victims of rape should tell their story. In the most blunt way possible. I do it when people say racism is dead. I'm not using it as an excuse to be a hoodrat. But I lived with it, and damn I'm only 17. Posted via iMore App

You have a deal. I particularly hate it when people apply it to their cell phone bill. "I'm getting raped by Verizon"...oh honey, just NO. Unless Verizon is holding a knife to your throat and forcibly violating your body in the most private and personal way ? You aren't being raped by anyone. Just stop. And may the sand fleas of a thousand desert camels infest your nether parts for even saying it. GAH.

There's a thing called "literal" and another thing called "figurative". I suggest you take off your do-gooder cape and reflect on the difference. Saying "my phone company is raping me" when looking at the bill is perfectly ok to say. Just like I'm sure some ppl are saying or thinking that they would "kill" to have one of the new phones or watch. Those ppl aren't denigrating or disrespecting those that have been murdered. It's just a turn of phrase. Go volunteer w a rape crisis group if you really want to make a difference. Complaining about people's figurative use of the word rape is about the least productive thing you can do on the subject.

This is the same argument as people use when saying that two straight guys calling each other "faggot" isn't offensive. And guess what - it's offensive.

It's offensive. Evidence: People are offended. No, it's not perfectly okay. Evidence: People are saying it's not okay. Feel free to continue to come across as ignorant and tone deaf, however.

In the case of phone companies a more suitable term would be racket. Rape is far too strong and inapropriate.

Thank you for saying this! I feel the same way when people use the word "Nazi". Hyperbole is one thing but using the harshest, most gross words to describe something like a free iTunes album is ridiculous.

Excellent article Peter - pretty much exactly how I've been feeling about this. If you don't want it, hide it. Free is free. Who cares?! (People with nothing better to do with their lives).

How do we go about making the phrase "Tech Muggle" and actual thing? Seriously though, great article and spot on. People need to calm the F down. It's a free album, not whooping cough.

This is what im waiting for Apple to give some give aways or gift to their client and fellow followers, on that time i really surprised when i recieved an email from Apple which was written a gift for you an album of U2 which for me is awesome, for me its not bad, really a great surprise, iam not feeling iritate for nothing because it's free and i love this U2 album.Thanks to Apple with this great gift and i hope you send more free albums if my preffered iPhone Plus is in in my hand...from Italy Sent from the iMore App

You certainly will not be getting any free albums from Google. You would be extremely lucky to even get a software update (or $20 trade in your on your same price as iPhone Roid du Jour POS.)

But it's cool to hate Apple now so I have to jump on the train right? It's always nice to see that some people can be slightly rational. Of course to do that I actually have to leave my house and get off the Internet. Because the album is free I'll finally listen to U2 for the first time in my life. And I'm assuming because I'll be on iTunes to do it if I like it I might buy some more.... Form iTunes. But maybe they could have gone the route of the free albums Google does. Just make it free until said date. Either way, free music I don't care. #ObviousMarkingIsObvious Posted via iMore App

Is there a way to get the U2 album off of iTunes and on to other devices that don't have iTunes? If not then it is not "free" and should never have been called such. ಠ益ಠ

Many years ago Apple made iTunes music DRM-free so you could do just that.

But can you with this? I believe not. You can hide it from your library. Store it on your iDevice. But you cannot download this particular album on to your computer and access the files. ಠ益ಠ

Of course you can. I'm staring right at the files in my Finder right now.

+1 I was misinformed. ಠ益ಠ

Here's an idea... avoid posting about things you totally don't understand, even though they are so easy a 3rd grader can do it.

Yes you can, just click the cloud download icon. You can even convert it to a plain old mp3 file if you like, right through iTunes.

If you get to know a bit more how iTunes works, you'll see the files are there. Just click the little cloud thing with the arrow pointing down next to the song or album. Look in your music folder. Voila! Magically, it's there. Boom!

Yeah. iTunes is not my friend. ಠ益ಠ

You don't get iTunes with Roid. Just one giant reason it's a total rip-off.

And that's Apple's fault? Sorry. But One could get an iTunes account, download it and then put it on their Roid if they wanted it.

Can you really? I don't see how you could. Apple runs closed source software which makes ITunes usable on only an Apple product.
If it turns out that you can put iTunes on a Roid then Brian Brew needs to stop posting comments about things he totally doesn't understand.

Yeah, iTunes is a huge ripoff... Posted via the Android iMore App!

Muggle? Sent from the iMore App

Ignorance is the main problem here. Erratic criticism comes from ignorance and lack of judgement.

There actually is. But stop your crying anyway.

No need to be rude. I was misinformed. Thanks for understanding.... ಠ益ಠ

Just curious: how can you be misinformed by information, that if you would have looked and tried it, would've been all of the information you need to be no longer misinformed? That just went "whoosh" right over your head, didn't it?

Well, I recently found out the touch cover for the Surface RT works on the SP3 despite everywhere I looked online saying it wouldn't. There is wrong information on the Internet. I was under the impression one can only download their own stuff from iCloud. Posted via iMore App

Absolutely true, unless you have that person's password (as you are so obviously referring to the Android PR stunt where they paid some hackers to hijack some celebrity iCloud accounts as if there is any problem with iCloud. There is not, but they did add those annoying Facebook/Linked in type notifications. Yawn. Try not setting your password to your dogs name (the one you obsessively blog about).

I don't use iTunes. It is the devil incarnate. I was misinformed. My coworker was struggling through it at work trying to get the files. Turns out he was on an old version of iTunes causing the issue. My bad. Continue to criticize me if you must. ಠ益ಠ

We've already seen that you have absolutely no idea about any of the most BASIC functions of iTunes, so it makes SO MUCH sense for you to hate on it. Please grow a brain, and quit pretending you aren't trolling.

I know iTunes inside and out. I do not like it. That is my opinion of it. As I said we were on an old version. I am sorry I jumped the gun.

I don't understand why people think iTunes is suckish! You it's be talking about desktop because it works just fine on my iphone ! Sent from the iMore App

It sucks I hate it. I have used it for years. On the phone, on windows on mac. I do not like it. It is a poorly implemented system for music (Google does it better) but as for backing up your devices it is OK.

It is FREE! Just be used you can't do that doesn't make it free Sent from the iMore App

Don't waste your time with all these haters. Sound like they are either 1) Apple advocates that troll for remotely negative comments so they can do some damage control; 2) Fiendish Apple fans which makes them weird because they are spending so much of their time vehemently defending them without being paid for it; or 3) Youngins who think it's funny to berate people about how "computer stupid they are" because everybody knows that stuff now don't they? What are you old AND stupid...tee he he. Yeah, well guess what fools the day you come across something you don't understand you may get teemed with hateful immature people and when that day comes remember this thread, yeah remember this thread cause that day is coming.

Another homo promoting gay shit on people's private devices

This is not free... It's forcing Gay and Homo offensive song into your private property. This is worst then Rape

The first I new about the free U2 Album when I went on the Apple website on Wednesday to find out when iOS 8 is getting Launched. I'm not a huge U2 fan, but a free Album was a nice surprise & I even downloaded it on my iPhone, iPod Touch & the iTunes version on my Laptop. Roland

" Rage Machine swings into overdrive at the drop of a hat. Everyone uses almost every excuse to get angry about whatever they can. Because rage drives traffic, and traffic can drive revenue " Well Mobile Nations is a part of the Rage. Go to AC and read some of the articles there since the the i6 has made the news. Your own writers are sending readers into a lather with there well timed articles and inflammatory Headlines.. Click Click Click.$$$$$ Posted via the Android iMore App!

Click revenue is rather small, and so is the add revenue. They go over that. Which click bait headlines are you referring to? Posted via iMore App

I'm no Expert on this, but revenue for these sites are generated by the amount of traffic that they get. Correct? Every time someone logs in or post comment revenue is generated. Right? Posted via the Android iMore App!

It's not all that simple, but follows that path yes. Maybe one if the writers here will comment. But they make much more, and the majority of their money from donations and sales. Posted via iMore App

The problem is that it only takes a very small number of people to make a huge noise and be heard. Those that liked getting the Album or those that don't really give a damn either way are silent or can barely be heard. The fact that so many bloggers or news outlets report this small number of 'irate' people is the only reason it is a noise. In fact I would say that the majority of those reporting that everyone is irate is because that reporter is upset over it and is using their blog to megaphone it. There are a few of them that I know doing this that only use Android devices and are doing it because to get it they will have to pay for it themselves. I'm not a U2 fan and fall completely in the "Who cares" category. I might listen to it once and then make a decision to remove it off the devices it downloaded to if it doesn't fit my musical taste, I think this may be the case, but I think that that adding it to the purchased for all users was simply because not everyone sits and watches product launches and wouldn't know that they could go and get it. I've seen so many mountains made out of insignificant mole hills and this is another example of mountains being made but this time it is being done over something so insignificant it's unbelievable.

Very well written, totally agree. I myself am a big and longtime fan of U2, started to buy them regularly since Pop, which is 17 years ago. Wow, time flies! I remember at that time I was still going to school, and had to save for a while to buy a CD. Compared to today, music CDs were quite expensive, and there was no such thing like free stuff. No way anyone would complain back then. Times have changed indeed.

To the real world this was a non-event. Good article though. BTW: I don't even see the album in my library. So much for "forced"...

Depends on your configuration. The morons who are complaining are all using auto synced libraries, apparently. Or are so unbelievably stupid that, 10 years after iTunes become the best thing to happen to music, they still can't grok how to burn a playlist. If you are manually managing your music, you need to look in your purchased items list. There it is.

I actually like the album. Not a long time fan of U2, but I like some of their stuff. People are just angry for the sake of getting attention, you nailed it on the head. Sent from the iMore App

Reminds me of the "12 Days of Gifts" app where people were bitching about the free gifts not being good enough.

I though of the same thing! Also when the Back to School promo switched from the free iPod to the $100 iTunes/App Store gift card. People were so angry that they were not getting the free thing that was no longer being offered as a free thing. I even remember some, when there was still the free ipod promo, being upset they had to send in a form to get a rebate check for the iPod to make it "free". My grandmother always said "no good deed goes unpunished".

Actually I'm wondering if we've all become spoiled little shits who are so far removed from any real pain and suffering that we have nothing better to do than go on major rants about color, size, and whatever else we think we need to emote about, that, in the broader scheme of things hardly even qualifies as an inconvenience. This isn't just an Apple thing - for those of us who've been with Apple since the beginning, we're long-use to Apple being the company that people love to hate. From time-to-time I go see what's going on in the other camps, the ones where Apple's not the point, and the exact same things go on there - users ascribing "rape", and "assault", and myriad other screeding screed that would make one think they were describing soldiers of a foreign power breaking into their homes and doing truly horrible things to one's own family. All of this tetchy stuff can be just cool, and can be fun to explore and talk about, and maybe gives us a certain appropriate sense of empowerment, but somewhere along the way we've all lost it and it's quickly becoming less fun.

"Actually I'm wondering if we've all become spoiled little shits..." Well wonder no more. I am still amazed and excited I have the entire world at my disposal in my pocket all for a few hundred bucks. It's amazing and am thankful that people way smarter than I and way more creative than I decided to make this a reality. I know it's all for profit but everything great needs an incentive. The very concept of complaining about getting something for free is so mind boggling to me.

Your comment made me think of this. One of the funniest rants about technology and users I've heard: http://youtu.be/qxXD9WQWZck Sent from the iMore App

Yes! Also Louis CK's Everything's Amazing and Nobody's Happy.

Lol YES! Sent from the iMore App

I agree! I feel the same way about people who feel sooo strongly about Apple vs android vs whatever else. All of this technology is amazing and I like it because it makes me happy and amazed, if the manufacturer of someone else's amazing tiny computer makes you even slightly irritated let alone full of rage and venom, then maybe it's time to get a new hobby. Posted via the Android iMore App!

Yes! This! I don't understand how people can get so angry about these things. It just isn't worth it.

The people saying this is no problem have iTunes on Mac/PC. Those of us who only have iTunes on iPhone/iPad couldn't delete it from iTunes/purchased until Apple finally released a removal tool. Basically it was like undeletable spam - Bono compared it to "junk mail". To make things worse there were huge numbers of people publishing incorrect advice about removal - including other comments in this thread - causing people affected to waste time.

Look at the album picture and see two men grabbing each other is not offensive? You are homo?

Not exactly. It's mostly just Fandroid posers, pretending to be Apple users. Just like with Antennae-gate, etc... Manufactured issues from non-customers is a MAJOR part of this.

The reason they didn't give a code was because they wanted to make this a record-breaking album release. If they didn't enable it by default then they couldn't count it as a released album. It's a publicity thing (or more of a demo of the power that Apple/iTunes can have for artists and consumers), it's no more onerous than the stock apps on your phone. Just ignore them. Or listen to it, it's not all that bad of an album.

I just tell 'em "I could have been worse. It could have been the new Maroon 5" album.

Best article ever. I don't know if this U2 album auto downloaded for some folks or not, but even if it did, it isn't as if Apple did anything wrong here other than give people something for free. Even if was a crappy U2 album.

People should learn to relax and be more open minded. I think U2 is just an awful bunch of old hacks, (although U2's first album in 1980 was pretty great), and I really despise Bono based on what I've heard about him but I still downloaded the FREE album, and I will listen to it before I (likely) trash it. So even if you hate U2, there really isn't any reason to be so rude as to complain about them giving you an album. The polite thing to do is at least *try* to listen to it, or to (silently) decline to.

Not sure what you've heard, but I know a number of people who've had personal interactions with Bono, and every one of them have nothing but great things to say about the man. He's almost the opposite off-stage as what his personality comes across as on.

Have been waiting a while for the new U2 album, so happy it's been given away. Donated the money i would have spent on it to charity.

Great gesture. Very nice Sent from the iMore App

Quite frankly some people aren't happy unless they're bitching about something. That's why I advocate violence. Smacking them across their face will justify their bitching!!! Sent from the iMore App

You been sucking dicks and that is why you not offended when people force gay items into your private devices?

Adding my agreement, it is a total first world problem. It seems a lot of people are completely removed from the reality of the struggle life is for a large proportion of the world. Sent from the iMore App

I know right? Sent from the iMore App

People complaining about the free U2 album is more of a time waster than this comment! Seriously? Some of us had difficulty finding the album that we wanted. It takes no space in your music unless you download it. I'm a long time U2 fan and think this was a great PR move for Apple!

You are a U2 fan cause you are a homo with no life... but don't hate people who gets offended when they been forced with Gay material into their devices...

I mostly agree with the article. I just wonder why Apple chose to make this free music download different from ones in the past. Apple is about keeping things simple so why change now? Is this the way free music will be offered from now on for iTunes? Sent from the iMore App

Meanwhile, U2 has more than a dozen albums on the iTunes Store charts.
https://twitter.com/noahWG/status/510625060919721985

Good post.
The live performance at the Keynote was dreadful and instantly forgettable. Sent from the iMore App

U2 is not my scene but I didn't mind at all the "invasion of my privacy". What I did not like was all the pathetic circus of Bono asking Tim if he REALLY could distribute the album to half a billion people in 5 seconds, when everybody knows that the money (millions surely) was already in U2's stuffy bank account. For cry out loud Bono & Tim. Just like Peter Cohen says, "settle down" men...

If somebody bought you the analogue album as a gift, some places would exchange it, may be for a Rage Against The Machine album, who knows. The point is that if someone gets you a gift that does not take into account your personal tastes, then it is not that great. If someone got me a U2 album I would probably bin it, dont know anyone who is in to them either. I hope your relatives read this forum, and know that they no longer have to worry about what gifts to get for you. Will they like this? Hmm, who cares we got a good deal buying bulk.

Are you kidding me? Whelp, now I've read it all. Sent from the iMore App

You've never heard that you shouldn't look a gift horse in the mouth?

If your worst problem is that you have an extra icon to scroll by in your music app than you have a pretty good life IMO. Sent from the iMore App

Oh, and if you have the spare time to complain about it. Sent from the iMore App

Apple can put whatever they want in my phone. The problem is U2. U2 is only slightly behind Nickelback in mediocre suckery. I'm sure there are soccer moms in PT Cruisers that are thankful for the gift, but I would be more happy if Apple sent me a box full of nothing. I can do just as much entertaining of friends with nothing as I can a U2 album and nothing would be less painful .

I understand your article and I'm not one of those idiots that would use the word "rape" in this context. I'm not bashing apple, nor do I care if they put an album in my library. It was an attempt at a joke about U2. Your stern reply is not necessary : )

OMG OMG OMG! He's so cool because he has short-cropped stubble. OMG. I've read some stupid shit over the past few days and within this comment roll, but you win the prize. Get over yourself.

Sounds good fuck stick. I take it you're the U2 fan club president then? Thank you for the prize too! I grew 'short cropped stubble' with the hopes that one day I would impress some random virgin who polices the internet with an iron fist too. So I'm just winning all over I guess!!

I read back through your old comments and I seriously think you should step back and put the portrait of Bono down. You must've been up for days in the same PJs in front of the computer defending U2's honor. Go out and get some fresh air player, the streets have no name.

Sorry but you are biased and that's expected from a fan site...I am disgusted with Apples this move and I absolutely think they should have sent emails with link to my gift...and Apple should come to their senses and apologise for this blunder... Sent from the iMore App

Why did I know you'd show up after your dramatic flounce thread about the album. I hope no apology is given because 1) there's no need for one and 2) it will really annoy you. Sent from the iMore App

Why do you have to reply my post ?? Its a matter of principle and ethics...and Apple have violated it...go check Twitter and other social media..apparently How to delete U2 album is fourth most read article on BBC and sixth most searched after thing on Google in last 24 hours... Sent from the iMore App

Dude...just STOP. It is a free album. I want your life where this is the most egregious that's ever happened to you. And Google search counts? Really? Is it between 'The fappening' and 'monkey porn'? Get over it already. Your outrage is silly. Sent from the iMore App

Reeneebob ... "why you hate people who get offended because they where forced with homosexual material on their phones and computers?" This is what gay people do... they go around hate straight people....

Nah - you are missing the point completely. It is precisely the same as "opt out" versus "opt in" services, with the added wrinkle that they came into each customer's digital property uninvited. Think of this analogy - Apple has a key to your house, and uses it to come inside and give you a gift. It may be a nice gift, or it may not be, but that is not the point. That they came in uninvited is. Yes, obviously, they have had that ability all along, but one of the primary reasons people cite favoring Apple over Google is that they do not intrude. But here, with this rather ham-fisted gift, Apple has publicly demonstrated that they will do just that when it suits their purposes. That, not the album, and not that their purposes here seem to have been just a clumsy effort to be nice, makes people uneasy.

This !!! Sent from the iMore App

That's a poor analogy. Unless you're running iTunes on a machine not connected to the Internet, Apple is in your "house" every day. Are you using Genius, iCloud, Siri or the AppStore? If so then Apple already knows what you have and what you're doing. Just by using iTunes or an iDevice Apple and you are communicating an uncountable number of times a day. To get upset because one of those times Apple gave you something that you are free to use or ignore as you choose is laughable. Go find something real to be upset about.

You are missing the point. Yes, Apple already knows what I am doing. But I, as a customer, trust them not to dip into my things *except as necessary to run my account*. Here, they did.

Devil's advocate: Different from adding new built-in apps to iOS, like Podcasts, Tips, and iBooks in iOS 8, or adding an Apple Events channel to Apple TV? Adding Winnie the Poo as a free book in the original iBooks? New wallpapers in Settings? A painting app adding new sample images in an update?

I appreciate the response. In no particular order: 1) Built in apps are just that, apps, and understood to be part of the software, not part of the user's content. 2) Painting app adding new sample images, same thing, in that the images are sioled inside the app. 3) Apple Events channel provides another option that the user can choose to use or not. Events and Apps are not content, but are *conduits* Apple provides that the user can choose to use to acquire content, or not. 4) Winnie the Poo the closest, but you forget the crucial difference. The A.A Milne classic was a free download that you could *choose* to get when you chose to get iBooks. The user was in charge of their library. U2 was something pushed to you whether you wanted to or not, that you can belatedly choose to hide, but not remove. Apple is flexing their control over the user's library, something which they obviously always have had, but they need to remain above using. Again, think of this gift like an opt-in as opposed to opt-out service -- a distinction which I have seen imore articles and commentors rail against in other contexts and against other companies, so it is curious to see it so staunchly defended here. I say this, not just as an Apple fan, but as an old fart who has seen U2 in concert 4 times since the 1980s. It is not like I mind the actual album, though I think it is far from their best work. But an Apple that wants to contrast itself with Google by saying that they keep their fingers out of user data needs to be scrupulous about keeping even well-intentioned fingers out.

Great answer! I've tried to explain this to a few people and failed miserably. Folks have made it clear that it is not okay to criticise the delivery method separately from the actual gift. I haven't deleted the album, as I hadn't gotten around to checking it out, but just because I replied to a thread that turning off iCloud to just disable the U2 download seemed dumb, I was called an "extremely ungrateful oik". I am presuming that person must be grateful for all the free stuff that makes it past their spam filter on their email. (Does even having a spam filter count as being ungrateful?) If you look at the bigger picture, the subtle-but-important part is that Apple has changed policy on the gifts they give. Functionally, this is no different than spam--it's just that it is spam offering a product that a lot of people happen to cherish. I'm not crying bloody murder for having to delete an album, but this event has sent me the signal that Apple now considers my library their library as well. Does this mean I will have to just keep iCloud auto downloads turned off, and then delete things from my own library on a regular basis? From a usability standpoint, choosing between clicking an opt-in purchase, and doing this (http://support.apple.com/kb/HT6439?viewlocale=en_US&locale=en_US) seems like the opposite of what Apple strives to do. So the only conclusion I can come to is that Apple had a motivation to deliver the U2 album in this manner that surpassed usability. I have yet to see anyone who belittles people who don't want the album explain why Apple decided to deliver this particular album in this slightly different way. The author of this blog post nonchalantly mentions that he didn't know why it was delivered this way, without acknowledging that had it been delivered in the same way as all other previous gifts from the iTunes, none of this backlash would have happened. I am thoroughly amused by this tweet from someone who made the analogy of what this would have looked like if it had happened in the physical world: @robinince: I have no iPhone, so I've just found Bono climbing through my window to sneak a vinyl copy of their LP onto my shelf.I hit him with a broom

Ding, ding!
Best answer so far.

No, this is more like that carrier bloatware that most people complain about on Android.

What if the free App of the Week automagically showed up on your phone home screen every week? Dunno about you but that would annoy the hell out of me. All in all this is a terrible marketing misstep for both Apple and U2. Music is personal. And the last thing you want to do is give someone an album they didn't consciously choose to buy or take (if free). It might seem like a slight difference, but it also means the difference between getting rave reviews and tons of hate mail. True that friends buy each other albums all the time. But friends know your preferences. Arguably most people don't want Apple choosing their music for them. And even if they do, a free album based on genius might actually be appreciated. U2?

And it's a fact I can't get rid of this unwanted gift without paying subscription fees of iTune matches service... Sent from the iMore App

No it is not.
http://support.apple.com/kb/ht4919

I think I have already replied you but again show me the way to delete from everywhere not just hide...best of luck... Sent from the iMore App

Keep making stuff up, I'm sure you are amusing yourself almost as much as you are annoying anyone with a actual, functioning brain. Who knows, you might accidentally be correct at some point. Excuse us if we don't wait for it.

I am really happy to annoy the fuck out some disrespectful persons here..and ya at least Apple cared to put that support web page so guess what ,iWon...Lol... Sent from the iMore App

I haven't heard any "anger." In fact this is the first i'm hearing of anger. Granted, I don't have conversations about phones, or Apple ever outside of imore. It's not a topic that comes up often. not even sure what there is to be angry about. It's free. Take it or don't. That said, i grew up in the 80s when U2 was big, and though not much of a U2 person past their early hits i have respect for them as music legends. However, U2 reminds me of when Jobs made a big deal about getting the Beatles. I had them already but honestly the Beatles weren't the biggest artist at the time. That's what this is like. It's just not the biggest deal. It's free and i don't really want it. It be one thing if they got a current mega artists like a Rhianna or Beyonce and gave that away because it's more current.

Why would people complain about getting something for free? If you don't want it, don't download it. Sheesh. Have people lost their minds? Sent from the iMore App

For some of us, it downloaded without asking. We literally did not get the choice.

Show me the way to completely remove this album from my iTunes and iCloud without spending money.. could you do that for me please ?? Sent from the iMore App

Ok.
http://support.apple.com/kb/ht4919

Lol... I don't want to HIDE I want to DELETE... Completely from everywhere even from cloud.... Try again buddy... And I hope you succeed... Posted via the iMore App for Android

Dude hide it and shut up please. Damn Posted via iMore App

Who the hell are you to tell me to shut up.. I am not a sheep who accept and follow orders blindly.. How about just not reading my post.. Can't ignore like I can't ignore U2 hanging in my cloud?? Posted via the iMore App for Android

I'm guessing Sax is not a moron. Naturally, you will be inclined to disagree with such a person.

Thank you. Sent from the iMore App

Is it bad I want Apple to give away a bunch of stuff now just up watch this guys head explode? STFU already. Sent from the iMore App

Apple has been giving stuff away on iTunes for a long time . Why did they do it differently this time?

AndEiRisoh... if someone RAPE you for free will you like it?

This is probably the most pretentious article I've ever seen on this site. It aggravated me so much that I logged in for the first time in two years to demonstrate how oblivious both the author, and the majority of commenters are here. Okay, Apple wants to give me the U2 album for free, great. No skin off my back. I don't care at all for U2 but they didn't force me to listen to it. Except, that they forced me to deal with its removal. Let's start with the fact that many of us have the option turned on to automatically download song purchased from iTunes onto our phones when we're on WiFi. Great. Now it's on my phone. Taking up space. Objectively not a lot of space. But space nonetheless. What if it puts you over the threshold of free space to download an app update. Or to download an OS update? Well no you have to delete it. Except you can't easily do this. Nope. You have to plug it up to your laptop, delete this abomination of an album, then sync. Well, I haven't synced with my laptop in 6-8 months. So now to get rid of this one album I have to go through the entire process of re-syncing with my laptop. That takes around 1-2 hours on a 64 GB phone like mine over USB. Longer if it's over Wifi. Do you know how much I charge for my time as a creative professional? $100 per hour. Do you know how much my company values my time? $150 an hour. So that's $100 to $300 worth of lost time caused through no fault of my own. That's not the worst of it. What if you have a serious moral or ethical problem with this band? I disagree vehemently with many of U2's political stances, their personal moral choices, and what they represent when it comes to their stance on inviting corporate influence to the creative process. Oh yeah, my uncle killed himself while listening to a U2 album. It's not as simple as living with it. It's a true emotional blow to see this in my music app. Even more so when I turn on shuffle and can't even prepare myself for this poison. I'm sorry, author, that people complaining about things that bother them annoys your delicate sensibilities, but we have a right to. And it is Apple's responsibility not to force this clearly profit-driven decision onto its users for absolutely no reason other than its obsession with a mid-tier washed up Irish band. You are wrong, and your argument is wrong. What really scares me, is if they're willing to do this for a U2 album, what happens when Facebook forces apple to send out their app onto everyone's phones? Or force Instagram, or Twitter onto your phone? And that's just the things they tell you about. I'll put my tinfoil hat on and say that if they will do this for commercial consideration, why wouldn't they put government spyware on your phone with a little bit of legal pressure? This sets a scare and sick precedent.

I can't thank you enough for this...+1000 likes...but people here are drown way too deep in Apple Kool -Aid that they won't get it or they will arrogantly ignore it like their Master. Sent from the iMore App

Great. Sell your iPhone and take your faux outrage elsewhere. No one cares. I have no koolaid to drink, I use all platforms, but stupidity is universal. Sent from the iMore App

Lol... Who do you think you are?? Hey but I can ignore you.. I can choose not to read and reply you... It's a free world in case you forgot after so many years of islavery... Lol..... Posted via the iMore App for Android

Ahhhhh iMore for Android There's the agenda we were looking for.

Fandroid posers... do they actually think people believe them? Apparently they do.

Baby I had that pegged from "hello..."

If you go into "Artists" in your music app and find the offending album you can then left swipe on each song and tap the delete that pops up on the right. When all the songs gone the album disappears. It should take you 3 minutes tops from the time you pick up your phone until you're finished.

It'll only take you three minutes if you also stop to make an espresso. But wait, we all know hipsters don't make their own drinks. Mr. UT's post was so plainly full of BS, I didn't even bother replying to it. an you imagine paying that joker for 8 hours work when someone who actually knows what they're dong would be done in 2?

But it takes zero minutes if Apple had just offered a free downloadable link, as those who did not want it would have nothing to do. But it's not about the time it takes to delete one album, it's about the change in definition: iTunes libraries were opt-in, and Apple has just switched them to opt-out. This one time is no big deal, but if Apple decides this is an acceptable way for them to promote artists, then eventually the usability of iTunes is reduced. I doubt there would be this staunch defense of email spam, when functionally it has the same usability pattern as auto adding an album to libraries and asking users to delete it if they do not want it.

I like U2 and I'm very happy that we received the free album. You do bring up many valid points, and makes it easier to see things from a different perspective. I agree that redemption codes, or simply just listing the price as "Free", like they do with free apps, would have been better. Thanks for a good post.

A whole lot of rage for a whole lot of nothing. All you have to do is swipe left on each track and you're done. Should take less than 30 seconds, or only a fraction of the time you spent writing this.

Yeah... Anything and everything has the likelihood of being offensive to *someone* out there. Even something like a simple app icon. You can't run a business without displeasing somebody--unless you have a very small customer base to begin with.
Apple and U2 share many similar politics, but this was only about music. Know the company you're buying from if you have the potential to be offended so easily.
And basically, you disagree vehemently with peace and helping third world countries? Not sure why exactly it would be *offensive*, but hey...whatever you say.

I agree with you... Some stupid people question why people hate free stuff. I want to ask them back this question... How do you feel if someone Rape you for free, and force you to like it and force you not to complain?

Why is it that no one in this forum seems to realize that they've been spammed? Do you really believe this was done out of Apple's generosity? Nonsense. The people who like U2 are happy, of course, and the people who like free things are happy too but Apple and U2 don't care about them. The whole intent of this fiasco was to push the album in the face of a half billion people who never buy U2's music and see if they can generate some new sales from the old albums. Now every single one of these people will have to look at this thing and decide what to do with it. For many, it feels like Apple has polluted their library and since they have never needed to delete a track or hide an album they are going to waste a fair amount of time figuring out what their options are. Why wouldn't they be angry? Search for Bono's comments on the subject. He's confessed.

You seriously underestimate the number of U2 fans as eel as the overlap of U2 fans and Apple fans. Maybe we should make a Venn diagram.

They over lap of two guys together? Promoting gay and homosexual material on someones private devices?

Thank you for telling me. I completely thought someone cane into my account and downloaded it. Such a relief. Anyway, never downloaded from the cloud yet, looking forward to hearing it. Sent from the iMore App

I think this is much ado about nothing and people just want to bi*ch for the sake of bi*ching. Could Apple have done a better job of getting the album to those who want it? Sure. Was it done to try to get new fans and possibly new sales for U2? Of course. , but at the end of the day, all you have to do is hide the album and it's done. Google occasionally gives away free albums and just advertise the album as free on the store's front page. Forgive me for being naive as I haven't used the Apple store for years, but couldn't Apple have done similar?

Apple has been giving away free tracks on iTunes as far back as I can remember. They have been doing the similar thing you are asking. They decided to do it differently this time for the U2 album, and some people are taken aback by it, and others are so offended by it (for whatever reason) that they are blaming those people for it. There seem to be some slight complications with getting rid of the album, as it may have to be deleted on each device manually if you had iCloud auto-download settings enabled (http://support.apple.com/kb/HT6439?viewlocale=en_US&locale=en_US). Doing this once is no big deal. But now that Apple has decided to deliver an album right into people's libraries, it is a question of whether they will do this again, and how often.

I've enjoyed the album and look forward to the sister album, Songs of Experience

Folks always need something to complain about. I was always of the opinion that the last decent thing they did was Zooropa (and even that was inconsistent) so I've never sought out anything really since then. This gave me a chance to check some out and it's not bad. It's not GREAT but it's listenable and free. Just take a look at the news and what's going on in the world. A free U2 album should be something to either smile about or just ignore.

Put simply: Ungrateful sons-of-bitches. Is it just me or is this reminiscent of 12 Days of free stuff from Apple back a Christmas? If you don't want it pass on it by taking the appropriate steps, be thankful, and move on. By the way, Google Play gave away a Demi Lovato album this week? Where's the outrage on that one?

Ungrateful doesn't even cover it.
Apple and U2 have been working together for a while and everyone knows that. Every great company has partners, promotions, etc..
Apple tried something different. It was a nice idea--and it hasn't harmed anyone. Apple has every right to use a service they own for any promotion that they want, in any manner they want. They're obviously experimenting with bigger possibilities for iTunes as a service.
Whatever it is, if you don't like it, just swipe it away and call it a day.

iTunes has also been giving away tracks for a long time. I think it's that people were not expecting that this time it would be automatically added to their library (is the Demi Lovato album being auto added to Android users' library, or just a free download like past iTunes freebies?). Yes, it is fairly trivial to delete the purchase (http://support.apple.com/kb/HT6439?viewlocale=en_US&locale=en_US), but the question is, is this a strategy that Apple will continue now that they've opened the door to it? I like the iCloud auto-download feature, but it seems silly to have to turn it off so I can avoid having to take potential extra steps to delete songs from all my devices manually if Apple decides to add another item on my behalf. It seems unlike Apple to experiment with marketing in a way that reduces usability.

The Demi Lovato album was a free download on a limited time basis.

1)Apple acted as a dictator and took away people's fundamental right to choose 2) They barged into cloud and put it there without anybody's permission 3)you can't delete it from your iCloud unless you are a subscriber of iTunes Match services, which is a paid service (at least in my country)4) those people who opted for automatic download were of course charged for data ...and those of you who crossed their limits by Apples mistake were charged more without their knowledge or wish (5) some people can't keep their option "show all music" and enjoy their music stored in the cloud without looking or listening to this U2 spam Bomb ...it's ruining their music experience ...I myself was creeped out when I was enjoying my music and all of a sudden Songs of sneakiness started playing ...(6) some songs are getting stuck in between somewhere and you can't delete it without downloading them on your PC in iTunes ...five songs stuck in my case...(7) it took me two days and many chat sessions with CS to finally listen to my music the way I want but this spam U2 bomb is still attached to my purchase history and they are there somewhere in my cloud...(8) people are also legitimately complaining about this thing that they didn't want is occupying their hard disk space( those who opted for auto download) and to release that space is not easy in all the cases...so not only this incident is a morally and ethically bankrupt move by Apple but it is a Technological failure too... Sent from the iMore App

Man I'd love to hear the recording of what was being said about you on mute. I can't imagine what you'd do if something actually bad ever happened to you. Sent from the iMore App

I am as bulletproof as this U2 album!! Posted via the iMore App for Android

Wow, that's a lot of writing to try and make a very small point. Let me clear it all up for you in one word. FALSE.

I just think that Apple could've bought lot more goodwill by using the money to extend iPhone charging cable by an inch or two. Instead they wasted it on some washed up band.
Or they could've given away music from some artist that people still care about. To me this shows that Apple is not really tuned into the general populace out there. Which as an Apple fan is disappointing and worrisome.

First world problem if ever I saw one. Unbelievable Posted via the iMore App

This should have been opt-in. While I wasn't outraged, I don't want things given to me or placed in my possession that I wouldn't normally want just because they are free. Lot's of things are free and I don't want them. Taking free things you don't need leads to hoarding. I don't want to have to waste my time removing the album. Apple doing this is absolutely an invasion of privacy. How about Apple starts giving you free offensive iBooks that automatically appear in your library? Maybe the books are about Neo-Nazi's. Doesn't matter. I didn't ask for it and I don't want it. The thing that does outrage me is iTunes Match blatantly screwed up my collection. It has replaced albums containing explicit lyrics with clean versions, duplicated a countless number of albums, misnamed tracks, and removed the 1st track from countless albums I own. Why the hell can't they get iTunes Match correct before using it to give me something I have less than zero interest in? U2's album isn't a consolation prize. Maybe if Tim somehow forced Dr. Dre to finish that legendary "Detox" album, dropped that into my library, we'd be on our way toward Apple redemption for screwing up my library. But even then, make it opt-in like Samsung did last year with Jay-Z's album.

" Apple doing this is absolutely an invasion of privacy."
It is not an invasion of anything. Apple made the U2 album show up as purchased so you could download the album for free. Anything that shows purchased through iTunes on an account automatically makes that song, app or movie apart of your library. Also, they didn't force download the album to any of your devices. There is no privacy issue anywhere. It's clear by your comments just how much you clearly don't get it, so I would recommend you go back and read the EULA for iTunes and get better educated on just how this stuff works.

Thank you for the insult by insinuating I don't get it, attempting to strike down my opinion, then suggesting I get better educated. Perhaps I should have clarified that my opinion is it absolutely is an invasion of privacy. There is a difference between something being legal or illegal as permitted by a EULA and something being an invasion of privacy. These are not mutually exclusive events or occurrences. Something doesn't have to be illegal as mandated by a EULA to be an invasion of privacy.

I haven't seen this mentioned, but my issue would be with people seeing an item in the "Purchased" section of iTunes, which they know they didn't purchase, and think that their account may have been hacked. My secondary issue is that there are multiple "Purchased" areas in iTunes, and it took my reading of an article to figure out which "Purchased" I needed to click on to get the free album. And while I eventually saw the message in the iTunes Store, I'm positive I didn't receive an email like the one shown in this article.

If I had a nickel for every time I've seen someone say "they didn't receive an email" when it's either sitting in their inbox or junk folder, I'd probably have at least $20. Maybe closer to $17.85, but I thought I'd round up. I had to pro-actively take steps to actually download this album. From my perspective, the fact it didn't automatically just show up and allow an easy one click download is where the failure came in - and it was a technological one at that.

I haven't checked my iTunes yet but surely if you don't want the album you can delete it or something? I don't know, man...with all the police brutality going on in Ferguson MO and Ebola outbreaks in west Africa and people once again beating the war drums in the middle east, having Apple push a free U2 album to hundreds of millions of iTunes users definitely counts as a #FirstWorldProblem.

I'm not a U2 fan at all, but thank you Apple for the free album. I wouldn't buy it, but it isn't bad at all to listen to, and it's nice to have a pleasant surprise in the form of a gift album for my library. I was stunned to read that the tinfoil hat crowd was screaming foul over the freebie, and I doubt they will have any effect beyond hearing plenty of laughter when their backs are turned...

After everything that has come out the last few years hasn't it been proven the tin foil hat guys were right? Posted via the iMore App for Android

How exactly were the "tin foil hat guys" right?

Well said. I've been incredibly disappointed by the number of people, some of the well-known Mac personalities, who bitched about this. It's a free album. If you don't want to listen to it, don't but STFU about how this is a bad thing in any dimension. I'm just over the drop of the hat bitching about every little thing that geeks do. Get the F over yourselves people.

Always, always opt in rather than opt out. You'd think they would know this by now. Regardless, it's first world problems at its worst.

Well said! Sent from the iMore App

"Whatever the case, I suspect many of the people complaining about this are looking at this gift horse from Apple and U2 just a little too close in the mouth, and I wish they would give it a rest." Damn straight

Well said Sent from the iMore App

I have no problem with the album. I like U2. Now if they had given me some profanity laced mysogynist crap I would delete/remove it. But I would not act like an ungrateful petulant child.
If hate to see those people at Christmas.
And I'm not an infowars fanatic who finds spooks under the bed. I know it's just the cat.

Just curious, has anyone that's offended read the terms of aggrement? This is for all Apple products usage - I'm sure somewhere in there it states this can be done at any given time. People hardly ever read the TOA, just scroll down and agree.

This is less about privacy being invaded and much more about today's society being very self centered and self entitled. "I want what I want and I want it now" is the line that comes to mind. Or "how dare you invade MY privacy". Apple nor U2 did nothing wrong here though the approach maybe could've been better. I think an email with a download link would have been a better way to go. Either way, I'm not going to complain about being given music for free. Good riddance, society.

Most of the posts I've seen on social media and heard the past couple of days just makes me want to shout "STFU you whiny little baby". I mean honestly it's like "Wah wah wah how dare you give me something free" insert WTF emoticon here. It's pretty simple you don't want the album in your iTunes library or on your phone delete it. smh

I was amazed at the negative reaction to this generous Apple offer. I downloaded it right away, even though I'm not a big U2 fan. Just wanted to enjoy some new music. My reaction was, "Thanks, Apple!" To the whiners and complainers out there - you're ingrates. Nobody is forcing you to download it to your iDevice or forcing you to listen to it. You don't want it? Delete it then. Quit moaning and groaning. Geez.

I actually like U2, although their last few albums haven't been great, and I like getting this album for free. But, I don't like the way Apple went about distributing the album. I am very particular about the music I have in my library due to having two young kids. I regularly listen to my music streaming form the cloud in my car with my kids with me. This album wasn't so bad, but what if some other artist that isn't so decent with their songs decides to do the same thing as U2? The last thing I want is for a song to come on that talks about tossing salad or something like that. This should have just been made free on the iTunes store and let people choose whether they wanted it or not. Now some of you may consider this whining and complaining, but I think people reserve the right to choose what music they want to have in their libraries for reasons beyond just not liking a particular artist.

The world would end before Apple chose to push any unsavory music or content to anyone's library. One who thinks this doesn't know Apple at all. That's OK though. More importantly, Apple didn't push the files to anyone. They simply credited the purchase. You had to, in every case, tell iTunes or your iDevice to download the tracks, either manually or automatically.

Well Said ... Priceless ... BRAVO!

"Google, please track me like the NSA but Apple, don't give me a free album!"

If I had wanted my computer-maker to install things I didn't ask for on my machine, I could have purchased a Dell.

FUD.Nothing was "installed" or copied or downloaded. This mob mentality is crazy, but I suppose another example showing that the general public doesn't know shit about shit. A giant society of Facebook dwelling morons, just like Zuckerberg "likes"

In my view the reason people are upset has nothing to do about music, it has to do with the fact that people think of the contents of their computers as being private and access to their computer as being secure. The contents of people's computers are often very closely guarded, they hold personal photos, views, contact details, porn, work - the idea that, without asking someone like apple can just reach in and put something in there will be akin in many people's minds to someone doing a drawing in your diary. It's not about 'the drawing' - its about the access. Most people will have assumed that that was not even possible, or perhaps allowed to do what apple did. It was a stupid move. They should have seen it coming.

Trust me that no one besides the people posting inflammatory comments thinks this way. And even the folks posting comments - most of them know this isn't the case at all. You can see that so much of what is written is completely disingenuous.

This so called outbreak and accusation of "invasion of privacy" and "rape" is the biggest load of bullshit I've EVER encountered, yet I find it freakin hilarious because its so unreal to me!! I mean ok should I run and go whine because Apple accessed my account to give me a better deal on my iCloud storage plan without my permission??? And seriously... because of this Apple felt the need to create a removal tool just so these people could remove the album from their library??? Lol wouldn't they be the least bit "vulnerable and afraid" that this would be another attempt at Apple trying to "invade their privacy again" or are they just that clueless as to how to remove the damn album from their library and account on their own? SMH in the words of Hardison from Leverage... "SERIOUSLY???"

Anyone with a modicum of logic should understand that Apple giving you a free album, and iTunes pulling that into your library is not an invasion of privacy, or anything like that. The people bitching about this are entitled douches. For the record the last U2 album I liked was the Joshua Tree. This is in my library. I don't care. If you care enough to actually get upset about it, you need to check your priorities and maybe have a drink and chill out. If you are upset about this what do you do when something really actually bad happens?

This is why we can't have nice things.. Amazing people cry about a FREE album.

I don't know, I believe some of us are just trying to get a meme or joke trending on twitter, what better way than to "use" Apple for that. Some people started complaining even if it started out as a joke. This is today's digital culture (which should have been the end conclusion of a better version of this post; an analysis, not a butthurt complain; be a better journalist), accept reality, don't get too sensitive about Apple.

Here's my take. How would you feel if instead of simply finding an album on your phone, it was instead found sitting in your CD rack in your home. Or in the glove box of your car? Would that be okay?
The bottom line is that apple put something unnecessary for the functioning of my device on it without my consent or knowledge. If they can put an album on there without my consent, then they can put anything on there without my consent.
So, what can they take from your device without consent? My feelings are that I paid for my device, and am paying for the service to use it. Nothing should ever be put on or taken from my device without my consent. Period.

You're a perfect example of the idiocy. You're comparing this to Apple breaking into your house. Three year olds are laughing at your logic.

I grew up on U2's music and I have all their albums and to this day they are my favourite band of all time (I'm 38 years old). I agree with you Pete it's truly disgraceful how some people have behaved towards a great gesture Apple and U2 have made! They've given people free music! U2's contribution to music is unparalleled in my opinion and these ungrateful sods have nothing better to do than bitch and moan because they were given something for free.

It's the geek community, Peter. You can't possibly just be noticing this. Every Apple article on the Internet is a war zone. What you have is a sea of manbabies armed with the biggest arsenal of personality disorders ever assembled. It's a legion of people who think they are the smartest folks around, but outside a few tech areas, they are actually very below average. I speak from 20 years inside the community before I finally had to get out. Worst. Subculture. Ever.

You NAILED it. And it's 'butt hurt' Fandroids. They see the iPhone has taken the only non-innovative (screen size) advantage they ever had. Sux, I know guys, but it's the truth. Own up to it, for ONCE.

I would have thought Apple fans would have a bit more class. Must be ex-Android owners or something. Great article. #firstworldproblems

I know that the reason I'm ticked off is not because I'm an ungrateful or hypersensitive person. The reason is simply that it leaves a sour taste in my mouth. I think it is a very arrogant and egotistical thing to assume that EVERYONE wants to listen to your album. Also I wouldn't call this a "gift", usually in a gift giving scenario, there is some kind of personal sentiment or sense of celebration. The only thing this is celebrating is the fact that these Irish guys had the money and power to force their way into my ears even if I didn't want to hear them.

also I would say the #firstworldproblem is Bono and Tim Cook being all butthurt about everyone not liking their idea

Fandroids are such no-taste pathetic whiners. They are not worth the attention. Good move, Apple and U2. They can cram it, they just see the writing on the wall (as if Android weren't already over.) Even Shamesung is supposedly moving to Tizen (if you can believe their constant barrage of lies.)

Dammit, I never reply to articles but in this case I felt I had to.
I can only speak for personal case but I've spoken to a few people and they feel the same way: I have no enmity against U2, though I'm not a fan of there music much and Bono appears to be a bit self-important. I'm a software dev, mainly for iOS, and have used Macs for years (so will inevitably garner the fanboy badge).
I have also no problem with Apple & U2 getting together to provide the new album to every iTunes account holder. I *DO* have a problem with the *way* it was done. Automatically adding it to your purchased music feels intrusive in a way that Apple rarely ever is.
I used the removal service so Apple got another data point they can analyse when they look at peoples reactions.
What would have been wrong with sending everyone a promo code then they could have chosen to download the album? Less intrusive and more like a gift. On an entirely separate point I find U2 to be an odd choice insight of other music choices Apple make. The adverts usually use breaking artists, the WWDC Beer Bash bands have verged towards the hipster for the last 2 years (Bastille and Vampire Weekend) and the inter-session music is a mix of well-chosen classics like the Beastie Boys, newer indie artists and a tentpole chart hit like Happy or Get Lucky.
U2 are, frankly, too removed from relevance to be an Apple choice. Feels more like the album push was the artist/labels idea not Apple's.

I am pretty sure I know why Apple decided to make this appear "magically" in everyone's iTunes cloud and the reasons for that are mostly good -- it is was a "groundbreaking" kind of promotion.
Since it had never been done one can assume that at least some new functionality was written into the code for iTunes and that suggests that certain other "mass promotions" are now capable of being created, many of which give Apple a distinct advantage in its ability to "broadcast" to a wide audience while most other alternative content sources (Netflix, Pandora, Spotify, Amazon...) are still very much entrenched in the "narrowcast" model... I am not going to attribute much moral good or bad to this capacity, just pointing it out and also going to say to that other traditional event driven marketing (like the Super Bowl and various Hollywood / music industry award shows...) benefit greatly from their ability to capture broad audiences while most narrowly focused endeavors, no matter their artistic merit, struggle financially... I also cannot help but note that the among the groups of users most commonly thought of as "trend setters" the device of choice for smart phone has largely become Android, as much for perceived "freedom" as anything else. The loud and largely misguided rantings of Apple forcing this free gift on users is largely a symptom of the perception that Apple has become much more like the beige conformist and Android is somehow the "rebel"... Finally the level of effort that all kinds of folks have put into attacking Apple / U2 and a smaller group has taken to defending the gift still are testament to the emotional power that music and technology can rile up in folks -- if Apple is going to get back to the "cool side" of the argument they better figure that out faster than any of their competition...

I must have been a whore because when Tim was announcing it I was looking in iTunes and already downloading it. If so done tells me they feel raped by it being forced on you then I have one thing to say.. That is chill out and enjoy the album and then delete it if you do not like it. I love it therefore I am a whore! Now let me ask if you make Apple stop the freebies like 12 Days of Christmas you would bemoan it, wouldn't you. So let's not get so rigid that it bites us back. Perhaps they could have given you notice prior but guess what it was a surprise!

12 days of Christmas is free, but the customer makes a decision to download it and to use each promo code. Apple's app store apps are free, but consumer makes the decision to download them. A company offering products should not make a purchasing decision for consumers, even if it is free. Yes, the result of what happened it's not a big deal. It's not what they gave out, it's how they gave it out that is the issue. There would be far less outcry if they pushed a notification to every apple device and let the consumer decide if they wanted it. That would be obtrusive but not perceived as underhanded. I really think it was a terrible move. It feeds to the narrative that apple has total control of your personal content, be it your entire photo library or your music. They took control of something that normally only you have control of. Would you still not care if photos of strangers started showing up mixed in with your personal photos? That would creep me out, even if I could just delete them.

sorry, I'm still having a hard time following why people should not have been complaining about this if it bothers them. "I provide stats all the time to Apple, I send in my equipment they have access to it's content. I even remote to them sometimes to sort out a problem. I do not have difficulty with them looking at my content. I have nothing to hide not even a porno pic or film." You are making all of those choices before they do something. They ask for permission to send those stats when you get a new device, you have to bring your computer into the store and give them your password to service it, and you have to download the screen share software each time since it's automatically deleted after every use. I've done all these things too, and up until this point I've never had a second thought because, unlike Google, I didn't think Apple had any reason to do something underhanded. They were the company I believed would never install 3rd party bloatware on my devices or use the information they collected from me to profit from advertising. It's not because I thought Steve Jobs was a saint but because I rationalized that since Apple's business model is to sell devices at a premium, allowing them to make enough profit, I could trust them to not do things with ulterior motives. Ulterior motives like this: "I perhaps think Apple was trying to reach a download goal post, the first ever, the biggest download ever in a single day/two." "Never before have this many people owned an album — let alone on the day it was released. This is a big moment in music history. And you're a part of it." I think this is a big moment in a lot of people's perception of Apple. I think the reason so many people are up in arms is that this is out of character. I also think apple won't be doing this again, and I think that is because of the reaction. The flint center may have been that there was way more to process in that event than a music album. Don't you think most developers were likely thinking what they will be able to do with Apple watch and larger screened iPhones and not a random U2 album?

Just after thought is that I did not see any delegates decry the free album from U2 at the Flint Centre.

If anyone wants to force a free album on me, let me know. I'll have to check which AppleID you should send it to. Hell, I even promise to start listening to every song on it. And to not bitch endlessly in public about it. Thanks!

Thank you - what a bunch of helpless whiners! Look at all the worthless crap we have to wade through to get news, information, email, social feeds, etc. Apple/U2 gave you an album and it made you mad? Something else going on there.

Some people are way more agenda-driven than would be rational.
Especially with respect to Apple and their enormous mindshare.
You can't buy mindshare. But boy can you ever whine about it.

I've listened to the album. It's U2. It's okay. Not great, but it's okay. If ya don't like it, delete the gorram thing. Pffft.

I like the album, at least a portion of it. What I am most interested in is how this will pair with the sister album Songs of Experience when that is released.....

"Because rage drives traffic, and traffic can drive revenue when you run a web site that's dependent on page impressions and unique visits to generate traffic for advertisers. " BOOM. "Journalism" and marketing have been unified into a single revenue-generating machine. Online anyway.

For me all this fuss for what? A free album? Thank you Apple for this unexpected gift. To all
those who are complaining, STF and just hide the album if you don't want it your iTunes library. Sent from the iMore App

It's not the gift that's the problem, it's the intrusion. Stay the hell out of my personal private space! I agree this applies to the cloud overall.

There is an old adage, "You can please some of the people some of the time, you cannot please all the people all the time" Think of it this way a foot should have 11 inches, some complain - No twelve! The economist says, "11" because for each inch saved they can produce another 11 inch unit. Both thoughts are correct. You could have been served Justin Bieber album but we end with the same complaint from some of the people will like it, some won't and I think I may of complained. I let intent in this case be the judge on Apple/U2 universal release/distribution as a guinness first and I was part of that. I was not raped, assaulted for those that say so I think you need to understand the i in iPhone, it is not i as in me it is i as in internet. It has to break new ground. I am sure Apple have noted that this release did not exactly go the way they wanted. Like four kids and two adults, never ask them what they want for dinner, you will get six different answers. Mother always says, well this is what I am cooking and that's that! Perhaps we all have NSA fatigue, Google fatigue. You are not going to get privacy unless you return to the dark ages and not even then. There is more data shared on you by banks, retailers, cable companies. Try living life without all these convenient add ons, we all sacrifice privacy in some way for the things we want. The question rather is how much and how invasive such as the telesales people at dinner time. Every mailing list you subscribe to is generally circulated, if not your trolled in Facebook and other Social Media. So the end of what I am saying is that unless you untether yourself from the grid of technology, electricity, The State and every institution, postal service etc, you will always be open to some abuse of privacy depending how sensitive you are and how balanced your view is.

STFU you really are pissin people off. It's a FREE ALBUM!! Fuckin deal with it!!! Sent from the iMore App

All of this complaining shit is ridiculous! Sent from the iMore App

Abby U2 fan I am so happy that I got the album for free for those that are not don't bother to download it all quit your bitching Sent from the iMore App

I am sorry your too close minded peter. You don't understand that some people don't want apple putting things on their phones without asking. What if they decid to start putting movies, pictures, and who knows what els that I don't want on my phone. Open your mind to the possibility that apple should of asked permission before putting it on your phone. Also people often delet spam (add emails) with news and offers from people like apple and other company's, so it would not be far to imagine that a lot of people missed the news that this was free and would be on their iphone.

Once again for all the rude a-holes on this blog. It's not about it being free, it's that they put it on your phone without ASKING!!!!

I don't particularly mind Apple giving me anything for free. However, based on their need to have people buy into their Pay system. Placing something (free or not) without prior knowledge or choice doesn't instill a high level of confidence in security. I truly believe that Apple was being Altruistic in what they wanted to do, I just don't think they fully thought the idea all the way through. The last Keynote was awesome. They could have ended on the Watch or just a song from U2 and I think things would have been fine. Again, I'm not complaining, I'm just not sure why Apple felt the need to do this at all.

Too many people, with one very L O U D self appointed hero, finding drama to scream about. Drama where really there is none.
Just a bunch of ungrateful pathetic wankers with nothing better to do. Rape? Dictators? Invasion of privacy? Please....

Well it hit me, spontaneously my car started playing U2 over bluetooth. Funny because I don't use my ipod for music AT ALL. So no, it is not a big deal. Unless it downloaded the album over my wireless hotspot, that wouldn't be cool. Anyways, am I whining? Am I suppose to use iOS the way Peter does?

WTF ... Apple promoting GAY now? And Forcing it into people private devices? This make everyone sick. Where are the lawyers to sue the crap out of Apple!!!?

I FEEL LIKE APPLE IS SODOMIZING MY EARS WITH THIS CRAPPY MUSIC! I said it and I don't care! I feel as if they are raping my mind by making me listen to this garbage. You think I'm up tight? Don't care! If I could delete the darn music then I wouldn't be complaining! The reason we are all pissed off is because YOU CANT F'ING DELETE THE DAMN ALBUM! So they are forcing us to listen to it! I've only got like 20 songs in my iTunes because I don't like enough music to pay for it so it's constantly coming up and it's super annoying! Just let me delete it and I'll stop bitching!!!