NSFW: Imagining a new Apple Wireless Keyboard and Magic Trackpad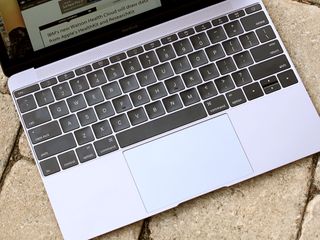 I love it. I want to see it everywhere, especially on the desktop. I'm smitten with two parts of the new MacBook: The keyboard and the new trackpad. I'd love to see them available for desktop Macs too.
The MacBook keyboard uses a new switch mechanism that travels much less than the scissor switches inside the keyboards of other Macs; it helps to maintain the MacBook's slim profile, and also distributes the pressure of your fingers hitting the keys more evenly.
The net result is that returning to the keys on a MacBook Air, MacBook Pro or even Apple's current Wireless Keyboard end up feeling like walking on warped deck planks of an old boat. They feel creaky, imprecise and uneven.
The MacBook keyboard spoils you fast. The keyboard is full-sized, though the actual grouping of the keys is closer than it is on other keyboards, so it take a bit of time to adjust to the placement. Once you do, though? You're flying.
Apple's pushing haptics — tactile feedback technology — in 2015 products in a big way. The "Taptic Engine" is a linear actuator found inside the Apple Watch that lets you feel someone else's heartbeat, or get taps from your watch to notify and direct you. Force Touch is what Apple calls the haptic technology inside the new MacBook's trackpad.
Other Macs (except for the new revision to the 13-inch MacBook Pro) use a mechanical trackpad - when you push it down with your finger or thumb, a mechanical button is depressed which produces that click noise and sensation.
No such apparatus exists inside the new MacBook. The trackpad feels the same as other Mac laptops, and pushing it produces the resistance and click sensation you'd expect from a trackpad. But it's all electronic. There is no button there. It's uncanny. And you adapt to it instantly.
I'm an unabashed fan of mechanical keyboards, so you might assume that I don't like the new tech in the MacBook, but you'd be wrong. I love it. I want to see it everywhere, especially on the desktop.
As much a fan as I am of mechanical keyboards and sophisticated gaming mice, I also really admire and respect a well-engineered, thin-profile keyboard like the Apple Wireless Keyboard and a great trackpad surface like the Magic Trackpad. I use them both with my 2008 Mac Pro.
The MacBook's keyboard is unique to that computer for now, but the Force Touch trackpad isn't. It's already found in the 13-inch Retina MacBook Pro. I assume it'll be in the next revision to the 15-inch Retina MacBook Pro too, which should be out in the next few months. I'd love to see it in future MacBook Air models too.
But I'd also love to see Apple revise the keyboard and trackpad that they offer users more comfortable with stationary desktop systems. Wireless keyboards come with iMacs; assuming Apple is on track to revise the iMac later this year, as they often do annually, it'd be great to see a new keyboard appear at the same time (available also in separate retail dress). And yes, please, a Magic Trackpad with this phenomenal new haptic technology. Let's take it one step further, too. How about a Magic Mouse with Force Touch?
Well, I can dream, for now...
How about you? Does the new MacBook's tech set your imagination ablaze about what future Mac gear might look — and more importantly — feel like? Or do you like the old stuff better? Sound off in the comments, let me know.
Master your iPhone in minutes
iMore offers spot-on advice and guidance from our team of experts, with decades of Apple device experience to lean on. Learn more with iMore!