NSFW: The iPhone 6 Plus is this year's gold iPhone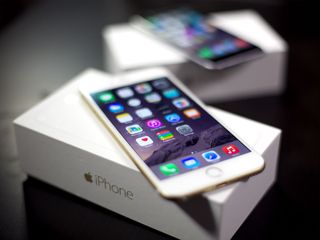 NSFW is a weekly op-ed column in which I talk about whatever's on my mind. Sometimes it'll have something to do with the technology we cover here on iMore; sometimes it'll be whatever pops into my head. Your questions, comments and observations are welcome.
Before the iPhone 6 and iPhone 6 Plus were even out in the world, Android phone users were having a go at Apple for only now getting around to releasing a bigger phone. Even Samsung got into the act with some ham-fisted advertising. Sure, make fun if you want, but the bottom line is that you're still stuck with a phone running Android. That's why we iPhone users are excited: We finally have a bigger phone that doesn't suck.
"You've never seen anyone line up like this for Galaxy Note," said a guy in the Apple Store line I waited in in Friday. There's a lot of truth to that.
The news here isn't that Apple's made a bigger phone. It's that Apple's bigger phone is demonstrably better. Because it's running iOS. Because it's thoughtfully designed. Because it's made out of quality materials. Because Apple, in typical fashion, didn't rush to be the first. They took their time, because they're interested in being the best.
And that's why Apple's preorders for the iPhone 6 set a new record. Samsung, LG, HTC and the rest dream of making a product that appeals to the general public like the iPhone does. Sure, Apple's marketing helps, but if they made a lousy product, people wouldn't buy it.
As I said a week ago, I didn't preorder the iPhone 6, because I really wanted to handle both phones at the Apple Store before making my decision. I'm glad that I waited in one respect, because I really do feel like handling both phones helped cement my plan to go with the 6 instead. I still get a twinge of self-doubt, when I think about the iPhone 6 Plus' superior battery life and better camera.
Then I remember how angry I got when an a-hole in front of me at the Throwing Muses show I went to last March blocked my field of view of the stage by hauling out his absurdly large Galaxy Note Something. Big phones can be a real nuisance to everyone around you.
That guy's phone also really struggled to take a picture in low light. The damn thing would not lock focus on Kristin Hersh to save its life. (Hot stage lights, combined with Hersh's naturally pale complexion, confounded the thing's white balancing capabilities.) Big phones that have sucky software on them can be a nuisance to use, too. That's not a problem the iPhone 6 Plus is going to have, based on early tests I've seen.
The fact of the matter is that my decision was made with some finality at about 7:15 AM, when the manager of the Apple Store in whose line I stood walked up and down, patiently repeating "We're all out of iPhone 6 Plus."
As his voiced reached the line, a few people here and there shrugged disappointedly and walked back to their cars. Of the 75 or so people ahead of me, we probably lost at least a dozen people who thought they were going to be able to walk in and buy a Plus on the spot.
"How is that even possible?" asked the guy standing in front of me. "It hasn't even gone on sale yet."
What he couldn't see due to our position in line was that the Apple Store staff was already out with iPhones in hand, taking pre-order reservations for the people in the front of the line. And this particular store had a very small stock of iPhone 6 Pluses. I assume some of their available inventory was spoken for by people lucky enough to make reservations online, too.
Not that they were in ready supply elsewhere. Some flagship stores got enough iPhone 6 Plus inventory to last a few hours, but none made it for very long. Most of the smaller Apple Stores in malls and shopping centers across the country like the store I was at sold out almost instantly.
Apparently the iPhone 6 Plus is this year's gold iPhone. It's the new device that Apple was just woefully underprepared to deliver in the quantity that consumers demand.
It'll be interesting to see how quickly Apple and its manufacturing partners can respond to that desire going forward. People who are ordering the iPhone 6 Plus from Apple's web site now are being told they'll have to wait three to four weeks before they'll see it. Already the 64 GB version, unlocked, is being hawked on eBay for $1,200 or more — a hefty premium over the $849 it retails for.
Let's face it: Scarcity can help drive demand. Some people get irrational when they're told they can't have something, even if they don't want it. People can be weird.
For now, I'm content with the iPhone 6. It's a really nice size upgrade compared to my iPhone 5S, a phone which never seemed particularly small to me, but which now seems puny when I hold it next to the iPhone 6.
I won't be that a-hole blocking your view at the next 80s rock show, for now. If I do trade up for an iPhone 6 Plus at some point, at least I won't be fumbling around trying to take a picture, because my phone will actually work.
Master your iPhone in minutes
iMore offers spot-on advice and guidance from our team of experts, with decades of Apple device experience to lean on. Learn more with iMore!