NSFW: The enduring impact of the iPhone, eight years later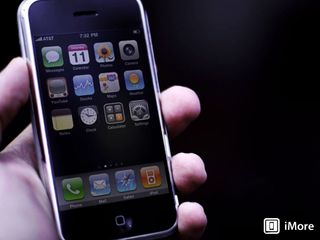 NSFW is a weekly op-ed column in which I talk about whatever's on my mind. Sometimes it'll have something to do with the technology we cover here on iMore; sometimes it'll be whatever pops into my head. Your questions, comments and observations are welcome.
Time flies. This past week (Friday, more specifically) marked the eighth anniversary of the iPhone, which Steve Jobs unveiled during a Macworld Expo keynote in San Francisco. It's hard to imagine a time before the iPhone and iOS, but it really wasn't that long ago.
I wasn't there to see it firsthand, but I did play a part in Macworld's coverage of the event, as Jason Snell graciously reminded me in a recent post on his blog, Six Colors. He and I tag-teamed the keynote coverage, because it was the only way we could coordinate liveblogging at the time.
Things have come a long way in eight years, it seems. It's become easier to liveblog events like the iPhone 6 and iPhone 6 Plus introduction, at the very least.
Apple wasn't first to market with a smartphone (I was a quite happy BlackBerry user at the time); it wasn't first to market with a touch screen phone, but Apple did bring those things together in a unique and compelling way unlike anything we'd seen before, and changed the way smartphones worked forever.
Don't believe me? Check out the Android prototypes that were in people's hands before the iPhone was introduced — much more like my then-beloved BlackBerry.
This isn't about how much Android aped iOS early on; it's ancient history, and Android has gone from me-too to cutting edge, giving the iPhone a run for its money.
I don't think many of us there at the start knew exactly what sort of impact the iPhone was going to have on Apple's business. Some of us knew that Apple would have a hit, surely. But the iPhone eclipsed the Macintosh to become Apple's biggest money maker, quicker than any of us would have imagined. And it paved the way for the success of the iPad three years later.
While it looked for a while like Apple's efforts with the iPhone and iOS might just eclipse the Mac all together, 2014 showed us a very different future: Apple's trying to achieve a careful balance between the two systems with efforts like Handoff and Continuity. We're experiencing some growing pains, to be sure, but the path forward is pretty clear — the two operating systems and the devices that run them can coexist, and together they offer functionality that exceeds what either of them can do individually.
Eight years ago, Apple's star was on the rise: it was selling more Macs than it had in years, and it seemed like everyone either already had or wanted an iPod. The iPod was enormously popular and had certainly changed the way many of us listened to music.
The iPod and the iTunes Store had proven to be a very disruptive combination to the music industry, and even more so to other companies trying to sell digital music and digital music players.
The iPod is no longer the marquee product it used to be — its functionality has been included in the iPhone, making a wholly separate iPod a niche product. Even the iTunes Store has lost steam as consumers' tastes continue to move to streaming music services like Spotify, Pandora and Apple's own Beats Music.
2015 promises to be an interesting year — we're going to see the Apple Watch finally see the light of day. Wearables have been strictly a niche product up to now, but I wouldn't bet against Apple to transform that business the same way they did smartphones.
This year at the Consumer Electronics Show, Apple itself was nowhere in sight — just like every other CES since the early 90s, Apple didn't exhibit. But its presence was felt almost everywhere, from the myriad devices designed to work as part of the iOS ecosystem, including many new products designed to tap into Apple's HomeKit API, to devices and companies that are clearly influenced by what Apple's doing.
Apple casts a long shadow in consumer electronics these days, largely on the strength of the iPhone and the iPad. But if past is prologue, things can change — and can change rapidly. It'll be interesting to see how this year's crop of new Apple products are received, and to see what sort of impact they have on the industry in general.
Get the best of iMore in in your inbox, every day!
I can't wait to read the comments on this article! It's gonna be great!

You omit one of the most welcome legacies of the iPhone - breaking with stupid carrier practices, at least in the USA. No, I'm not talking the (relative) lack of undeletable bloatware, but day-to-day things. I thank $DEITY when I have to leave voicemail for an iPhone-toting friend, because I don't have to listen to 23 seconds of "to leave a fax, press 5" idiocy designed to increase minute usage. For holding firm on that 8 years ago alone, Apple deserves our thanks.

My favorite cell phone company casualties were the $5 ringtones and $10/month GPS apps.

Actually, despite people talking about this (a LOT), when the iPhone was released, almost NOTHING has been done to change the carrier practices. Sure a few things are now "onboard" the phone like voicemail, but in many areas (Canada for example) the carriers still charge you for those services even though they "come with the phone." Some things like Ringtones (which you had to be an idiot to pay money for in the first place), have become free, but the bottom line is that almost everything is EXACTLY the same as it always was. Carriers still overcharge people for data, they still don't let the data "roll over" the contracts themselves SHOULD actually be illegal they are so predatory and unfair, but they aren't. Carriers are making money hand over fist, they are robbing you blind, and that is the main problem. Nothing has really changed at all. Until the carriers "get out of the middle" of the equation, we will still be ripped off. Ask yourself why a "long-distance" phone call still costs an arm and a leg, when in fact it's $0.0001 worth of data.

Tmobile doesn't have contracts, let's you roll over data, and doesn't have overages... What are you arguing? Posted via the iMore App for Android

The thing with TMobile you have to pay the full price of the phone. Sent from the iMore App

So? That's your choice, pay more reasonable rates, or get your phone subsidized. You pay more in the long run if you choose the subsidize option.

Steve Jobs prank calling Starbucks was one of the greatest moments in that keynote.

Everybody remembers where they were when 911 happened, when Kennedy was shot and when they read this article.

What? Sony Z3, Nexus 5, or Surface Pro 3

What?? The Hell is Wrong with you??, not enough oxygen as a baby or did mommy smoke and drop you on your head too many times??, o I know what it is, too much Herb makes you STUPID!! Sent from the iMore App

Apple is the most responsible for evolution of communication device into a media consumption and entertainment device. Their intentions were not at creating the better phone but a smaller media device, iPad predates iPhone but the team was smart enough to see more success of the media device in the phone form than tablet. Others followed despite the mockery when iPhone showed up. What's unfortunate is that today we have kids with socialization problems who spend most of their time texting, commenting and playing games or movies while not creating the content or contributing enough. I despise mobile manufacturers for not being socially responsible or accountable for not pushing the content creation more or better creative workflow on their devices. After all these years mobile form factor is useless when it comes to constructive workflow. Absolutely useless. That would be the next evolution and first one to nail that would be a winner, but first we have to wait for people to get fed up with the flawed and shallow app concept and demand something more. Future is seamless integration. To me personally the true ground breaking device was Sony Clie NX70 running PalmOS back in 2003. All aluminum, big touchscreen, camera and hack even favorite app bar in form hardware buttons. Definitely inspired Apple and many more to come.

"After all these years mobile form factor is useless when it comes to constructive workflow. Absolutely useless." Odd - I routinely work on my iPad, and my iPhone is also a routine component of my workflow. I have a 27" iMac on my desk, but most of the time my work is done on my mobile devices. I find them an extremely productive component of my work tools. I see this sort of comment periodically. Honestly, I think this is more a matter of the workflow not being what one is *used to*. I'm sure there were people out there who couldn't figure out how to work a pneumatic nailer into their workflows as well, and who insisted the automobile would never be anything other than a fad for the rich.

Agreed.
I've not used a PC for a little more than a year now. An iPhone and iPad with a keyboard cover have served my computing needs. And of course, the needed apps for my tasks. Sent from the iMore App

Not all of us work for Home Depot or McDonald's... Posted via the Android iMore App!

Do you have anything better to do than belittle people because they don't use the same phone that you do? Sent from the iMore App

What are you talking about? Posted via the Android iMore App!

Your. Comment
Same day. Inferring anyone that can actually be 'productive' on a mobile device must work at Home Depot or McDonald's. WTF r YOU talking about?

Thanks for reminding us, Peter. And it was good to read an article from iMore that didn't end with a question.

I had one of those original iPhones. At the time BlackBerry (RIM) had a seemingly unassailable dominance in the smartphone world (how times have changed!), and I had a BlackBerry Curve as my "daily driver" device. My BB Curve could do a lot more than the iPhone could at that time in terms of functionality, but I still wanted that iPhone anyway. There was simply nothing else quite like it.

Remember that day, very well.. thrill of the announcement, and the agony of AT&T exclusivity. Each release of the iPod/Touch was as close as I would get until the iPhone was available through the other carriers.

Apple sure reinvented the mobile smartphone industry. Their were others before it but none that had a greater impact than the iPhone and Apple. Posted via the iMore App for Android

Plain and simple, nothing beats Android or T-Mobile. Period. Posted via the Android iMore App!

As an Android user on T-Mobile, I can 100% certainty: you care too much about something you shouldn't. Sent from the iMore App

I suppose someone addicted to nada Is certainly enjoying Android TMobe. When you expect nothing, you receive nothing. Try an iPhone. Your life would change...maybe, even your 'handle'
Sounds depressing. Nothing addict. Not that I'm a proponent of addiction but everyone has a passion. Seemingly you're without. And that's sad.

Have been a loyal iPhone user since 2009, but all these types of articles fail to pay proper homage to the real iPhone forerunner and inspiration; the Palm Trio. Give credit where credit is due. Still some things it did better than iOS 8. Sent from the iMore App

re: " ... all these types of articles fail to pay proper homage to the real iPhone forerunner and inspiration; the Palm Trio (sic)." Are you serious? Just because the Treo was around before iPhone doesn't make it a "forerunner" at all. I don't think you understand the word. As someone who has used pretty much every personal mobile device in existence from the original Palm pilot, through Windows CE, Pocket PC, Nino, Jornada, Clie, etc. etc. etc. ... I can say with a lot of authority that the iPhone has literally *no* direct predecessors. The iPhone (like the article says) was a complete break design and technology wise, from devices like the Treo.

I'm a little confused, what do you think "NSFW" means? It is commonly used to describe something as being "not safe for work" as it contains either nudity, profanity, or something else that means it should not be looked at on company computers. What do you intend for it to stand for?

It doesn't refer to anything it's just the name of the article series. Sent from the iMore App

I agree. That "NSFW" had me all confused as well.

It kinda had me confused when I had first seen it as well Sent from the iMore App

Yes, I am serious.
Yes, I understand the word.
I also understand the meaning of the word "opinion". Do you? Sent from the iMore App
Thank you for signing up to iMore. You will receive a verification email shortly.
There was a problem. Please refresh the page and try again.