NSFW: Merry Godzillamas, Godzilla phones, and Apple getting the fundamentals right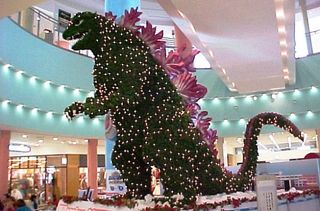 NSFW is a weekly op-ed column in which I talk about whatever's on my mind. Sometimes it'll have something to do with the technology we cover here on iMore; sometimes it'll be whatever pops into my head. Your questions, comments and observations are welcome.
I'm sort of all over the place this week, so bear with me: I've got some exciting Godzilla news, I'm defending my criticism of the iPhone 6 Plus and I'm ranting a bit about Apple. So stick around.
My big excitement for the week was to learn that Toho, the Japanese movie studio behind the original Godzilla films, is planning a new Godzilla movie to be released in 2016. That's two years before the next installment of Gareth Edwards' own Godzilla film, the sequel to this year's Hollywood release that raked in over half a billion dollars in worldwide ticket sales.
I'm a huge kaiju. Fan. I'm a huge kaiju fan. So it makes me very happy to know that Toho — where it all started — is still in the game, a decade after the last Japanese Godzilla movie was made. It'd be a shame to think that Godzilla was left just to Hollywood from here on out.
Even though I love giant monsters, I'm not so fond of giant monster phones, as I opined in a recent editorial. After spending weeks with an iPhone 6 Plus, I'm no closer finding it to be a suitable replacement for the smaller iPhone 6, because it's just so unwieldy for one-handed use. Having said that, I already miss its spectacular battery life and the dual-pane content in landscape mode.
My comments stirred a bit more controversy than I expected, especially among my co-workers, some of whom adamantly insist that the iPhone 6 Plus is the better option. To each their own, I say.
Earlier today we posted a roundup of our likes and dreams for Continuity. Continuity ties iOS 8 and OS X Yosemite together in ways that weren't possible (except for the occasional ugly third-party hack) before now, and the technology promises, anyway, to be a real game changer. The problem, as I see it, is that it just doesn't work consistently.
I occasionally have to reboot my devices to get them to work properly with Handoff and other Continuity features, and I've also had to occasionally sign out and sign back in to iCloud — and when you have stuff like Apple Pay turned on, that actually causes a lot of problems as devices unregister and then re-register themselves.
I know that Ally Kazmucha feels the same way. And while Rene has gently chided us for not having more imagination in our wishes for Continuity than "having Continuity just work," I stand by it: Apple's got to get the fundamentals down before it goes any further.
Yosemite marks the second time in two years where I feel that those fundamentals have gotten lost in the weeds when Apple pushes out new software. Last year Mavericks had a really rocky start in a few areas — e-mail and Wi-Fi were two pain points that didn't get sorted out for half a year or more. And this year Wi-Fi is still being an ugly pain in the ass for many of us in Yosemite.
So when Continuity doesn't work right on top of a lot of other stupid crap that Apple should have sorted out by now but hasn't, it makes me wonder who's minding the store in Cupertino. It also makes me wonder how much longer it's going to take to sort it out.
I don't fault Apple its ambition, but it has to be able to execute on its ideas, because half-assed isn't going to cut it for long.
Get more iMore in your inbox!
Our news, reviews, opinions, and easy to follow guides can turn any iPhone owner into an Apple aficionado
Are the continuity problems also happening with the new 27" iMac Retina model?

Hopefully ToHo gets their game back together Final Wars was a complete disaster. Seriously the CGI were just the most fakest thing I've ever seen and the story was ridicoulous, at least the 1998 one looked decent for its time, hell Jurassic Park released ten or so years before looked better than Final Wars and all Godzilla Toho movies Posted via the iMore App for Android

Peter got smacked by Rene's Appleboner. Posted from the amazing whatever device I can afford because I'm a broke college kid.

Hahaha Sent from the iMore App

"To each their own..." The grammarian inside me is screaming!

I agree with you completely, especially of that eye sore that is the 6+, would love to see if giving that it came directly form you the ME and GS of Imore would you be ambushed with a slue of banterings for your opinion. With that said you and me both, I'm very esctatic to see godzilla reek havoc I'm assuming it's a summer release right?

Since this is about Apple getting the fundamentals right (which I agree with!), I can't help but point out the following... "I'm a huge kaiju. Fan. I'm a huge kaiju fan." "I don't fault Apple its ambition." (Though, maybe that is ok? Part of me wants to add "for" before "its".) And the already pointed out, "To each their own..." :P

Cool! Sent from the iMore App

"I don't fault Apple its ambition, but it has to be able to execute on its ideas, because half-assed isn't going to cut it for long." Wow Pete, you are starting to sound like the torch and pitch fork masses.
Myself having been on Apple since Apple Computer, I too could probably find Several "Half-Assed" things to complain about, but then I would be just another Angry human in the VERY ANGRY country right now with too much time, too many toys and too much to be grateful, thankful and frankly, lucky to have. Try to have a nice weekend.

No no no! You're only supposed to complain on the Internet!

I understand you d ha, but Peter is right, imagine if any other product or service you paid for (necessity or otherwise) failed in basic functionality AND the flashy features. What if your car's steering wheel wouldn't turn while you're driving 65 down the highway? Peter is suggesting that the ones responsible for the steering wheel were also tasked to get the new fancy radio built, but in the end the radio couldn't play the songs on the cd, until you reboot it, eject, reinsert, hold enter+play for 15 seconds. The car would be recalled or declared a lemon. Software developers have been pushed too far for too many features too soon, usually by the marketing teams who have no clue about coding have made promises that they don't have to deliver. So yes, features and foundation suffer bc of the public demands, marketing promises, and lack of time for testing. I think it was Peter that said on the podcast that iOS 9 should be "Snow Leoparded" - no new flashy features, just cleaning up the code. I think this is our only hope for things to get under control.

I'm kind of disappointed in iOS8 and Yosemite thus far. iOS8 is still kind of buggy (especially in continuity/handoff), and Yosemite continues the trend of just slowing down my MBP to new lows in performance. I agree that I have other wants as far as OS features, but frankly, they just need to get their house in order and make these solid releases before adding new functionality. And I wish they'd also get the App Store review team all on the same darn page. It's ridiculous that we still have these unwritten rules for rejection/etc. Enumerate and follow. Also, they need to let go of their heavy handed approach to what goes in the App Store. Sorry, tangent...