NSFW: Merry Godzillamas, Godzilla phones, and Apple getting the fundamentals right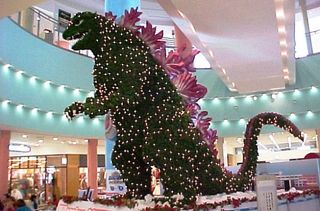 NSFW is a weekly op-ed column in which I talk about whatever's on my mind. Sometimes it'll have something to do with the technology we cover here on iMore; sometimes it'll be whatever pops into my head. Your questions, comments and observations are welcome.
I'm sort of all over the place this week, so bear with me: I've got some exciting Godzilla news, I'm defending my criticism of the iPhone 6 Plus and I'm ranting a bit about Apple. So stick around.
My big excitement for the week was to learn that Toho, the Japanese movie studio behind the original Godzilla films, is planning a new Godzilla movie to be released in 2016. That's two years before the next installment of Gareth Edwards' own Godzilla film, the sequel to this year's Hollywood release that raked in over half a billion dollars in worldwide ticket sales.
I'm a huge kaiju. Fan. I'm a huge kaiju fan. So it makes me very happy to know that Toho — where it all started — is still in the game, a decade after the last Japanese Godzilla movie was made. It'd be a shame to think that Godzilla was left just to Hollywood from here on out.
Even though I love giant monsters, I'm not so fond of giant monster phones, as I opined in a recent editorial. After spending weeks with an iPhone 6 Plus, I'm no closer finding it to be a suitable replacement for the smaller iPhone 6, because it's just so unwieldy for one-handed use. Having said that, I already miss its spectacular battery life and the dual-pane content in landscape mode.
My comments stirred a bit more controversy than I expected, especially among my co-workers, some of whom adamantly insist that the iPhone 6 Plus is the better option. To each their own, I say.
Earlier today we posted a roundup of our likes and dreams for Continuity. Continuity ties iOS 8 and OS X Yosemite together in ways that weren't possible (except for the occasional ugly third-party hack) before now, and the technology promises, anyway, to be a real game changer. The problem, as I see it, is that it just doesn't work consistently.
I occasionally have to reboot my devices to get them to work properly with Handoff and other Continuity features, and I've also had to occasionally sign out and sign back in to iCloud — and when you have stuff like Apple Pay turned on, that actually causes a lot of problems as devices unregister and then re-register themselves.
I know that Ally Kazmucha feels the same way. And while Rene has gently chided us for not having more imagination in our wishes for Continuity than "having Continuity just work," I stand by it: Apple's got to get the fundamentals down before it goes any further.
Yosemite marks the second time in two years where I feel that those fundamentals have gotten lost in the weeds when Apple pushes out new software. Last year Mavericks had a really rocky start in a few areas — e-mail and Wi-Fi were two pain points that didn't get sorted out for half a year or more. And this year Wi-Fi is still being an ugly pain in the ass for many of us in Yosemite.
So when Continuity doesn't work right on top of a lot of other stupid crap that Apple should have sorted out by now but hasn't, it makes me wonder who's minding the store in Cupertino. It also makes me wonder how much longer it's going to take to sort it out.
I don't fault Apple its ambition, but it has to be able to execute on its ideas, because half-assed isn't going to cut it for long.
Master your iPhone in minutes
iMore offers spot-on advice and guidance from our team of experts, with decades of Apple device experience to lean on. Learn more with iMore!