Official YouTube app arrives in the App Store, complete with YouTube ads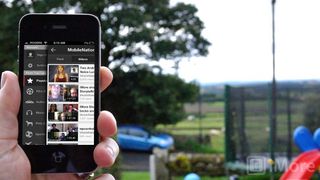 Google has unleashed its own YouTube app for the iPhone today. Google has built the app with the help of YouTube engineers with the aim of giving iPhone and iPod touch users the best mobile experience. You may recall that Apple removed the YouTube app from iOS 6 beta 4 and later confirmed that Apple's license to include the YouTube app within iOS had ended. Apple claimed that Google was working on its own app and today it has arrived in the App Store.
The official YouTube app is surprisingly not a universal binary so this it only runs well on an iPhone or iPod touch. Of course you can still install it on your iPad but you would have to run it in 2x mode. The YouTube app is compatible with iPhone 3GS, iPhone 4, iPhone 4S, iPod touch (3rd generation), iPod touch (4th generation) and iPad.
Free - Download Now
(opens in new tab)
Google and the YouTube engineers are working on an optimized version of the YouTube app for the iPad which should be available in the coming months. If you give the YouTube app a whirl, let us know how you think it compares to the stock iOS YouTube app.
Source: YouTube Blog
UK editor at iMore, mobile technology lover and air conditioning design engineer.
Does it Only show in the app store if you are on a beta of ios6? I dont see it.....

That's what I was thinking as I couldn't find it my self. But if you go to the App Store and look under Photo and Video and go to release date it's there.

http://itunes.apple.com/gb/artist/google-inc./id281956209?at=10l3Vy

Doh.... I had to select the Free Download button.

Works great, it has a much better looking interface. It's like a cleaner version of the Dailymotion app. I'll be using this app more often than I have.

It'll take some getting used to, but I think it makes good sense. Sure, some of the iOS integration is gone but I think I like it...

To all the app explorers out there: Does the YouTube app allow downloading vids for offline viewing?

I HIGHLY doubt YouTube will ever voluntarily allow people to download content at all, let alone content that's not yours. They'd out be opening themselves up to contributory infringement claims that they don't need. They don't need to risk it to get most users.

I was thing more in terms of encrypted downloads that cannot be accessed outside the app... Like Spotify.

Now we just need some help from the JB community to filter ads and enable videos that are blocked on mobile devices. Also a way to force YouTube links to go to this app rather than the native app. I am impressed with the app. I like the share button that can copy to the clipboard and send as a txt.

No jb needed for that in about 8 days. Stock app will be gone, and iOS 6 will have the smart launch (I forget what Apple called it) that will allow links to open apps.

Some of us don't plan to update to iOS6 until we have to. So, unless the current YouTube app stops working, we might need just what Noel Hibbard describes above.

If you go into settings you can change the filter and see all of the content that was previously blocked.

The new app looks and feels much better, but I don't see a way to select a lower quality video, as one can do on YouTube's mobile site. My internet service is slow, so until this feature is added, I'm sticking with youtube.com in Safari.

Thank you google for saving us from using that dreadful and outdated app! This new app is awesome!!

It's not in the App Store for Me (5.1.1.) Maybe It'll show later usual takes a while for UK App Store to catch up.

It isn't showing up in my App Store either and I'm in the US...

Me either - I'm in Canada. Or it could be that I'm just searching for the wrong things!

Never mind - found it in the Top 25 (should read further in the comments before posting!). It's now #1 free.

I didn't find it by searching, but if you go to the App Store on your iPhone, select the Top 25 - Free, and it's currently #4 in the list.

I was missing the app in iOs 6 beta 4, I'm gonna need an iPad version back a.s.a.p.

I could not find it by searching, but did find it by looking in the "Top 25" Free section.

It is the same app as on Android. Liking it do far. Feels very familiar. Now of they could come up with an Android version of Google Maps, would be awesome.

Does it have AirPlay support?

Like with quite a few other new apps, it appears that AirPlay support is only through mirroring -- so yes on the 4S and up, but audio only on earlier models.

These are the sorts of things that made me concerned when I heard Apple wasn't going to have a stock YouTube or Maps app from Google, anymore. Such stock/native apps get a different level of priority and convenience than those from the app store - such as having AirPlay-without-mirroring as an option. That's convenient when you want to quickly send a YouTube video from the iPad to the tv and then switch to browsing or something, on the iPad, while the video continues on the tv. Simple concept (although wordy to explain) and yet it gets sacrificed because Apple and Google haven't yet agreed on whose ding-a-ling is bigger.

just D/L'ed it... looks great... MUCH better than the stock one... however, I do wish there was a video quality setting... seems like it behaves like the old one, where if you're not on WiFi, it defaults to low quality... which sucks.

I hope its good! I love google and their apps

all those who are saying no quailty setting give it time it will be updated why not leave a comment on the rating let them know

Very disappointed: no volume controls, no fill the screen option. Was rocking hardware volume buttons like madman while watching 16:9 on 3:2 screen, that's my first impressions.

Maybe I misundersand you, but I used two different fill the screen options -- one right next to the airplay button, or, if you do not want to press that, rotate to landscape mode.

While being in full screen you could double tap to watch video without black bars.

I have been using the app throughout the day and think that it is a major improvement over the apple designed YouTube app. However the way that it plays video so small in the top part of the screen really erks me because now i always have to do landscape.... but hey gotta take some of the good with some of the bad.

one thing that annoyed me was a can't login with my username like i can on the website. I fricken didn't know my email. man it took me forever to find that thing
Thank you for signing up to iMore. You will receive a verification email shortly.
There was a problem. Please refresh the page and try again.