Osfoora 2 for iPhone review: An old favorite gets a new facelift, and there's a lot to like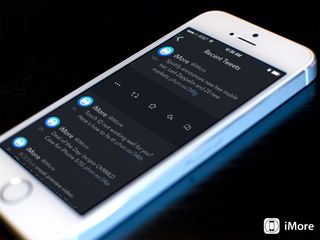 Osfoora 2 for iPhone has finally dropped and anyone who has been using Twitter long enough probably remembers the original Osfoora. For a long time it was one of the most popular Twitter clients on the block. Now Osfoora 2 is available and is fully compatible with iOS 7 including background app refresh capabilities, a gorgeous interface, and more.
Upon launching Osfoora 2 on my iPhone, I was pleasantly surprised to see the interface is darker. A quick way for a Twitter or news app to get deleted off my iPhone is to have no dark theme option. I always prefer dark over light if I can only have one. This preference strictly comes from the fact that many of us like to read news and tweets in the dark at night. It's just habit for a lot of us and the option to only have a light theme is hard on the eyes.
When it comes to design, Osfoora 2 uses colors to mark where conversations are happening. Anyone familiar with the old version of Osfoora will already be familiar. Only this time you've got a colored bar off to the side of the tweet instead of the tweet background being colored. I actually prefer this as it doesn't distract from the actual timeline. Osfoora 2 also supports gesture navigation so you don't have to reach into a top corner in order to tap out of menus or go to a previous menu. Just swipe to the side in order to pull out the main menu or return to your timeline from tweet views.
As for interacting with tweets, just swipe to the left on any tweet to pull on the interaction menu which contains your basic retweet, reply, favorite, and conversation buttons. You can also use the more option in this menu to delete your own tweets, send other's tweets to a read it later service of your choice, and more. Osfoora 2 currently supports Pocket, Safari Reading List, and Instapaper where read it later services are concerned. For opening links, you can choose between either Chrome or Safari in settings. To access the settings panel, just pull out the main menu and tap on your avatar.
Osfoora 2 does not support native push but it does have support for background app refresh under iOS 7. This means that as long as you have the option enabled in settings, Osfoora can update your stream even when the app isn't active, and that includes sending notifications to Notification Center. I've been using it with local notifications with zero issues.
The good
Great interface that's easy to navigate and takes advantages of swipe navigation the way iOS 7 intends it to be used
Local notifications and background app refresh support
User customizable font sizes
Support for opening links in Chrome
Now playing support, for those that like that
The bad
No native push, but for most of us, local notifications are more than sufficient
No tweet translation support
Would like to see image and video support for Droplr
No ability to edit and create new lists
The bottom line
I've been waiting a long time for Osfoora to receive an update and Osfoora 2 definitely doesn't disappoint. With a gorgeous interface, amazingly convenient swipe gestures, and background refresh support, it's sure to become a crowd favorite. If you're in the market for a new Twitter experience, I'd highly recommend giving Osfoora 2 a closer look.
Get the best of iMore in in your inbox, every day!
iMore senior editor from 2011 to 2015.
So many nice Twitter apps.
Are there too many?
Is there a #1 Twitter end-all-be-all app? Sent from the iMore App

It's all subjective to how you use Twitter in my opinion. My top 2 are Tweetbot 3 and Twitterrific 5 but now i think i have a top 3 that includes Osfoora 2. It's REALLY nice.

I used to use Twitter because I like to stay close to the source but then I got hooked on Tweetbot 3, which I'm sticking with. This app you've reviewed sounds like fun too. Do you catch yourself juggling multiple apps of the same hand grenade feature set range? I've almost been there a few times and was going nutz! xP Sent from the iMore App

There is new twitter client which focuses entirely on end user's productivity, SimplrFeeds.
- The app subtly makes important tweets prominent in your timeline so that you don't miss them.
- The app makes it super easy to follow #hashtags at a conference and events and forget them afterwards.

Please don't hijack reviews in order to promote your own app. Email iosapps@imore.com if you'd like a review. Links removed.

If you were to choose between the three, what would you get? I'm planning to replace the official Twitter app and I'm looking for a Twitter client that is easy to use with clean iOS design (+dark theme) and has maybe a couple of handy features not found on the official app. From all the articles I've read, I'm leaning more towards using Tweetbot 3. Sent from the iMore App

Nothing that stands it out IMO. Tweetbot 3 is different gravy, this is at best a copy.
Plus no ipad support.

Does this app have the Mute Filters ?

Yes. It looks like it does. Sent from the iMore App

The key there is if the Osfoora team will allow syncing of those mute filters to the eventual iPad version via iCloud. It's one of the truly beautiful things that Tweetbot does extremely well.

So good to see the update and new design for this app. I'm still a big fan of Tweetbot. Thanks for the update! Sent from the iMore App

I think we need a new Twitter app comparison video.
__________ Sent from the iMore App
Thank you for signing up to iMore. You will receive a verification email shortly.
There was a problem. Please refresh the page and try again.