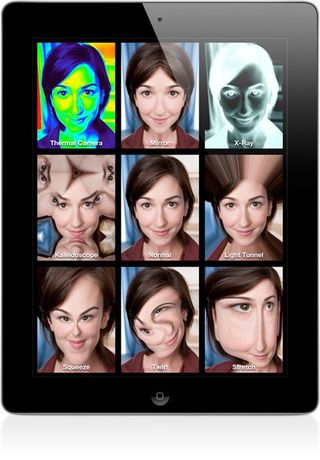 One of the new features of the iPad 2 is a Photo Booth app for use with its new built in cameras.
The iPad 2 has two cameras, a front-facing VGA camera and a 720p HD rear-facing camera. According to Apple, Photo Booth uses the front-facing camera, but the screenshots seem to point to the ability of using the rear-facing camera as well.
Using Photo Booth is simple. Just hold up the iPad and snap away. When using the front-facing camera, Photo Booth will flash the screen white just prior to taking the photo to add light to your face, much like the Mac version of Photo Booth.
Once you're done twisting up your face, doubling your head, or making yourself look like an alien, a comic book character, or an X-ray, share your photos via email or assign them as contact photos. Everything in Photo Booth is saved in your photo library, so sharing to Facebook, Twitter, or other social platforms will also be a breeze.
Photo Booth will be a fun addition to iPad 2 for children and adults alike. Are you looking forward to playing around with Photo Booth on the iPad 2?
Follow along for a few more screenshots!
[Apple (opens in new tab)]
[gallery link="file" columns="2"]
Former app and photography editor at iMore, Leanna has since moved on to other endeavors. Mother, wife, mathamagician, even though she no longer writes for iMore you can still follow her on Twitter @llofte.
These effects are such a novelty. What use are they in real life? Entertain your friends at a party? Dumb, I say. I wish they would work on more useful software updates like give us quick toggles for changing setting such as wifi, Bluetooth, brightness

A lot of us differ in your beliefs here.
Personally I LOVE this feature. For me and for my kids, they'll LOVE It and I can see them spending hours on this laughing like crazy.
No it's not mind blowing in what it provides, but do you realize how many people use Photobooth on their macs? How many people LOVE it?
Why NOT include it? The functionality is there and it screams for the ability to do this, it's just natural.
And I doubt they went "Huh, should we have this team to create Photobooth do that instead of creating these toggles?"
I'm sure the toggles are on the list, and MAY be there in iOS 5, I hope. But if Apple is going to do them, they have to do them Apple's way, it'll be much more advanced than SBSettings. But still, I don't think the same team handles both or that they had to take resources away from creating those toggles and instead put them into this. My 2 cents at least.
I'm still really excited about this feature. It's one of the coolest IMO.

"And I doubt they went "Huh, should we have this team to create Photobooth do that instead of creating these toggles?" "
Nick, you are right. It was proposed by an intern last summer. Said intern did most of the development on the project, save a couple smaller things, like the curtain when the app opens. I'm not making any of this up as I talked to the developer about it earlier today, since he's now allowed to talk about it. No features should have be lost due to the addition of photo booth.

garage band is pretty useful..

There is a quick toggle, at least for brightness. Double press the home key, and slide the popup panel to the right to reveal some quick settings. Regarding wi-fi and bluetooth, I never change those settings, so I don't see any reason why there would be quick toggles for that.

cool to have, but not sure how much uses it would get.

I will use it to scare my neighbors kids. I will show them the captures of two-headed people, and will tell them that it happened by leaving things in my yard.

Humm. Are those images VGA quality? Seriously, 640x480? I have a VGA front camera on my iPhone 4 and the image is not nearly as good as those. I think adds like this are very disingenuous, just like the hi-res Facetime iPad 2 add.

oh that looks like fun! o.O

Does anyone know if this app will work on the first Gen ipad? I realize youd have to manually upload the photos to it but I could see my daughter liking this.

there are no cameras on the 1st gen ipad. So no.

You don't read before you reply, do you?
It would be more than possible to upload a photo and do it that way.
Just like with photo apps like Halftone, Camera+ - they can't take pictures, but they can sure modify pictures that are currently there.
I can see this working on the original iPad without it providing the live functionality that the iPad 2 would.

Of course it's possible, but there's no way Apple will include Photo Booth on the original iPad. It will only be available for iPad 2.

Some may disagree, but my take is that is a 'we're too busy on iOS5 to include much more than a novelty for the iPad in iOS4.3'.

iPod Touch pretty much has the same specs as the iPad 2, including the front facing VGA, and the back (720) Could us, IPT4 users maybe be getting some photo booth love as well with iOS 4.3?

what about us iPhone 4 users :P

Hey there are plenty of "squiggly" faces apps available for the Iphone for a long time... like since the 3gs was introduced. How about introducing new functionality like the ability to upload generically to any website, not just to a few specific web sites.
c'mon do something new, think outside the box.

Can you print these photos?

Finding worthy blogs is not easy now and it's a pleasure to run across your site. As they say one cannot be too careful. It must be admitted that your explanation is very easy to take in. I am sure that most of your observations are true.

Hey there this is kind of of off topic but I was wondering if blogs use WYSIWYG editors or if you have to manually code with HTML. I'm starting a blog soon but have no coding skills so I wanted to get guidance from someone with experience. Any help would be greatly appreciated!

Okay...it wasn't just me that thought that dude looked like Chris Brown.

www.isitkiosk.com. If you want a real professional photo booth app check out the iSIT. And then check out www.inspirebooth.com for a booth to put it in.
Thank you for signing up to iMore. You will receive a verification email shortly.
There was a problem. Please refresh the page and try again.