Pixelmator Pro: Everything you need to know!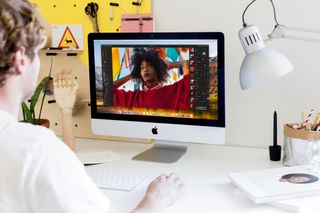 (Image credit: Pixelmator)
The Pixelmator Team latest addition to its Mac app lineup is called Pixelmator Pro and it's a significant improvement over the already-awesome Pixelmator for Mac. Here's everything you need to know!
What's new with Pixelmator Pro?
February 13, 2019: Pixelmator Pro gains support for Portrait Mode masking
With a very minor update, Pixelmator Pro can now do something awesome with just a shift and a click. You can replace the entire background of a photo that was taken using Portrait Mode on iPhone. Just drag and drop a new background into your layers. Then, drag the background to the layer below and shift + click on the first layer to blend them. Bam! Magic! Here's a video to show you just how easy it is.
Pixelmator Pro — How to replace the background in a Portrait photo from Pixelmator Team on Vimeo.
May 31, 2018: Get Touch Bar support and more with Pixelmator Pro 1.1
Attention, photography lovers: Pixelmator Pro is back at it again. The Pixelmator team announced today in a blog post that a new update is currently rolling out for the popular non-destructive photo editing app for Mac, officially bringing it to version 1.1. The update, dubbed Monsoon, offers a multitude of new features like Touch Bar support, super easy web export, tutorials, and more. Pixelmator 1.1 will ideally making your editing workflow — no matter your style — more streamlined than ever.
Here's a list of some of the cool new features and improvements Pixelmator Pro 1.1 offers, according to the company's release notes:
Export for Web: This feature allows you to prepare your photos for and export them to the web with minimal effort.
Touch Bar support: Pixelmator Pro has finally added support for the MacBook Pro Touch Bar, giving you easy and quick access to all your tools.
Auto Color Adjustments: Powered by machine-learning, this feature will automatically hone your photograph's white balance, lightness, hue, and/or saturation.
Slice: The new Slice tool allows you to split your designs up into individual images, giving you the freedom to edit each section as a separate entity.
Advanced Compression: With Advanced Compression, you can shrink image's file to the smallest possible size without losing any quality.
Quick Export: This allows you to quickly export images with your frequently used export settings settings.
Export Presets: With Pixelmator Pro 1.1, you can now save your go-to export settings for whatever project you're working on, speeding up the process of exporting images.
SVG support: Pixelmator Pro finally allows you to open, edit, and export resolution-independent vector images.
HEIF: You now have the option to export images in the High Efficiency Image file format.
Live Previews: When you're formatting the text or adjusting layer blending within a piece, you'll now be able to see live previews before you commit to making any actual changes.
Select Color Range: If you need to make sure your color scheme is consistent, Pixelmator Pro's got your back: you can now select both precise colors or entire color ranges.
Tutorials: Stuck? Looking for new ways to work with your images? Just interested in picking up a few new skills? You can now learn the ins and outs of using Pixelmator Pro to its full potential with easy-to-follow video and text tutorials on the new Tutorials page.
UI and functionality improvements: On top of adding a bunch of new features, the Pixelmator team has also made a few of the older features even better. For instance, when moving image guides, their position will now be shown in the current ruler units rather than pixels, and dragging a guide while holding the Shift key will now snap the guide to each ruler tick mark.

Customizable toolbar: You can now configure your toolbar so it shows you only what you need, allowing you to hide whichever buttons you choose.
In addition, Pixelmator Pro 1.1 also brings a cornucopia of bug fixes for many pesky problems that have been plaguing editors, like unexpected crashing and issues with painting. For a full list of features and improvements, check out Pixelmator Pro's updates page.
November 29, 2017: Pixelmator Pro is now available on the Mac App Store!
The Pixelmator team announced in a blog post today that the newer and more powerful iteration of Pixelmator, Pixelmator Pro, is finally available on the App Store. First announced along with a Pixelmator update back in September, this premium version is rumored to be "the world's most innovative image editing app." That's right — Pixelmator is coming for you, Photoshop.
Saulius Dailide, one of the founders of the Pixelmator team, noted the app's strengths in a statement:
Pixelmator Pro's interface was made for new users. It's simplistic and accessible — i.e., tools are really easy to find because there's no visual clutter — and it's dark, making it less stressful on your eyes if you work with it for long periods of time. It was also built using Swift 4, so it offers an effortless, native-to-Mac experience. It is a bit different from the Pixelmator interface though, so if you're used to the original, you will have to warm up to the Pro version a bit.
In addition to a redesigned UI, Pixelmator Pro uses machine learning integrated via Apple's new Core ML framework, allowing the software to detect and understand what's in your image. This brings a plethora of groundbreaking features, including automatic horizon detection, more realistic object removal, and intelligent quick selections. Again, this futuristic touch just shows that the Pixelmator team is definitely looking to replace Photoshop as every Mac user's go-to image editor.
As for editing and painting tools, Pixelmator Pro offers nondestructive adjustments and effects, meaning if you're not digging the direction your art is going in, you can revert to the original image or modify and delete individual changes whenever you like. You can also do things like create editing presets (and share them with others by simply dragging and dropping), experiment with new paintbrushes, choose blending modes, and so much more.
You can get Pixelmator Pro by heading over to the Pixelmator team's website or by grabbing it from the App Store here.
October 24, 2017: Pixelmator team teases Pixelmator Pro in new video
The Pixelmator team has shared another video of its newest Pro photo editing app. This one explains what automatic layer naming is. Guess what? It's automatically naming a layer based on the content of the image. Nuff said. Just kidding. It's actually really awesome. Pixelmator Pro is [built with machine learning](https://www.pixelmator.com/pro/experience/), so the app can figure out what's in a photo or new layer and give it a name so you don't have to. There are even alternate similar names you can choose from. Check out the video to see more! ### October 11, 2017: Get a first look at Pixelmator Pro in action
The Pixelmator team just shared a new video showing off the newest addition to its Mac app lineup. You can get a better impression of the look and feel of Pixelmator Pro ahead of its launch sometime this fall! You can learn more about the Pixelmator Pro experience [on its site](https://www.pixelmator.com/pro/experience/). ### September 4, 2017: Pixelmator team officially announces Pixelmator Pro! Pixelmator Pro was officially unveiled today with details on what the app is, what features it has, and details about its design. Though we don't have a specific launch date at this time, Pixelmator Pro is due out this Fall.
So what is Pixelmator Pro?
Pixelmator Pro is a layer-based image editing app for Mac from the Pixelmator Team, which is the development company behind one of the best photo editing apps for Mac, and one of our favorite photo editing apps on iPad.
It's been built from the ground up with the user in mind. Whether you're an experienced photo editor or just starting out, Pixelmator Pro works with you, making it easy to learn or simple to master.
There are dozens of editing tools to help you create your perfect picture project. With things like an advanced zoom engine for ultra-close editing, Smart Scrolling so you can work outside the parameters of your immediate view, and wide color image support so you see the colors you're meant to see on the screen.
Pixelmator Pro was designed specifically with the Mac user in mind. That's why it supports iCloud syncing, multiple tabs, special gestures for the Magic Trackpad (with Force Touch), and the Touch Bar on the Macbook Pro.
Pixelmator Pro works with split-view, so you can work on your photo edits while using another supported app at the same time.
It supports all the standard image files, like JPEG, TIFF, and PNG, and it also supports Apple's new HEIF format, so you can edit photos taken on your iOS 11 and newerr iPhone or iPad.
Thanks to nondestructive editing, you can retain the original image, no matter how many changes you've made over time, including after you've closed the program.
There's now a robust set of painting tools with more than 100 dual-texture brushes, a customizable eraser, dozens of color options and shades, and a whole lot more.
There are more than 40 filter effects so you can quickly change the look and style of an image with a single click. There are also dozens of unique effects, like blur, distortion, tiling, and more.
Pixelmator Pro has an advanced layout tool that includes Alignment Guides, Smart Spacing, and Smart Sizing, which makes it incredibly easy to create graphics with different shapes, text, and more.
One of the most interesting features of Pixelmator Pro is it's use of machine learning for enhanced editing, making your editing process faster and more efficient. It makes it possible to automatically name layers, straighten photos, and remove objects from a scene while adding matching landscapes.
What's the difference between Pixelmator Pro and Pixelmator?
The most noticeable difference is the design. Pixelmator Pro is a complete redesign from its predecessor, using a single-window interface that is much more intuitive to Mac users than Pixelmator's floating window design.
It has a more streamlined toolbar, which makes it easier for you to access the editing tools you need much more efficiently.
Less noticeable, but the most notable difference is all the additional editing tools that Pixelmator Pro comes with. It's like Pixelmator extreme.
How can I get it? How much does it cost?
Pixelmator Pro is available in the Mac App Store for $59.99. You can grab it for yourself by clicking the link below.
Any questions?
Do you have any questions about Pixelmator Pro? Put them in the comments and we'll update this article with everything new we learn about it.
Master your iPhone in minutes
iMore offers spot-on advice and guidance from our team of experts, with decades of Apple device experience to lean on. Learn more with iMore!
Lory is a renaissance woman, writing news, reviews, and how-to guides for iMore. She also fancies herself a bit of a rock star in her town and spends too much time reading comic books. If she's not typing away at her keyboard, you can probably find her at Disneyland or watching Star Wars (or both).