Plex now available for new Apple TV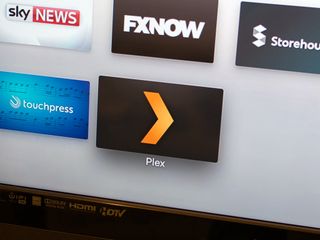 If you're a big fan of using Plex for your home media-streaming needs, you'll be happy to know that the app is now available for the new Apple TV. Like its other apps, Plex on Apple TV allows you to stream your own content, such as movies, TV shows, music and images from a Plex media server set up on your home network.
This is the first time that Plex has officially graced the Apple TV platform. A third-party app did become available for the platform in 2010, but it required a jailbreak or workaround to install. This fresh release is the official deal, however, and Apple TV users finally have an easier way to stream their Plex content to their TV setup.
The app is universal, meaning if you own the app for iPhone or iPad, you own the tvOS versions as well. Note that once you've downloaded it on your iOS device, you can simply head to the "Purchases" section on the tvOS App Store to download it from there.
Update: If you're curious about reading more of what went into developing the app, the Plex team has given a great breakdown over on its blog (opens in new tab) that shows how this fantastic looking app came together.
Does anyone know if Siri can search through plex content? Sent from the iMore App

Google is a wonderful tool -- you'll find it holds the answer to your query. Maybe even search for recent Tim Cook comments on that very topic ;-)

Even better tool than google is asking on the forums of that very topic, you know, provided you dont get someone just trying to be a jerk answering ;) Sent from the iMore App

I don't believe the Siri api is available to developers yet.

Here is a less snarky reply: http://www.macrumors.com/2015/10/03/apple-tv-universal-search-api/ - Tim said they will be opening the universal search API to other developers..

See -- answers are everywhere! Good job! :-)

I'm not at all pleased that owners of previous gen Apple TV products don't get this. It could easily work perfectly with the last gen units. It's a bit of a slap in the face, since streaming home content to the Apple TV was lacking. Sent from the iMore App

There are ways to get Plex working on the AppleTV 2 or AppleTV 3. I've been using PlexConnect for quite sometime and it works great. https://github.com/iBaa/PlexConnect/wiki/Install-Guide Since there is not an option for developers to install apps on previous generation AppleTVs this is the best choice.

Rather have an app that can just play movies from a network hard drive... Setting up a server for this means i need a computer running so i might as well just use the function built into the apple tv.. Sent from the iMore App

Has Plex improved at all? I tried it years ago, and it was a complete mess. Rather than read the content I had neatly organized in iTunes, I had to put everything in special folders such as "movie" and "tv shows" on my computer. And even then it would still not function right. iTunes isn't just for Apple-bought movies, it's a great way to organize your ripped movie content. Especially after you add all the appropriate metadata like rating, director, actors, etc. If I put the current version of the Plex server on my Mac, will it correctly read my iTunes content, or will it be a big mess again? (also back then it was 100% free, none of this "pay to unlock features" nonsense)

now I'm just waiting for VLC to see which app fits my needs better.. Plex or VLC :-)

Brilliant news. Plex is amazing -especially if you have kids as it is so easy to use. It was the only thing holding me back getting the new ATV so now it's a buy. Sent from the iMore App
Thank you for signing up to iMore. You will receive a verification email shortly.
There was a problem. Please refresh the page and try again.