Polaroid takes on GoPro with new sports cameras, intros new instant camera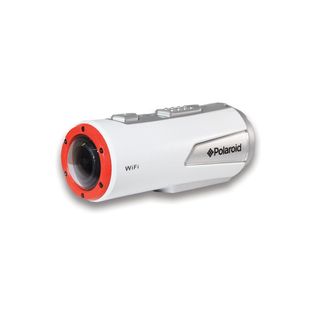 Polaroid (opens in new tab) has unveiled three new high-definition sports action cameras for outdoor enthusiasts looking to capture their action for posterity - Polaroid's answer to GoPro's popular line of durable outdoor cameras. One product is available now; the other two are coming this summer.
The XS100i uses a 170 degree ultra wide-angle lens and can capture 1080p video. It integrates Wi-Fi support for easy capture using an iPhone or Android phone. A "G-Sensor" automatically rotates the image regardless of the camera's position; it's shockproof and waterproof up to 10 meters (30 feet). The camera sports 32 MB of on-board memory and can also support a 32 GB micro SD card. The XS100i is out now and costs for $179.99.
Coming this summer are the C³ and the XS1000i. The C³ is a square camera with 5 megapixel CMOS sensor and 120 degree wide-angle lens. It captures 1280 x 720 video and is waterproof up to 2 meters. Two MB of internal memory is complemented by a micro SD card that works with cards up to 32 GB.
The XS1000i is billed as a professional HD sports video camera; it has a 16 megapixel CMOS sensor and 170 degree wide-angle lens. It sports anti-shake and gyro technology, and captures 1080p video at 30 frames per second (720 at 60 fps). Video and still images can be captured simultaneously. The XS1000i is waterproof up to 10 meters. Prices for this and the C³ were not announced.
In related news, Polaroid has also introduced the Socialmatic, a modern-day variation on the classic instant camera that made Polaroid famous in another lifetime. The Socialmatic is an Android-based digital camera that captures 14 megapixel images and can print them out on the spot using Polaroid ZINK paper. The camera integrates a 4.5-inch touchscreen and Wi-Fi so you can share content through social media; you can alternately tether it to your phone using Bluetooth and upload the images there. It has 4 GB of on-board storage and also supports a micro SD card. Look for it this fall.
Get the best of iMore in your inbox, every day!
"32mb of on board storage". This is a typo right.

Assuming you're talking about the XS100i, no.

Based on the specs you mentioned about the cameras, they come nowhere near a GoPro and its functionality.

the XS100i has been out since last September.

Nice sports cam Sent from the iMore App

This is so cool looking. I want one to put on my dog! Sent from the iMore App

More and more I come to have less and less respect for those that copy the unique and well executed ideas of others - and then do a piss- poor job of it.