ProOnGo Expense with receipt reader for iPhone & iPad - app review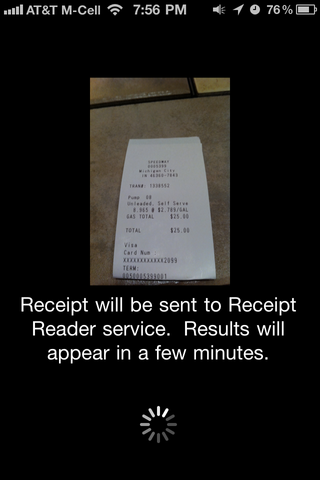 ProOnGo Expense with receipt reader is a universal app for iPhone and iPad that will easily track your expenses for you. It uses image capture to import information from receipts or you can manually enter details. The app currently supports regular, time, and mileage expenses. You have several options when it comes time to export your receipts and reports - including Excel, CSV, Quickbooks, and more.
iTunes Link (opens in new tab)
The app will come with 10 receipt reads to start. From there you can purchase credits on your account. You can purchase 30 receipt reads for 2.99/month or 50 receipt reads for 4.99/month. The prices are reasonable but the pricing model to me is a little tedious. I'd like to eventually see ProOnGo implement a monthly and yearly model where you pay a set fee and get unlimited reads. This is the only thing I didn't particularly care for as I think some people may prefer an unlimited option. (Update: As of writing this, ProOnGo was not advertising an unlimited plan, but there is now one being rolled out to businesses, so if you're looking for that, it IS an option.)
When it comes to the main features of the app, it couldn't be any simpler. Receipts can be entered manually or via image capture. If users prefer not to buy credits, they can always choose to manually enter expenses for free instead of using imager capture. As an accountant, I think the image capture is worth the money as you'll always have proof of your expenses if you ever need it.
One feature I really like is credit card sync. You can enter and store credit card info (I prefer manually entering credit card info opposed to storing my info when I need to sync for extra security) and the app will bring down your purchases from that account. The app currently only supports sync with American Express. I'd really like to see support for other cards as well. Most large businesses may use AmEx but smaller businesses may not. I think this app could be invaluable for smaller businesses as it's an extremely easy and non-expensive way to manage and track expenses. I know I use one of my personal cards right now for business expenses for our repair service and development company, but that card isn't an AmEx.
Expense reports couldn't be easier to compile either. The app simply does it for you and emails you the report. Just choose the format you prefer and click send. It supports almost every major report format. I'd like to see native PeachTree support added as several Sage users may prefer native file types as they are more import friendly. PeachTree will import some of the file types options. It may just need a bit of cleaning up.
You can also view graphs and charts on the go of your expense trends, which is a nice bonus. It's nice to have a quick snapshot of how your expenses have fluctuated over a several month time period.
Overall, ProOnGo Expense is an extremely intuitive app and a great tool for users who don't want to spend a ton to manage their expenses. If you've used this app or something similar, let us know your thoughts in the comments! Any features you'd like to see added?
Pros
Several export formats supported (Excel, QB Pro, CSV, XML, & PayServ)
Graphs show instant snapshots of report trends
Reasonable prices for the amount of functionality offered
Cons
Pricing model can be a bit tedious and confusing
Credit card sync only supports AmEx
No landscape mode on iPad version
Syncing from device to device is manual, sometimes confusing
<
p style="text-align: center;">
[gallery link="file" columns="2"]
Get the best of iMore in in your inbox, every day!
iMore senior editor from 2011 to 2015.
Thanks for the review, Ally! We do offer unlimited packages for businesses: https://www.ProOnGo.com/a/bizpricing.php
We love to recieve suggestions/comments so keep them coming to Support@ProOnGo.com or tweet us: @ProOnGo.

Wow what a waste. Who would want to use smith like that???

Your video content of the review would be greatly enhanced if you used a fixed cam mount directly overhead the iPad. You have too many jiggles and 90% of what you show on the iPad is not visible (and I'm using a 30" monitor!).
At first glance I'm not sure how this app is different from Expensify.
Also, you really didn't say much about the receipts and how those are handled with the phone. Does the app do OCR on the receipt to pull off the amount, date, vendor, etc? I've tried taking pics of receipts with my 3G and the results are horrible and time consuming to get clear pics and in focus.
I also need to attach my receipts to my expense report. Does this app do that?
Currently I use Neat Receipts on the PC, and it works well, but I'm looking for even more time saving ways to do this.
Thank you for signing up to iMore. You will receive a verification email shortly.
There was a problem. Please refresh the page and try again.