New iPad vs BlackBerry PlayBook vs Amazon Kindle Fire: Which should you get?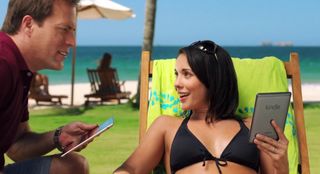 With the new iPad around the corner, there are lots of people wondering if now is the time to jump into the wonderful world of tablets. Of course, the new iPad will be the first one many first timers will look at. Many savvy shoppers, however, will also take a look at the alternatives before taking the plunge. That's especially true of low-cost alternatives like the BlackBerry PlayBook, Amazon Kindle Fire, and smattering of other bargain bin Android tablets (like the $100 ZTE Optik). The question is simple: how much are you willing to spend, and what value can you get for your money?
Screen size
The most obvious sacrifice you tend to make when it comes to budget tablets is screen size, which might not actually be all that much of a bad thing if you're looking for something portable. The PlayBook, even with its 7-inch display, can still handle HD video playback respectably. The Amazon Kindle Fire is the same size, and is tied into all of Amazon's book, video, and music services.
The advantage of the smaller screen size is that you can fit it into a jacket pocket, and hold it for longer periods of time without getting tired. It's closer to a one-handed tablet than the two hands typically required for an iPad.
The down side is that a smaller screen restricts the type of apps you can run. As a result, with 7-inch tablets you typically get scaled up smartphone apps rather than the bigger, tablet-specific apps you get on the iPad. Also, for some bigger really is better when it comes to watching video, gaming, or reading.
If portability is your primary concerns, check out the PlayBook and the Kindle Fire. If screen size matters to you, check out the iPad.
Media and Apps
There's no other way to say it: compared to the iPad and the App Store, the BlackBerry PlayBook App World ecosystem is sorely lacking. This is the next sacrifice you make when aiming for budget tablets. Even within the massive Android market, Android tablet apps have been very slow to appear. On both platforms you can run Android smartphone apps, but the experience isn't even close to the same. (Just like running iPhone apps on the iPad is doable but not especially enjoyable.)
For games and really big name apps, it probably won't matter. You'll find what you need to get by. But if you want really great software and more importantly, a choice of several really great apps in any given category, it's something to consider.
Media -- books, TV shows, movies, and music -- varies more from platform to platform. Amazon, of course, is a content power house and there's an argument to be made that the Kindle Fire is as much a portal to the massive Amazon store as it is a tablet. The only catch is, Amazon media is almost entirely exclusive to the U.S. You can find Amazon MP3 in a few other countries, but compared to Apple's international iTunes availability, depending on where you live, the Kindle can end up being little more than a paperweight. Media on the PlayBook is more of a mixed bag, with apps and sync filling in some of the gaps, but nothing to compare with the content offerings from Amazon or iTunes.
If you're happy with the basics and already have a lot of your own content, you can go with a cheaper tablet. If you want the best choice of the best apps and an easy way to buy more content, go with the iPad.
Performance and user experience
Although the PlayBook saw significant price cuts due to slow sales and adoption, BlackBerry PlayBook OS 2.0 runs really well on the hardware. Amazon has also fixed a lot of the bugs and performance issues that plagued the original Kindle Fire release and the user experience is now much smoother and more enjoyable.
Budget Android tablets tend to be more problematic. Delayed OS updates, wonky manufacturer customizations, and sketchy hardware performance can all make for a poor time on Android.
With the iPad you get what you pay for. A really smooth, really polished user experience that almost always keeps you focused on what you're doing without the distractions of poor or glitchy performance. It's a cliche but it just works.
One thing PlayBook and Android can boast over iOS, however, is a more open ecosystem, at that combined with a lower pricetag may be worth sacrifice if you're willing (or eager) to tweak your device.
If you want a good mix of performance and price, the Playbook followed more distantly by the Kindle Fire is worth checking out. If you value price over performance, budget Android tablets are worth a look. If you put a premium on performance and user experience, you'll ultimately enjoy the iPad more.
The budget iPad
There's another choice worth considering in the budget tablet debate: the iPad 2. While it hasn't reached the $199 level of the BlackBerry PlayBook or Amazon Kindle Fire, Apple did keep last year's iPad 2 around at a discounted $399 price. If you don't mind missing out on a Retina display, faster graphics, LTE options, or better cameras, give it a look.
Apple also offers refurbished iPads, currently both first generation and iPad 2, via their online store. So if you're on a budget but have your heart set on an iPad, Apple's refurbished iPad store is worth a look.
Any questions?
Overall, if you're on a budget, you can typically find a decent (if not great) tablet alternative to the new iPad for $300 less. You're sacrificing app selection, screen size, and resolution, but you're gaining a wider variety of options when it comes to hardware configuration and software accessibility. Personally, it's easy for me to side with the new iPad -- I can only imagine that the disparity in gaming performance with anything else is going to be huge.
If money is tight, however, it can be really difficult to decide how much you can or will spend on a tablet. Lower cost doesn't always translate into better value, but the reality it, tablets aren't as critical as phones or computers, and there's only so much gadget money to go around. If you've already tried out the BlackBerry PlayBook, Amazon Kindle Fire, or another budget tablet, share your thoughts. If you have more questions or want more opinions, we're here to help.
Get more iMore in your inbox!
Our news, reviews, opinions, and easy to follow guides can turn any iPhone owner into an Apple aficionado
Editor-at-very-large at Mobile Nations, gamer, giant.