Save any picture from the web to your iPhone or iPad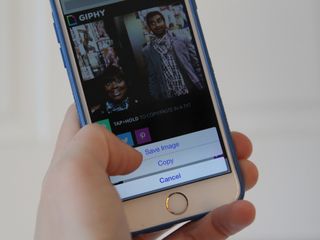 Whether you're looking for a good iPhone wallpaper or want to share a gif you found online, there are lots of great reasons to save images to your iPhone or iPad.
Doing so is easy, but I'm still amazed how many people don't actually know how to go about it (my mother included). So, in case you're lost: Here's a quick tutorial on saving images to your device — even the ones that won't let you save them through normal means.
To save an image sent to you in Mail or Safari, it's as easy as tapping and holding on the image in question.
When the share sheet pops up, just tap the Save Image button to send the photo to your Camera Roll.
In other apps, like Tweetbot, you may have to first tap the picture to enlarge it fullscreen, then tap and hold to save.
Finally, there are some sites on Safari that don't allow picture saving, due to copyright reasons or the way the website is built. If it's for copyright purposes — such as a pro photographer who wants to be paid for high-resolution versions of their images — I'd ask that you please respect the owner of those pictures and purchase anything you legitimately want to download.
If you need a low-resolution version, however, or the image you need isn't downloadable, you can take a screenshot of it by pressing the Home button and On/Off button at the same time, then opening the screenshot in the Photos app and cropping accordingly.
That's all there is to it! Hopefully that helped you just a bit on your way to iPhone and iPad mastery. If you have any other iPhone or iPad basic questions that need answering, let us know in our Q&A forum or in the comments below.
Get the best of iMore in your inbox, every day!
Serenity was formerly the Managing Editor at iMore, and now works for Apple. She's been talking, writing about, and tinkering with Apple products since she was old enough to double-click. In her spare time, she sketches, sings, and in her secret superhero life, plays roller derby. Follow her on Twitter @settern.
I wish there was a way to save photos directly to an iCloud Drive folder.

I want new iCloud Sent from the iMore App

Hi! Does anyone have a tip for me as I have a problem related to downloading images from the net. Obviously I have my photo stream active as I love that all my iPhone shots appear on all my other computers and my iPad for archiving and anymore heavy duty editing that may be needed. My problem is going the other way. I often like to save images from my iPad for work reference and so on but I don't want these appearing on my phone or particularly as my Apple TV uses photo stream as its screen saver here's nothing worse than a whole bunch of nice family photos suddenly being interrupted by I boring diagram or machine part! Does anyone know of a way or an app that will allow me to keep photo stream on so that all my iPhone pics still appear on my iPad but my iPad pics don't go anywhere else?

Hi Cy what I did was that I turned off the iCloud photo library (beta). Go to "settings" and in "Photos & Camera" you will see this. Do not turn off on iPhone. Just on iPad.

That's all well and good but I want to know WHERE to look to see the saved image.
I want the equivalent of file save as to prompt me for a save locations. . E.g. A USB disk or internally on the iPad or to the cloud or Dropbox etc. Does print screen for example save to Dropbox "screenshots"?