Shadowrun: Dragonfall - Director's Cut brings the cyberpunk RPG to the iPad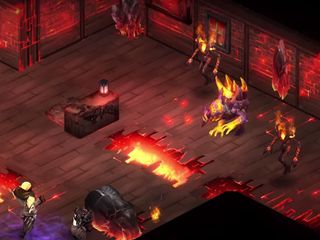 Developer Harebrained Schemes has just released the iPad version of its acclaimed PC cyberpunk RPG Shadowrun: Dragonfall - Director's Cut. The game is available to download from iTunes for $6.99. The game is the latest entry in the long-running Shadowrun franchise, which takes place in a near-future Earth where high technology has merged with magic.
Here's a quick rundown of the game's features:
A Classic, Story-Driven RPG: Branching narrative full of sharp prose and deep character development. Immerse yourself in a smart, 20+ hour campaign with a diverse cast of all-too-human characters.
Setting: Experience the "Tech meets Magic" dystopian future of Shadowrun, a fan-favorite game setting now celebrating it's 25th anniversary. Shadowrun: Dragonfall - Director's Cut is the perfect entry point to the setting for those with no prior Shadowrun experience, but has plenty of classic Shadowrun for veteran players to sink their teeth into.
Command Your Team: Lead a small team of shadowrunners - each with their own outlook, motivations, and backstory. The members of your team are designed to play contrasting roles during missions, and each has a distinct set of skills, abilities, strengths, and weaknesses. But it's not all about the mission - each team member also has challenges to face in their own lives, which you can choose to brush aside or play an important part in.
Turn-Based Tactical Combat: When you're running the shadows, every turn matters. Choose your actions wisely - move to better cover, charge into melee, or lob a fireball into a crowd of enemies. With over 200 weapons and spells at your disposal, every turn is filled with meaningful choices.
Skill-Based Character Progression: Choose a starting character archetype and build from there! Street Samurai and Physical Adepts use advanced combat skills to dominate the battlefield, Shamans and Mages summon powerful allies and cast deadly spells, while Riggers and Deckers provide critical technological support, projecting their consciousness directly into drones and computer systems. Shadowrun: Dragonfall's classless skill system allows you to grow your character in any direction you choose.
The game is also due to be released soon for Android tablets.
Get the best of iMore in your inbox, every day!
I have been writing professionally about technology and gaming news for 14 years.