Should you get an iPad mini or the new iPod touch?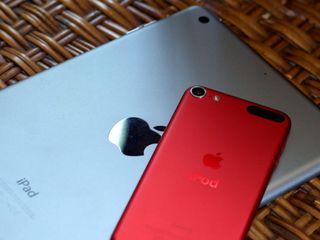 (Image credit: iMore)
iPod touch has leapt from the distant past—okay, 2012—into the present with a new Apple A8 chipset, 802.11ac Wi-Fi, an 8 megapixel camera, a 128GB option, and a full palette of new colors. It's still 4-inches, though, and still doesn't have LTE. That's where the 7.9-inch, Touch ID and Apple Pay-equipped, LTE optional iPad mini 3 excels. But it's more expensive and doesn't have an A8 or 8mp. But the iPad mini is cheaper, though without the Touch ID or Apple Pay.
It's not about which one is best, but which one is best for you? Here's what you need to know to help you decide!
iPod touch 2015 review (coming soon)
Overview
Swipe to scroll horizontally
iPod touch
iPad mini 2
iPad mini 3
Display
4-inches
7.9-inches
7.9-inches
Resolution
1136x640
2048x1536
2048x1536
Processor
Apple A8
Apple A7
Apple A7
Motion
Apple M8
Apple M7
Apple M7
Wi-Fi
802.11ac
802.11n
802.11n
iSight
8mp
5mp
8mp
FaceTime
1.2 mp
1.2mp
1.2mp
Speakers
Mono
Stereo
Stereo
Height
4.86 inches
7.87 inches
7.87 inches
Width
2.31 inches
5.3 inches
5.3 inches
Depth
0.24 inch
0.29 inch
0.29 inch
Weight
0.19 pounds
0.73 pounds
0.73 pounds
Colors
Gray
Silver
Gold
Pink
Blue
(Red)
Gray
Gray
Silver
Gold

16GB
$199
$299
$399
32GB
$249
$349
64GB
$299
$499
128GB
$399
$599
The iPod touch starts at $199 and has the full range of storage options from 16GB to 128GB. The iPad mini 2 starts at $299 and doesn't include 64GB or 128GB options, and the iPad mini 3 starts at $399 and doesn't include a 32GB option.
The extra $100 dollars on the iPad mini 2 gets you a bigger screen and stereo speakers, but steps you down in processor, camera, and Wi-Fi speed. The extra $200 on the iPad mini 3 gets you a bigger screen, stereo speakers, and Touch ID, but steps you down in processor, camera, and Wi-Fi speed.
With the iPads mini, you do get optional cellular networking for an additional $130 (see blow). The iPad mini 2 only comes in space gray, and the iPad mini 3 only in space gray, silver, and gold.
We'll break down all of that, below.
Display and size
The iPod touch has always been something akin to an iPhone without the phone. While iPhone displays have reached 4.7- and 5.5-inches, however, the iPod touch has stayed at 4-inches. That likely helps keep down the price and keep up the display size differentiation with the iPad.
The iPad touch mini is small compared to the full-sized iPad, but big compared to the iPod touch. 7.9-inches big.
Both displays have LED-backlit LCD panels with inter-plane switching for improved viewing angles. Neither are laminated like the iPhones or iPad Air 2, but both have fingerprint resistant oleophobic coatings. They're also both 326 ppi, but because of the difference in size, there's a corresponding difference in resolution.
The bigger screen on the iPad mini can make for a more immersive experience and a more accessible one. It allows for more sophisticated apps and, come iOS 9, Slide Over and PiP video.
As a total package, the iPod touch is 4.86 inches heigh, 2.31 inches wide, 0.24 inches deep, and only 0.19 pounds (3.10 ounces!). Both iPads mini, meanwhile, are 7.87 inches heigh, 5.3 inches wide, 0.29 inches deep, and 0.73 pounds (0.75 for the cellular version.)
They're both good if not great displays, but when combined with the size, the iPod touch is more portable and pocketable, and the iPad mini, more productive and immersive.
Colors
Last year the iPad mini 3 gained an extra color: gold. The iPad mini 2, demoted to second tier status, lost a color: it's not space gray only.
Back in 2012 the iPod touch gained a fuller, almost "nanochromatic" range of colors. This year Apple's standardized the palette, but still kept it more expansive. There's space gray, gold, silver, pink, blue, and—exclusive to Apple—product red.
If Space Gray is what you want, they all have that to offer. If you have your eye on silver and gold, iPod touch and iPad mini 3 are both options. If you want pink, blue, or red, however, there's only the iPod touch. (Or a colored case, of course!)
Processors + Touch ID
For years the iPod touch languished with a 32-bit Apple A5 processor from the past. Now it's vaulted into the present with a 64-bit Apple A8. That's the same processor found in the iPhone 6, iPhone 6s, and iPad Air 2.
Note I didn't mention the iPad mini 3. That's because the latest—for now—iPad mini 3 is doing some languishing of its own: It kept the same 64-bit Apple A7 processor as the previous year's iPad mini 2. (And the iPhone 5s and original iPad Air, for reference's sake.)
Likewise, the iPod touch now has an Apple M8 motion coprocessor, while the iPads mini have the Apple M7.
Because all of them are 64-bit, all of them can use Metal, Apple's new graphics framework for makes everything faster and more efficient. The iPod touch definitely has the edge when it comes to silicon, none of them are slouches.
Conversely, only the iPad mini 3 has Touch ID, Apple's fingerprint identity sensor. It used the secure enclave on the Apple A7 chip to let you unlock your device, authorize iTunes and App Store purchases, and use Apple Pay in apps. (But not in stores.)
So, the iPod touch wins on pure power and the iPad mini 3 on convenience.
Camera
For the last three years the iPod touch has been stuck with a 5 megapixel camera. Now it has an 8 megapixel camera in line with the iPad Air 2. It's not the phenomenal package the iPhones 6 enjoy, but it's much, much better than it had before.
The iPad mini 3 and iPad mini 2 share the same ƒ/2.4 apertures, hybrid IR filters, five element lenses, and backside illumination. They've kept the old 5 megapixel resolutions, however. While that'll get the job done, it won't get it done anywhere nearly as well. At least when it comes to still photography.
For video work, all of them shoot similar 1080p, but only the iPod touch can do slo-mo.
Beyond the sensor, the iPod touch's size makes it much closer to a point-and-shoot camera in terms of portability and handling. The iPads mini do provide a bigger viewfinder, if you need one for video work
Wi-Fi and cellular
The iPod touch is Wi-Fi only. That Wi-Fi goes up to 802.11ac. Both iPods mini, though, top out at 802.11n. In their corner, however, is the option for cellular networking.
For an additional $130 you can equip either the iPad mini 2 or the iPad mini 3 with LTE and that'll let you get online anywhere you have a single.
Who should get an iPod touch
If you value portability and want something that'll fit in your pocket, if powerful hand-held gaming is your thing, if you want a better camera and the fastest possible Wi-Fi, and if you want in on iOS at the lowest possible price, you want the iPod touch.
Who should get the iPad mini 2
If you want a bigger screen and access to iPad apps, and if you want the option for LTE networking, but don't need Touch ID and Apple Pay enough to add an extra hundred dollars to your bill, you want the iPad Mini 2.
Who should get the iPod mini 3
If you want a bigger screen and access to iPad app, and if you want the option for LTE networking, plus you want Touch ID and Apple Pay, then you
Still have questions?
Still not sure whether you get an iPod touch or iPad mini? Check out our hub pages below for reviews, buyers guides, discussion threads, and more!
Get the best of iMore in in your inbox, every day!
Rene Ritchie is one of the most respected Apple analysts in the business, reaching a combined audience of over 40 million readers a month. His YouTube channel, Vector, has over 90 thousand subscribers and 14 million views and his podcasts, including Debug, have been downloaded over 20 million times. He also regularly co-hosts MacBreak Weekly for the TWiT network and co-hosted CES Live! and Talk Mobile. Based in Montreal, Rene is a former director of product marketing, web developer, and graphic designer. He's authored several books and appeared on numerous television and radio segments to discuss Apple and the technology industry. When not working, he likes to cook, grapple, and spend time with his friends and family.
iPad Mini 3 is the one to get here, the iPod is terrible compared to the iPad.

Your statement is far too general. Like most things, the decision needs to be based on the intended use. If you are looking for something to play music while jogging, I would say the iPad is terrible compared to the iPod.

The iPad Mini 3 costs an extra $100 for TouchID and silver and gold colors. Are those two things worth $100? Posted via the iMore App for Android

Ipad, the ipod is just an iphone but u cant call with it. So whats the point of that? Posted via the iMore App for Android

Until you realize that an iPod Touch + Nexus 5 is still cheaper than an iPhone 6. You get fairly good phone, a fairly decent music player and access to two app ecosystems. Not everyone's niche, but I know quite a few people who took this route with the previous iPod touch, pairing it with a cheap Android handset or feature phone. They use the phone for calls, messaging and as a wifi hotspot, and the iPod for gaming, music and other iOS exclusive apps.

You can't really take an iPod Touch to the gym whilst working out; or pocket the iPad mini when on public transport etc. iPods do have their places; i've seen a lot of restaurants and stores here in England use them as ordering tools.

Why can't you work out with an iPod touch?

i think he meant ipad mini.

They need to release those colors for the iPad and iPhone

32GB iPad Mini 2 is best value. Sent from the iMore App

Surely better than iPad Mini 3 but I would advice anyone in the market for a small tablet to wait for the price drop and a fresh model. Mini is not worth the price they're asking right now.

My 12 year old daughter has a birthday next week and she wants the iPod Touch. I tried to steer her towards the iPad Mini but she won't have it. Her reason is because she wants to take the iPod Touch with her when she leaves the house to: A. Take pictures with her friends. The Touch is much more available since it's pocketable.
B. Use as a music player when she goes running. So for her the 4" screen works better than the 4.7"

"But if you're considering a small iOS device, should you get it... or an iPad mini?" An iPad Mini is not a small iOS device. The thing is nearly 8 inches. Can't fit into your pocket or even in most purses. Which makes this article ridiculous. If you want a small iOS device then your options are limited to an iPhone 6 (and some would say not an iPhone 6 Plus) or an iPhone 5. That is it. If you are willing to get an Android device and use the tools available that can do a reasonably good job of porting your Apple content to that platform, then you have some choices. There are a bunch of good Android tablets that are smaller than the 7.9' iPad Mini ... 7' tablets from Nexus, Samsung, HP, LG, Asus etc. and even a 6' tablet from Amazon. Granted, they are still not "small devices" (except for MAYBE the 6' Kindle Fire for people with large pockets and big hands) but smaller than an iPad Mini. And of course there are Android phones that range anywhere from 4' to 6'. The difference is that you can get a good one for less than even the $199 that the 16 GB iPod Touch costs. Example: Moto E ... often as little as $80 unlocked and can support a 32 GB SD card, which costs about $15. (DO NOT opt for the prepaid models, because even though they are even cheaper, they often lack SD card slots and have locked bootloaders). However, as money is famously no object for affluent Apple fans, then forget about saving that $100 bucks and go ahead and get the iPod if you want something small. Or a spare unlocked iPhone 6 if you want something small AND is far less limited. After all, what is another $600 for an Apple customer?

I'd rather go with the iPod touch. I have a soft spot for it and I have no interest in owning a tablet (yet)

I'm always surprised at how many Android users I see who have large phones but keep their old iPod Touch or Nano for the gym. Maybe this new Touch will appeal to them as well since the Apple Watch isn't available to them and they have a large iTunes investment.

I wish for the next iphones, they would make a 4 inch model to go along with the other two that isn't lacking the hardware of the other two. I have the 6 plus and I kind of miss having a smaller phone. The only problem is that phone manufacturers gimp their small models.

I just read over the article, and there are a handful of errors that should be corrected. They are minor, but still important.

Rene, please proofread this article.

What are the iPhone 6 camera packages? I have an iPhobe 6 and the only reason I could think of for me is buying it for foreign travel, mostly the camera.

"...if you're considering a small iOS device, should you get it... or an iPad mini?" Save time deciding.
Just get both.

iPod Touch would be a great colorful iPhone 6S if they add cellular chip in and price it $349 in fall.

When did the iPhone 6s come out?

Good summary but I think the decision is simpler. 1) Do you want/need a 4" or 8" device?
2) If you want an 8" device but could use a 4" one, can you afford the price difference to get the Mini? If you can, buy the Mini or save for it if you can't.
3) If you need at 8" device, get the Mini.
4) If you need a 4" device get the Touch.
5) If you want the smaller device, get the Touch. Really, screen size preference trumps all here as well as how strongly one feels about it. (need vs want).

Since when was the iPad mini considered small? It's larger than *most* phones, and will fit in your pockets if you wear primarily cargo shorts. Only on of them is small, and if you were looking for small you weren't looking for a 7 inch screen. Posted via the iMore App for Android

They really should have upgraded that iPad mini when they released the Watch, and why this delay with iPods ? Apple Music + new music players make more sense and the package feels complete.

*iphone6s Sent from the iMore App

iPhone 6s - the plural of iPhone 6
The next gen iPhone is iPhone 6S

Typos typos everywhere Sent from the iMore App

This seems like a specious comparison to me. The devices are not really alike at all and intended for different uses and different consumers.

But they run ios and have smaller screens than the other products in their line, sooooo PAGE CLICKS!!! Posted via the iMore App for Android

The iPod Touch will be a great vlog camera and citizens journalism tool powerful enough for quick, on the spot edits in iMovie for iOS - without killing your data-plan. You'll need wifi, yes - but with Starbucks and Tim Horton's on every corner... This could be a great just-in-time video studio for the quick on-the-street take. I'm compelled to see it in action. Any word on the front facing camera specs?

Having already gotten a iPod and iPad. I'll lean more so to the iPod for its easier portability and superior specs over the other devices who in the long run won't be as good performance wise. Posted via the iMore App on my iPad Air or iPod Touch 5

Jobs was right in the first place - the iPhone is the best iPod Apple has ever made. I just don't see the justification for an iPod unless you are absolutely only interested in a music player, otherwise go iPhone. If you looking at the iPod but are seriously into gaming or doing any other activities, then the Mini is the "minimal" choice.

The place I use my phones the most is say at home using wifi. So I could easily do the same things on the iPod touch. Coupled with an Apple TV it is a great way of streaming Amazon movies, catch up TV, photos or browsing the web on the living room TV. Posted via the iMore App for Android

I agree with previous comment by Gazoobee, in fact, I am surprised at iMore for even the headline. I'm guessing there have been a few people asking this question, but, it really doesn't deserve the merit given here. These are two different product categories...just because you can take the screen away and make a comparison based on technical similarities, or even price points, doesn't mean someone might be deciding between an iPod Touch over an iPad. Sent from the iMore App

why did he say something about the 6s as if it existed already? Sent from the iMore App

Because the article is talking about the plural of iPhone 6

I'd buy them for totally different uses. Ones i'd want a pocket-able music player. The other i'd want a smaller ereader/cheaper tablet. To me it's like saying should i get a dirt bike or a minivan. Well it depends why you want them. They can both get one person from one place to another. But if you are married with kids what you're buying a vehicle for is drastically gonna effect your choice. It's like a pickup truck vs prius. Well if you need one to carry pallets of cargo you get the truck. To me, an ipod or an ipad would always be bought for different reasons and not be mutually exclusive.

iPad and a iPod is what I want. I had a iPod in 2010 but never had a iPad Sent from the iMore App

Rene, I was interested to read this article as it appeared in my feed but as I read it I lost interest, mainly because I found the article to be poorly written. After the fourth or so typo that confused me as a reader I closed it. I am not trying to offend you; I merely hope to offer some constructive criticism- usually your articles are well-edited, but this one simply was not. Posted via the iMore App for Android

Article is filled with errors. iPod Touch Mini? Sent from the iMore App

The iPad air 2 has an A8X processor. Not the standard A8. The A8X is a tri core 1.5 GHz which makes it insanely fast for an apple device. I should know, I have one.

We're talking about the iPad MINI, my friend, not the iPad Air.

When I tried to read the Swift Language Guide on my iPhone 4s I knew it was time to get an iPad mini.

The article is full of errors: 1) iPad mini 2 has a silver colour available
2) The camera on iPad mini 3 is still 5mpx
3) the "who should get the iPod mini (?)" section ends with "you"

I will go for iPad mini compared to the iPod. Though both devices are nice, cool, capable and full of options.

I would want an ipod because I've always wanted one my dad said he was gonna buy one for me on my graduation but sadly I never got on so would be happy If I got one :-)

i want a ios device purely for streaming music via airplay to my speakers. which (ipod touch 6 or ipad mini 3 wifi only) would give me the better battery times?

I couldn't finish reading this because basic errors are okay, but come on Rene. There are no iPod Minis or iPad Touches. These mistakes, frankly, made me stop reading the article entirely. FIX

I have an iPod Touch and I love it for everything it does. But, I have an iPad Air 2 and would never get an iPad Mini because it just feels lacking

Ipod is best they are both kind of the same but you can take the ipodtouch anywhere even to school as it is small i hope i win it please

Where I live, you don't need to look far for free wifi. Therefore, I don't really need the LTE and I downloaded a "phone" app. I personally prefer the iPod Touch, and I'll almost always want them over the iPhone.
Thank you for signing up to iMore. You will receive a verification email shortly.
There was a problem. Please refresh the page and try again.