Should you upgrade to the 2020 iPad Pro?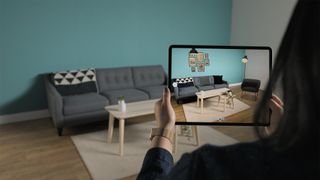 (Image credit: Apple)
Apple's 2020 11 and 12.9-inch iPad Pro models are the fastest, most advanced iPad Apple offers — but are they worth your hard-earned cash? You may be considering upgrading from an older iPad Pro, a different iPad model, or maybe you're thinking of getting your first-ever iPad. If you're weighing your options, read our advice on whether you should make the leap.
For the pros
Dual-camera system, 4K video recording, LiDAR scanner, and more. The iPad Pro is the most advanced iPad.

If you're looking for a mobile device that you can record high-quality video, edit movies and photos, and work with graphics-heavy programs, the 2020 iPad Pro won't let you down.
New release timeline
Apple announced the launch of the 2020 iPad Pro on March 18. Now is the perfect time to invest. It's not likely that we'll see another upgrade cycle until the fall of 2021.
Capacity & Color
Both the 11 and 12.9-inch iPad Pro models start at a baseline 128GB of storage space and go all the way up to 1TB (!) at their highest configuration. The 13-inch MacBook Pro starts out with the same storage capacity, by comparison.
Both sizes of the 2018 iPad Pro come in Silver or Space Gray. Gone are the days of many colorful options. If you're looking for something in Gold, you may want to check out the iPad Air or iPad instead.
If you need more storage on your next iPad and cloud-based storage won't do, the iPad Pro goes up to 1TB of storage, which is the largest ever offered on an iOS device, and it's especially nice, given that the storage needs of creatives continues to grow.
Screen & ProMotion
The Pro models are all about that screen technology: The entire line now carries a 264ppi Wide Color Liquid Retina LCD display (the same technology used for the iPhone 11) with True Tone (which allows it to intelligently detect and adjust outside light to match the screen tone to your environment); like iPads Pro of old, it also sports a laminated display and anti-reflective coating.
The 2020 model iPad Pro also supports the superior ProMotion refresh technology, which offers up to 120 Hz refresh rate, which effectively drops the latency to 20 milliseconds. It also automatically adjusts the refresh rate down for activities that don't require so much power, reducing battery consumption.
The tech specs of ProMotion are interesting, but not really necessary for the average user to understand. What's important: ProMotion makes the iPad Pro screen feel fast. Blazingly, blisteringly fast. Scrolling feels more responsive, opening apps is faster, and sketching on the iPad has lower latency than ever. Drawing with Apple Pencil still won't feel exactly like drawing on paper, but it's pretty darn close.
With the added bonus of a faster CPU and GPU, which we talk about below, your experience drawing on an iPad is unlike any other.
A12Z Bionic Chip
With the 2020 iPad Pro, Apple released a brand new type of chip: The Z. While it's likely that it gets its name from the fact that it's not quite an A13 chipset, it means that it's faster than the 2018 iPad Pro. It also sports an 8-core graphics processor, thermal architecture, and better performance control. All of this combined makes the iPad Pro work fast and smooth while doing such things as editing video, building apps, including AR and VR apps, and other graphics-heavy activities.
That chip is paired with Apple's M12 motion co-processor and up to 6GB of RAM across both iPad Pro sizes (it is unconfirmed as of this writing, but it appears that all capacities of the 2020 iPad Pro include 6GB of RAM).
If you need a tablet that can hit faster speeds than some of Apple's entry-level Macs, this is the iPad Pro for you — no question.
Dual-camera system
The 2020 iPad Pro's biggest upgrade is that it now has two lenses; a 12MP standard wide-angle lens and a 10MP ultra-wide lens. You can zoom out 2X, optically (5X digitally), which means you can bring in more of your surroundings, bringing more depth to the storytelling of your photos and videos.
The wide-angle lens has an ƒ/1.8 aperture, while the ultra-wide lens has an ƒ/2.4 aperture with 125° field of view. The camera system is completed with a QUAD-LED True Tone flash and hybrid IR filter.
With this fancy new camera system, the 2020 iPad Pro also supports 4K video at 24, 30, or 60 fps. There is an advanced microphone array that uses five microphones for studio-quality audio recording. For those of you out there with a YouTube channel, your mobile studio just got a little lighter.
The iPad Pro's FaceTime HD front-facing camera is 7MP and uses True Depth mapping for Face ID and has a few additional bells and whistles: optical image and video stabilization, a True Tone flash, 5x digital zoom, Wide Color capture, and a six-element lens.
If you're an iPad camera buff, a content creator, or even a movie maker, the 2020 iPad Pro's camera upgrade is well-worth the investment.
LiDAR
New in the 2020 iPad Pro is a LiDAR scanner. LiDAR stands for Light Detection and Ranging and it means that the camera system also has laser beams (not the red pointer kind, but light beamforming) that detect precicely where an object is, up to 5 meters away. It's currently used in a lot of newer model robot vacuums to help it identify furniture to avoid. On the iPad Pro, it means the most advanced AR (augmented reality) experience you can get. Objects appear faster and more accurately, and with object occlusion, they can appear behind real-world objects, too.
Right now, AR is still more on the development end of the spectrum and isn't quite ready for consumer use, but if you're an AR developer, or you just want to have the new toy, LiDAR is really impressive on the 2020 iPad Pro.
Face ID
Face ID uses Apple's security chip, the T2. Your facial identity is stored on your iPad, not in the cloud, and can't be mimicked by anyone but an identical twin (despite what fake scare stories want you to believe).
On iPad Pro, you can use Face ID to unlock your screen in both landscape and portrait mode, something even the iPhone hasn't been able to succeed at.
The advanced security of Face ID, similar to Touch ID, makes it possible for you to use biometric scanning to unlock your iPad Pro, buy stuff with Apple Pay, and access your passwords.
If you prefer Touch ID to Face ID, the 2020 iPad Pro lineup is not for you. You may have to stick with the iPad or iPad Air.
Battery
Like all iPads before them, the iPads Pro continue to boast a 10-hour battery life (9 on the cellular models). The internal batteries themselves have been slimmed down slightly due to the fact that the displays don't need as much power to stay lit: The 11-inch iPad now has a 28.65-watt-hour battery, while the 12.9-inch has a 36.71-watt-hour battery.
Apple Pencil 2
People have been making stylus pens for the iPad for years, even ones that tried to emulate pressure sensitivity through clever use of Bluetooth and code. Apple Pencil, however, delivers real pressure sensitivity.
Apple's entire current iPad lineup except for the iPad Pro support for the first-generation Apple Pencil. The iPad Pro supports the second-generation Apple Pencil instead. This is because all other iPad models lack the ProMotion technology found in the iPad Pro line. With it, you get a digital drawing experience unlike any other, rivaling Wacom.
The 2020 iPad Pro supports Apple Pencil 2, which has a completely different method of connecting (via magnetic connectors). The second-generation Apple Pencil also supports shading.
The second-generation Apple Pencil has the added functionality of quick access to digital tools by double-tapping the flat edge.
Apple Pencil 2: Everything you need to know
If you regularly draft, scribble, write, sketch, do calligraphy or technical drawing, or otherwise express your creativity in ways previously only possible on paper, you'll be happy with the iPad Pro. If you only want to use the Pencil occasionally (or not at all), the base model iPad or iPad Air may be more up your alley.
Smart Connector & Keyboard
All iPad Pro models have a Smart Connector, which allows you to wirelessly connect to a keyboard, dock, or other accessories for quick powered access. Accessory manufacturers have largely used this to make great keyboards for the iPad Pro, including Apple itself.
Apple has a Smart Keyboard Folio that takes advantage of the Smart Connector technology. It has an extremely low-profile, which makes it a contentious accessory. Some people love it. Some people hate it. It's the lightest, thinnest keyboard case on the market, however, so the Smart Keyboard Folio wins for portability.
In 2020, Apple also launched the Magic Keyboard with Trackpad for the iPad Pro (it works with the 2018 model, but it'll have a big camera gap). It was designed specifically for full cursor support for the iPad Pro, which launches with iOS 13.4. It has backlit keys and a scissor mechanism with 1mm travel. It also uses a unique floating hinge mechanism, which lets you set the iPad Pro a couple of inches above the keyboard on a magnetic mount. The hinge is totally customizable, so you can adjust the viewing angle any way you want. It also has a USB-C port for charging, so you don't have to use up the iPad Pro's USB-C port to keep it juiced up. Thanks to Smart Connector technology, the Magic Keyboard with Trackpad also juices up the iPad Pro!
Should you upgrade?
There are a number of compelling reasons to get the new iPad Pro if you're considering upgrading your older device: They're much faster and offer a brilliant screen that you'll want on all your other devices. They come in bigger sizes and offer a camera package equal to that of the iPhone 11. If you're an artist, content creator, AR developer, or work in video and audio production, the 2020 iPad Pro is the best you can buy.
If you're upgrading from a non-Pro iPad
As long as you have the cash to make an iPad Pro purchase work, you should 100% consider a new iPad Pro — the benefits you'll get from the dual-camera, LiDAR, faster CPU and GPU, 4K video recording, and more are worth it.
If you're upgrading from a second-generation iPad Pro
The newest iPad Pro on the market, the 2020 model, has a faster processor for handling graphics-heavy programs. It has the most advanced camera system of any iPad with support for wide and ultra-wide angles and a studio-quality microphone array. At the same time, however, not everyone needs these content creator specific features. If you make movies, edit videos, have a YouTube channel, or have need of programs that are graphic-heavy, then by all means, this is worth upgrading for. For the rest of us, however, the 2018 iPad Pro is still a superb tablet, and better than a lot of PC laptops in the market.
If you're upgrading from the iPad mini
Chances are, if you're rocking an iPad mini, you are doing so because of the size, not the advanced features. You're likely unhappy that Apple didn't make a mini Pro. I understand.
At this point, however, if you can afford it, why not just have both? The iPad mini will soothe your tiny needs while the iPad Pro will blow your tech-loving mind.
For the pros
Dual-camera system, 4K video recording, LiDAR scanner, and more. The iPad Pro is the most advanced iPad.

If you're looking for a mobile device that you can record high-quality video, edit movies and photos, and work with graphics-heavy programs, the 2020 iPad Pro won't let you down.
Any questions?
Still have questions about whether you should upgrade to the 2020 iPad Pro? Pop them into the comments section and I'll help you out.
Updated March 2020: Updated for the 2020 iPad Pro.
Master your iPhone in minutes
iMore offers spot-on advice and guidance from our team of experts, with decades of Apple device experience to lean on. Learn more with iMore!
Lory is a renaissance woman, writing news, reviews, and how-to guides for iMore. She also fancies herself a bit of a rock star in her town and spends too much time reading comic books. If she's not typing away at her keyboard, you can probably find her at Disneyland or watching Star Wars (or both).