Should you use Style Rings on your Nintendo Switch Joy-Cons?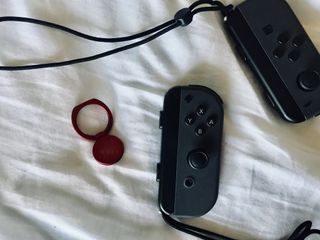 Using a Style Ring on the back of your phone is a great tool for watching videos, mounting your iPhone in the car, or making sure your device doesn't smack you in the face while you're texting in bed. Would it also be a good tool on your Nintendo Switch Joy-Cons?
As of Oct. 18, you can buy your very own pair of Joy-Con Style Rings for your Switch. So are they worth getting, or should you skip the hype? And why would you even need a pair anyways?
Here's how you know if you should use Style Rings on your Nintendo Switch Joy-Cons!
You're a klutz
Be honest with yourself: you're one of those people who threw a Wii remote through your flat screen because you thought the wrist-straps were for babies. Maybe you're someone who hurled your HTC Vive controller to the ground in a panic before running into studio lighting as your coworkers filmed you playing Brookhaven Experiment (coughTotallyDidn'tHappenToMecough).
"But Cella! The Joy-Cons already come with wrist straps!" … sure, but even then, that isn't enough for some of us to stop the carnage.
Regardless of what your experience is with gaming, some of us are far more clumsy, jumpy, and uncoordinated than others, so a Style Ring makes sense to keep your controller in one piece.
A Style Ring is typically used on your phone to secure it in your hand when you're texting while allowing you a bit of a further reach while you text. Sure, it's also used for the things listed above, but think of it as an another additional layer of safety — even with the Switch's wrist straps.
You need a convenient stand
Sick of all these bulky stands for your Switch? Want something quick and convenient that's easy to adjust and maneuver into place? Don't want to break the bank on a stand that might not even work with your surroundings and lifestyle? Then it might be worth it to check out a Style Ring for your Joy-Cons.
As someone who uses a Style Ring for their iPhone on a daily basis and someone who likes to watch videos on their iPhone, my Style Ring has helped me easily set up my iPhone, adjust the screen accordingly, and watch whatever I need to without any issues.
Imagine the same for your Nintendo Switch!
The way that the Style Rings are situated on your Joy-Cons (bottom) makes it easy to twist and turn them into a stand-like position. Subsequently, the Style Ring can be rotated 360 degrees, so you can adjust it to any angle you please! (Hey! That rhymed!)
You're playing with young kids
I love playing games with my niece and nephew, but one thing I notice is how aggressive they are with things. Even with straps wrapped tightly around their wrists they still manage to chuck, smack, and drag their Wiimotes across all of my furniture, walls, and floors.
By using something like a Style Ring with your Joy-Cons, you can prevent kids from letting go and dragging their controllers on the ground via their wrist strap or accidentally tossing the controller and cracking your coffee table.
The Style Ring can be pressed down slightly if the child has smaller fingers, or if the kid is little, get them to stick two fingers through the ring in order to have a better grasp.
How do you Style Ring?
Are you going to grab a Style Ring or two for your Nintendo Switch? Or do you think you'll just stick to the wristband and that's it?
Let us know what you think in the comments down below!
If you want more options for keeping your Joy-Cons at bay, check out some grips.
10 Great Nintendo Joy-Con Grips That Add Comfort And Style To Switch
Get more iMore in your inbox!
Our news, reviews, opinions, and easy to follow guides can turn any iPhone owner into an Apple aficionado
Cella writes for iMore on social and photography. She's a true crime enthusiast, bestselling horror author, lipstick collector, buzzkill, and Sicilian. Follow her on Twitter and Instagram: @hellorousseau