5 Great Smart Home Accessories That Work With HomeKit Using Homebridge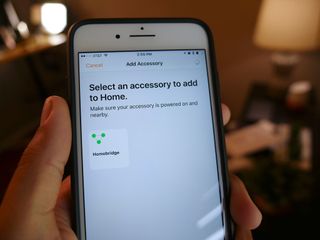 (Image credit: iMore)
It's taken some time, but the number of HomeKit-enabled accessories has grown to an extensive, diverse offering. That said, there are still many excellent smart home accessories that don't work with Apple HomeKit. But here's the thing: Some of those accessories can be made to work with Apple HomeKit — it just takes a bit of DIY magic and a handy little tool called Homebridge.
It all starts with Homebridge!
If you want to link up non-HomeKit-enabled smart products to your HomeKit-enabled setup, you're going to need to install Homebridge.
Homebridge is a NodeJS server that acts as a HomeKit-enabled bridge, connecting non-HomeKit-enabled products to HomeKit. Once you've set up a Homebridge server, you can download plugins for non-HomeKit-enabled devices in order to access them with the iOS Home app and control them using your voice with Siri.
I've put together a detailed guide to help you get Homebridge up and running. You can check that out here:
How to connect incompatible accessories to HomeKit using Homebridge
Once you've got Homebridge running, come on back to this post to learn which smart home accessories you should get to put Homebridge to the test.
The Logitech Harmony Hub is a $70 device that will solve all your lost-remote problems. This hub replaces up to eight remotes, letting you control your television, fans, sound system, Sonos speakers, and more with a simple swipe or tap. If you find yourself juggling between the set-top box remote, the television remote, the soundbar controls, and the joystick for your robotic butler (sure, yeah, that's a thing), you need the Logitech Harmony Hub. It also works with Amazon Alexa so if you've got an Echo or two in the house, you've got a voice-controlled universal remote.When paired with Homebridge, you can control the Harmony Hub with the Home app for iOS and your voice using Siri. The Homebridge plugin converts Harmony Hub activities (watch tv, play Xbox, etc.) into HomeKit-enabled switches. You say, "Hey Siri, turn on Watch TV" and your Harmony Hub will execute that activity.It's not entirely elegant phrasing-wise, but that's one of the trade-offs of using a DIY/homebrew system like Homebridge. Having a Harmony Hub that works with HomeKit is pretty awesome — I can put up with weirdly worded Siri commands.
Kasa Smart Wi-Fi Plug Mini
○ Plugs: HS100, HS105, HS110, HS200
○ Bulbs: LB100, LB110, LB120, LB130, LB200, LB230

Nest is a bit infamous among HomeKit enthusiasts due to its lack of support for HomeKit. There's some business logic to the situation, sure (Google owns Nest), but it doesn't stop folks from incessantly tweeting at Nest, hoping against hope that they'll persuade Nest to add HomeKit support. With the Nest Homebridge plugin, you can rest your tweeting fingers and add HomeKit support all on your own.The plugin works with Nest's thermostats, cameras, and the Nest Protect smoke and CO alarm. It's a little more complicated than some of the other plugins on the list, but you can pridefully and smugly smirk at Nest when you've got everything up and running.The $220 Nest Learning Thermostat will help you save money on your energy bill and it'll look damn good on your wall. It comes in four colors — white, copper, black, and stainless steel — and the adjustment ring around the outside of the device is made of metal. It's a smart thermostat that learns as you use it, meaning it'll help recommend better heating and cooling settings to cut back on costs. It can be controlled using the Nest app, Amazon Alexa, and Siri (if you use Homebridge). It can also adjust the temperature based on your location — i.e. turning down when you leave your home — and lets you set up a heating and cooling schedule.The $200 Nest Cam features a 130º 1080p camera, microphone, and speaker, so you can watch, listen, and talk with the device. Using the Nest Cam's eight infrared LEDs and a special filter, it also offers night vision. The Nest Cam comes with a mountable magnetic base and an incredibly long cord. As for software, its got location-based activation and notifications, so you can set the camera to turn on when you leave home and turn off when you return.The $120 Nest Protect is a Wi-Fi connected monitor that keeps an eye out for emergencies. It senses smoke and dangerous levels of carbon monoxide and, like a traditional smoke detector, will alert you in an emergency. It automatically tests itself, it works as a subtle night light, it can tell the difference between steam and smoke (you'd be surprised how many smoke detectors are bad at this), and it integrates with other Nest products.
○ WeMo Switch
○ WeMo Light Switch
○ WeMo Dimmer
○ WeMo Insight Switch
○ WeMo Bulb
○ WeMo Maker
○ WeMo Motion
○ WeMo NetCam

Netatmo's $150 weather station is quite the powerful tool for tracking hyper-local weather and environmental data. The outdoor module tracks temperature, humidity, air quality, barometric pressure, and even provides a weather forecast. The indoor module tracks temperature, humidity, air quality, CO₂ levels, and sound. If you're a data nerd who'd rather not get their forecast from the nightly news or an app, Netatmo's weather station is the all-in-one solution to track, analyze, and monitor your weather and your environment.When paired with Homebridge, you'll be able to monitor all of the sensors that come with the indoor and outdoor modules. That means you can ask Siri, "What's the air quality like outside?" and it'll be able to give you the real-time reading.
Thoughts?
Are you planning to add some non-HomeKit-enabled accessories to your HomeKit setup (you rebel!)? Have you already played around with Homebridge? Did you hit any snags getting everything set up? Give me a shout in the comments or over on Twitter; I'm curious to hear about your experience.
Master your iPhone in minutes
iMore offers spot-on advice and guidance from our team of experts, with decades of Apple device experience to lean on. Learn more with iMore!
Mikah Sargent is Senior Editor at Mobile Nations. When he's not bothering his chihuahuas, Mikah spends entirely too much time and money on HomeKit products. You can follow him on Twitter at @mikahsargent if you're so inclined.