How to use Snapchat to be romantic on Valentine's Day!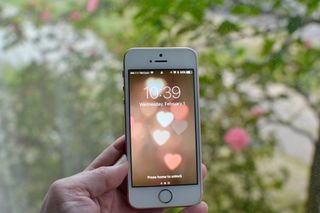 In the day and age of social media (curse us millennials!!!), being romantic can vary across all platforms, tech, and relationships: You'll probably not be tagging your grandma in memes to show her how much you love her. And sending a paper Valentines with a smooch to your boo may not be the best way to spread da luv either.
We use Snapchat almost every single day (and by we, I mean me and nearly 158 million other people), so it's not odd to think that sending Valentine's wishes through the little yellow app is convenient, appropriate, and – if you get creative enough! – über romantic.
Here's how you can use Snapchat to your advantage and come off as a super Snap-mantic Cassanova this Valentine's Day!
Take advantage of your #ValentinesDay filters
Around the Holidays, Snapchat edited their most popular filters to have a Christmas & wintery vibe. Now, around Valentine's Day, you can take advantage of these themed filters and snap some cute couple photos, adorable selfie messages to your S.O., Valentine's themed profile pics, and so much more!
As of today, you can turn your puppy-faced filter into a V-Day dog with hearts on its ears, a Valentine's doe with pink coloring and little floating hearts, and a funky heart-shaped glasses filter that plays some bumpin' music for you to groove to (along with an awesome shade of lipstick in case you skipped your makeup regime this morning).
Try taking some V-Day filter shots with your hubby, or opt for a super cute heart-o-riffic profile pic for the day. Thanks, Snapchat!
Geofilter her off her feet
Sure, delivering a box of chocolates or a bouquet of flowers or a 45-piece orchestra that'll play her favorite musical number to her office is sweet, but it's sooooo cliche. Instead, why not design her own personal Geofilter and place it over her office or apartment?!
Geofilers are relatively easy to design and order – all you need to do is follow the instructions on Snapchat's website. There are even templates online you can download and modify if you aren't the most tech-savvy or creative. From there, just pick how long and how big you want your Geofilter to be, and then tell your significant other to send you a snap.
If you have a little extra money to spend, why not extend the Geofilter to her favorite spots? Or even the restaurant you're taking her for dinner? Or if you're going to pop the question, why not make a "Will you marry me?" Geofilter? Or a "She said YES!!!" Geofilter? The possibilities are endless when you look into your heart and start Geofilterin'.
Super sneaky & romantic Snapchat surprises
Snapchat isn't just a great tool for showing off drunken exploits or taking selfies with butterfly filters: it's also really great for creepin'. And while creeping on people and romance don't necessarily go together, you can use Snapchat to your Valentine's advantage with just a little bit of creative snappin'.
Try shooting your S.O. secretly with a Valentine's filter on and send it to them, or use your Snapchat spectacles to sneak up on your girlfriend and plant a kiss on her cheek while she's getting ready. Use your Snapchat to deliver scavenger hunt secrets to a stuffed animal & romantic dinner surprise, or just make your story all about your hubby by snapping him throughout the day and writing different things you love about him.
Snapchat creepin' doesn't always have to be, well, creepy! Sometimes it can be romantic, too.
Tell your love story on your Snap story
While you may not be a character in The Notebook, or one of the romantic — Err, is this movie romantic? I'm not even trying to be cheeky, I'm genuinely asking – leads in Fifty Shades of Grey, you can get a little bit cinematographic, super duper creative, and über Hollywood director-y by setting out to capture the most romantic Snapchat story of allllllllllll time.
Tell the world your love story by using the doodle tool to draw out your first date, or snap the 3 places where you first saw your sweetheart around campus. Block your S.O. from seeing your Snapchat story for the day and show the world the surprises you have ready for V-Day, or use your Snapchat Story to post old photos and videos of you and your loved one having fun.
Regardless of whether you're spending Valentine's with a friend or your pet or your bestie or your teammates, spread a little love with your Snapchat story. After all, what else is the holiday for? (Besides selling greeting cards and racy romance movies about millionaires and BDSM… I think…)
Sticker your sweetie (and don't forget about Bitmoji!)
Snapchat has recently allowed for users to make their own stickers by cutting out certain parts of photos. This essentially means that you can cut out your significant other's face from a snap, and have it saved in your roster of permanent stickers to slap on other snaps forever and ever!
These customized stickers are really great fun for couples in general, but are especially awesome for people in long-distance relationships who may not necessarily be able to Snapchat with one another. What better way to include your hubby in your Snapchats than by having a wide range of his own personal emojis at the standby?!
If you're not super into going through the hassle of making your own stickers, you can always use Bitmoji and post alongside your SO's Bitmoji, generating romantic scenes and adorableness without your regular, boring ol' human faces getting in the way.
How do you show your love on Valentine's Day?
Are you someone that'd rather stick to good ol' fashioned paper Valentines, or would you prefer to spread your love on social media? Let us know your romantic V-Day preferences in the comments below!
Updated February 2018: This article still has the best of the best ways to woo your sweetheart! Happy Valentine's Day!
○ Download Snapchat
○ How to use Snapchat for iPhone
○ How to delete your Snapchat account
○ Snapchat help
○ Shapchat news

Master your iPhone in minutes
iMore offers spot-on advice and guidance from our team of experts, with decades of Apple device experience to lean on. Learn more with iMore!
Cella writes for iMore on social and photography. She's a true crime enthusiast, bestselling horror author, lipstick collector, buzzkill, and Sicilian. Follow her on Twitter and Instagram: @hellorousseau