Space epic 'Rebel Galaxy' coming to Mac later this year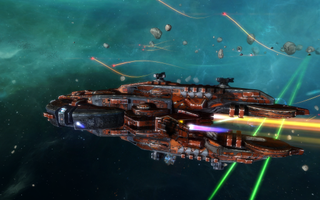 There's some good news for space adventure fans on OS X today. Double Damage Games has just announced that its space epic Rebel Galaxy, which was initially announced for PC and Playstation 4, will be coming to Macs this year as well.
If you're unfamiliar with Rebel Galaxy, here's a quick description of the game:
Double Damage Games says it expects the game to be available later this year, but it will be showing its progress off at PAX South in San Antonio, Texas from January 23-25. In any case, it's awesome to see some more high-quality games coming to the Mac platform.
Press Release:
Rebel Galaxy Coming to Xbox One and Mac in 2015
Action Adventure Space Epic Sets Sights on Additional Platforms and Will be Playable at This Year's PAX South
(Seattle, WA) - January 13, 2015
Independent developer Double Damage Games today announced that Rebel Galaxy will be arriving on Xbox One, the all-in-one games and entertainment system from Microsoft via the ID@Xbox self-publishing program, and Mac platforms in addition to the already announced PC and PlayStation 4 versions. Additionally, Rebel Galaxy will be demoing and showing off new gameplay at this year's PAX South in San Antonio, TX from January 23rd-25th at booth #1637. Rebel Galaxy is scheduled to launch in 2015.
"We've wanted to launch Rebel Galaxy on multiple platforms from the beginning, and today it's a pleasure to announce to Xbox and Mac communities that Rebel Galaxy will be coming to the Xbox One and OSX as well. We wanted to wait to announce it until we had the game up and running on both platforms. That milestone has now been achieved!" said Travis Baldree, Co-Founder of Double Damage Games. "We've had so much fun developing this, that we can't wait for players to get their hands on the game at this year's PAX South in San Antonio and encourage attendees of the expo to come and demo the game. We'd also like to extend our thanks to Blitworks (blitworks.com) for doing the heavy lifting on all of our ports."
Rebel Galaxy is an action-packed, swashbuckling space opera. You'll battle pirates, explore anomalies, befriend aliens, scavenge battle wreckage, mine asteroids, and discover artifacts. Choose your path as a roguish do-gooder, crafty space-trader or power-hungry privateer - or maybe a little of each! Buy larger and more powerful craft with your hard-earned credits, and outfit them with a variety of wicked weapons and defenses. Set in a galaxy of fantastic sights, and secrets to be found, Rebel Galaxy is above all a space epic of adventure, exploration, and combat.
Visit the website: http://rebel-galaxy.com
Follow us on Twitter: @RebelGalaxy
Like us on Facebook: https://www.facebook.com/rebelgalaxy
About Double Damage Games
Co-Founded in 2014 by Travis Baldree and Erich Schaefer, is an independent micro-studio headquartered in Seattle. Travis and Erich were both co-founders of Runic Games, as President and Chief Creative Officer, respectively. They departed in April of 2014 to found Double Damage. Rebel Galaxy is their first project. For more information, visit: www.doubledamagegames.com
Get the best of iMore in in your inbox, every day!
Thank you for signing up to iMore. You will receive a verification email shortly.
There was a problem. Please refresh the page and try again.